As long as I can remember I'm in love with the states, somehow I just love the country, the people but most of all the sometimes incredible nature. Especially California I love for the simple reason that as a photographer the landscape just changes every few miles with the next view even more jawdropping than the next.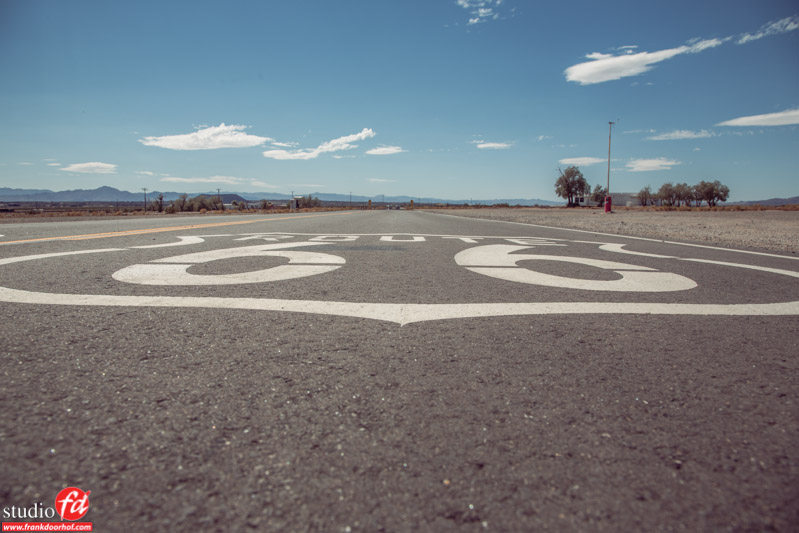 Also as long as I can remember I've been wanting to drive parts of Route66 and of course the drive between Vegas and LA… well both dreams have come true this time. I'm a sucker for the old fashioned American styles, I love diners, gas stations, billboards etc. so just driving some Route 66 in LA was not enough, I wanted the real route 66 and let's be honest what's the best option?…. indeed combine it with the drive from Los Angeles to Vegas.
Normally you can drive this in 3-4 hours (according to some local friends), it took us a little bit longer as you can imagine. We did not follow the "normal" road but decided to go through the backroads of America (oh man I love that sentence), passing through Amboy and several other towns with a population of less than 10 🙂 In one of the cities we talked to the local police officer about keeping the law when you know everyone, the waiter very quickly said "it's simple, when he doesn't like what going on he will just lock up the whole town and get to sleep"….. well to be honest living in a town with just 19 (this is where we asked it) or less people would drive me nuts.
I can really advise you to drive the distance between LA and Vegas whenever you have the chance, as you could have read I LOVE the Pacific Coast Highway, but the drive from LA to Vegas has pushed the PCH to position two. We had a blast… in the end we drove the distance from 9:00AM to 19:00 (7:00PM) when we arrived in the Mandalay hotel in Vegas and it was awesome, can't wait to get back….. well that sounds weird when I have Photoshop World to look forward to… but you know what I mean.
Today in this blog post some images from the trip. Hope you like them.
https://frankdoorhof.com/web/wp-content/uploads/2015/03/studioFD_Logo-1FV.png
0
0
Frank Doorhof
https://frankdoorhof.com/web/wp-content/uploads/2015/03/studioFD_Logo-1FV.png
Frank Doorhof
2012-09-06 07:00:52
2012-09-03 09:37:40
Driving from LA to Vegas