Last weekend I was invited to participate in a shoot in Almelo, the location was an abandoned building.
My first model of choice for shoots like this is of course Nadine, and luckily for me I'm often also her photographer of choice to work out some of the more extreme stuff (and extreme she can be). For this day I will divide the results over 3 different blogposts to also take some time to explain the techniques behind the shots.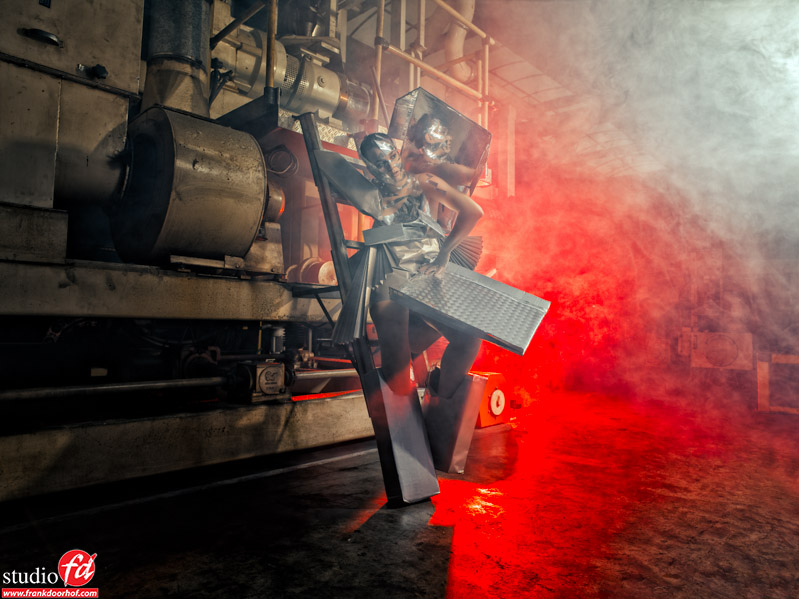 When we saw this machine I knew that this would be the first location for this setup.
Nadine's outfit is literally build from scratch and contains several household items, duck tape and cardboard, just to prove that you can make fun stuff for photo shoots without breaking the bank (and Nadine is a master in this).
For my light setup I used an Elinchrom Ranger RX speed with Maxilight (and a white grid) as my main lightsource. The advantage of a white grid is not only the light fall off (which is slightly less aggressive than with a black grid) but also the quality of light itself, combined with the Maxilight it's a beautiful quality of light.
As accent light I'm using an Elinchrom Quadra without any modifiers, so a bare bulb/strobe. The reason for this is simple, I wanted the strobe to act as an accent light, but also to spread into the lens so I can get some real nice effect in combination with the smoke, which brings us to strobe number 3.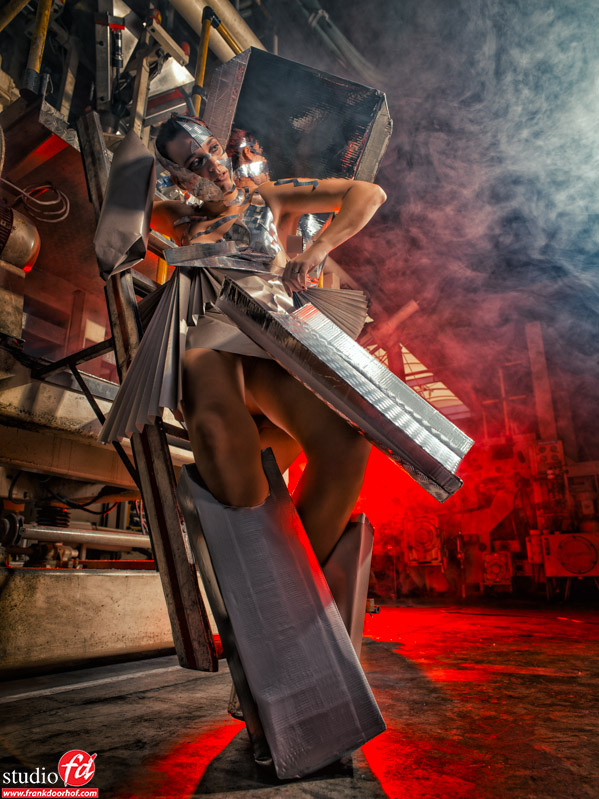 Behind the machine we positioned the smoke machine, operated by our "Smoke boy" Brian Doorhof, it's important to have someone operating the smoke machine to spread out the smoke nice and evenly (only be careful for smoke detecters :D), originally we planned to bring two smoke machines but the company that send us the smoke machine by accident send us one with a UK cord and because it was not detachable we had to rely on one machine. For the light I used a second Elinchrom Ranger with a standard reflector and a red gel. The red color behind the smoke creates a nice "mood" for the shot.
Always remember with shots like this to move around your subject, of course you're limited in your movements when there are three strobes in play, but you can still move back and forward to create different looks. For these shots I used a Mamiya 35mm lens on the Phase One DF camera with a Leaf Credo 60 digital back which gives me a very nice wide look. When using wide angles you always have to take care where to place your model, to make sure there is not too much distortion, but you can of course also play very nicely with that distortion by choosing for example lower angles (in a later blog post more about this).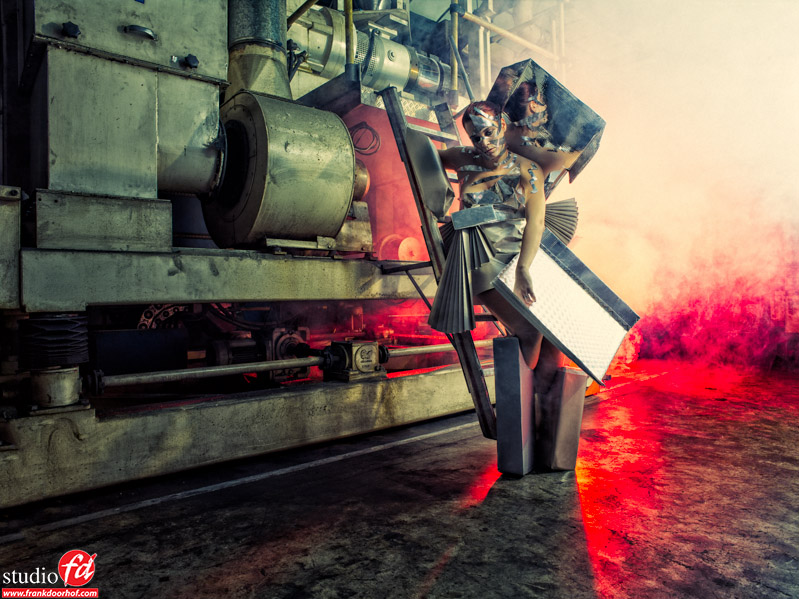 When you're shooting on a location the first thing you can do to really enhance the image is to think about story and styling, and not just shoot a model in jeans and a tanktop against a machine (which can be great, but often will result in boring). And as you can see, some creative work from our model and some nice lights and smoke can really create something that looks nice.
Now people always ask me "what item do I really have to buy, and doesn't break the bank, but is awesome".
My answer for this is often the same….. a smokemachine.
These "magical" machines can create a really nice mood from a normal looking location, and really help you to create the images that will look good in your portfolio, and they are cheap 😀 (but can be expensive).
Next time more tips from this session.
If you like what we do here, and want to support the blog please buy from our affiliate companies by following the links or the links below.



Want to be inspired by the best, make sure to get a subscription to Kelbytraining via this link?
Even the pros get their inspiration from them 🙂
https://frankdoorhof.com/web/wp-content/uploads/2015/03/studioFD_Logo-1FV.png
0
0
Frank Doorhof
https://frankdoorhof.com/web/wp-content/uploads/2015/03/studioFD_Logo-1FV.png
Frank Doorhof
2012-10-13 07:00:51
2012-10-09 17:16:32
Nadine as Robot