Some stories behind the faces
In the previous blog post you found some tips and tricks for street photography.
Today some of my favorite shots with a story attached.
Remember that these portraits are taken VERY quickly so are far from perfect.
Most of the times I take 2-3 shots and that's it, you can take more time of course but for me part of the challenge is to nail it in a few shots max and let the subject go as quickly as possible, over time I will probably learn to take more time, because when looking back some of these could have been much better by taking maybe 1-2 minutes more. But hey, that's what it's all about (the learning process).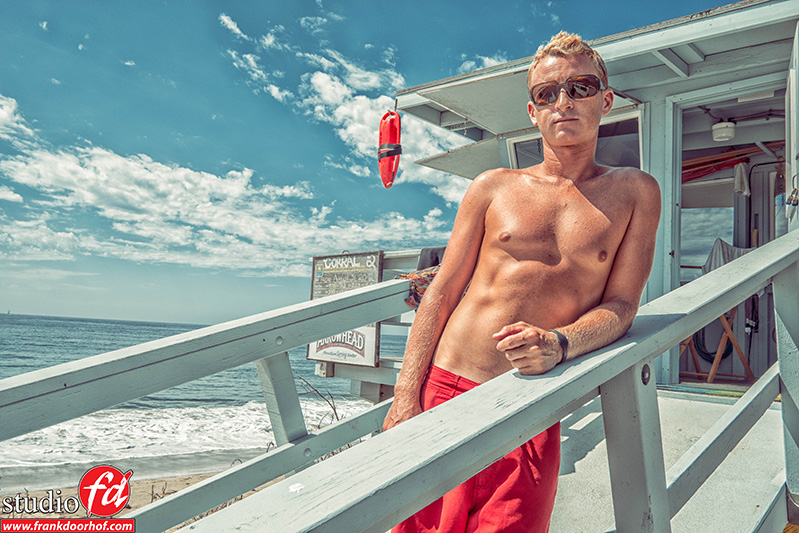 This shot I took during our trip over the Pacific Coast Highway.
I was actually shooting a VW with surfboard when the lifeguard approached me and asked me if I liked the car… well I did and we started to talk. Of course I asked him to pose for me for a quick portrait, and he did resulting in this image.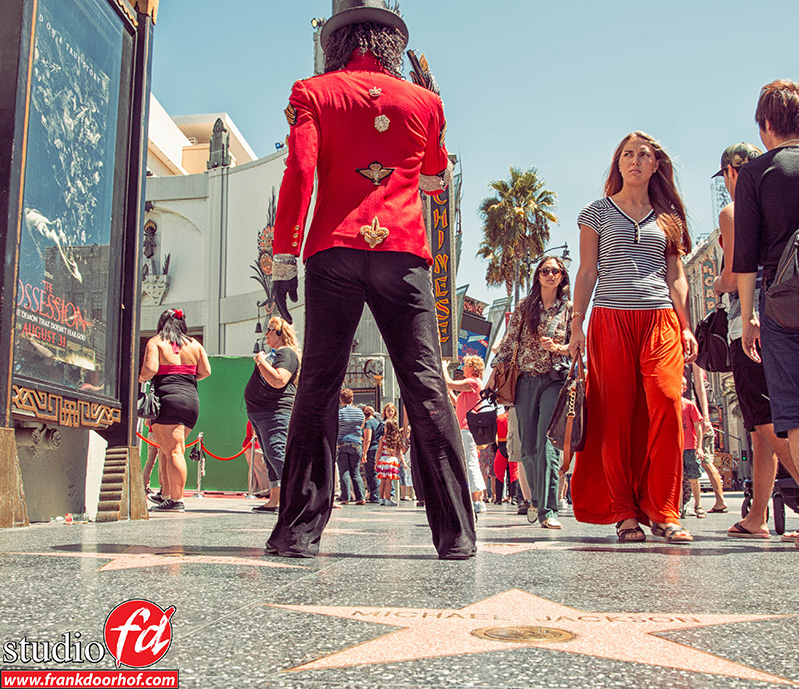 Somehow this "Michael Jackson" did not like me.
I was waiting for an appointment on the walk of fame and shot several images while waiting and of course also sometimes pointed my camera in his direction resulting in an immediately turning around fake Michael showing me a 5 dollar bill, I almost asked him for more because I was not planning on shooting him for a measly fiver, but somehow I restrained myself. When I thought it would be cool to do a shot from a low angle with the fake Michael turning around I could not imagine the lady walking past and I think when you look at her face you agree with me that the expression is priceless 😀 Sometimes all the luck is in one shot, remember that these kind of things cannot be planned.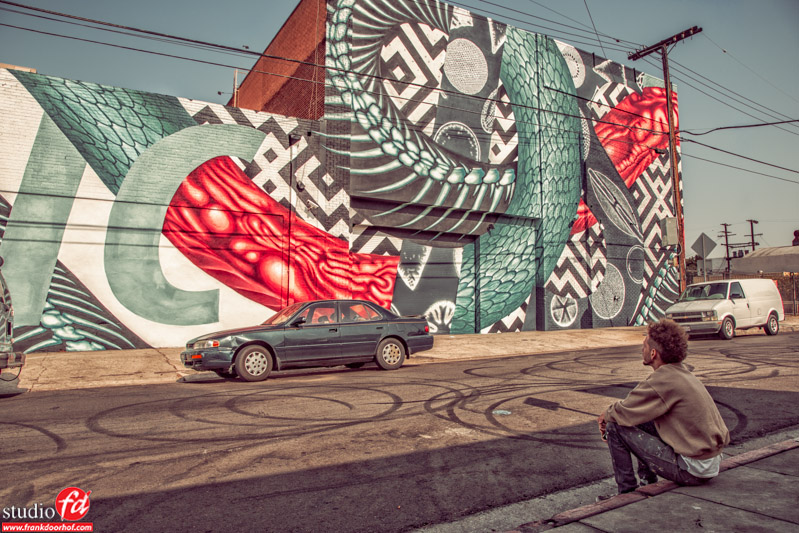 While shooting this building I saw this guy sitting on the sidewalk and at first did not give much attention to him, when I saw he was using an iPhone I decided he was not a homeless person and I asked him a question about something that got me wondering about the LA street scene (a pair of sneakers and flowers hanging on a power line). Very soon I found out that he actually was the artist that pained and designed the paint for this whole building. I asked him if he would mind me shooting him while he was watching his work. As you can see here he agreed and I took the shot.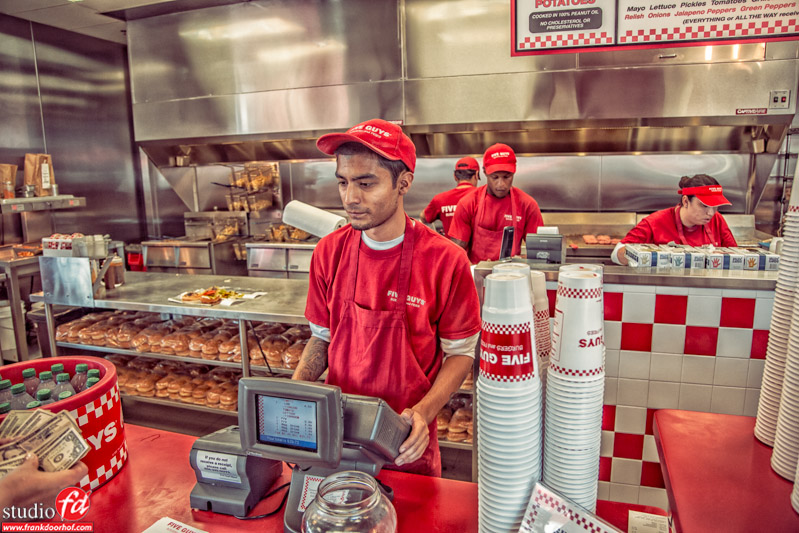 This shot was done in "five guys" just before my wife was paying for our diner/snack (never know how to call it :D). It's a bit setup because my wife spreads out the money but hey we do everything for the shot right?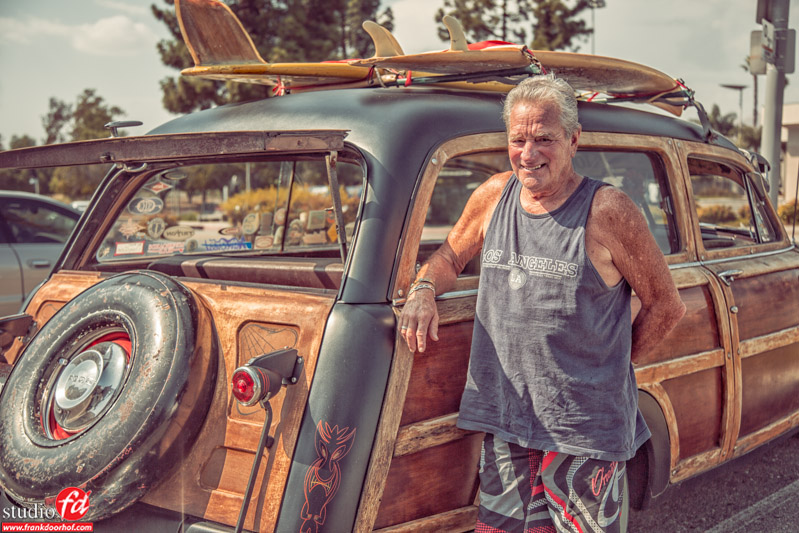 I shot this car in front of a store when this person came out and asked me if I liked the car (sounds familiar right?), my response was "yeah, love it, but I guess there is no AC right?", that broke the ice and as expected this was the owner. I asked him to pose for a quick shot and he had no objection. When doing this make sure you hand the person your card so they can also get a shot. Remember you are taking a portrait, make sure you give something back.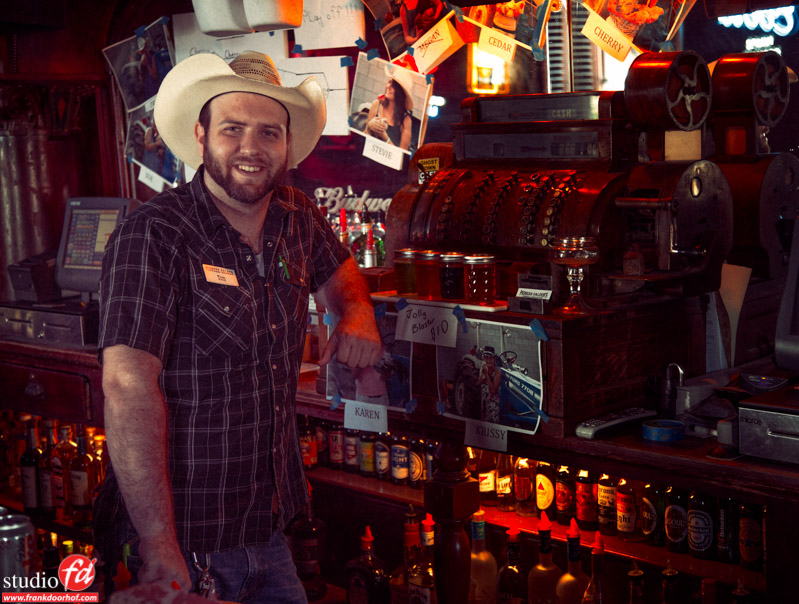 During our Route66 trip we wound up in one of the oldest still standing saloons and got some great information from the bartender. At the end I explained what I did for a living and that I would love to take his photograph, I think he was asked before because he immediately posed in front of the classic register.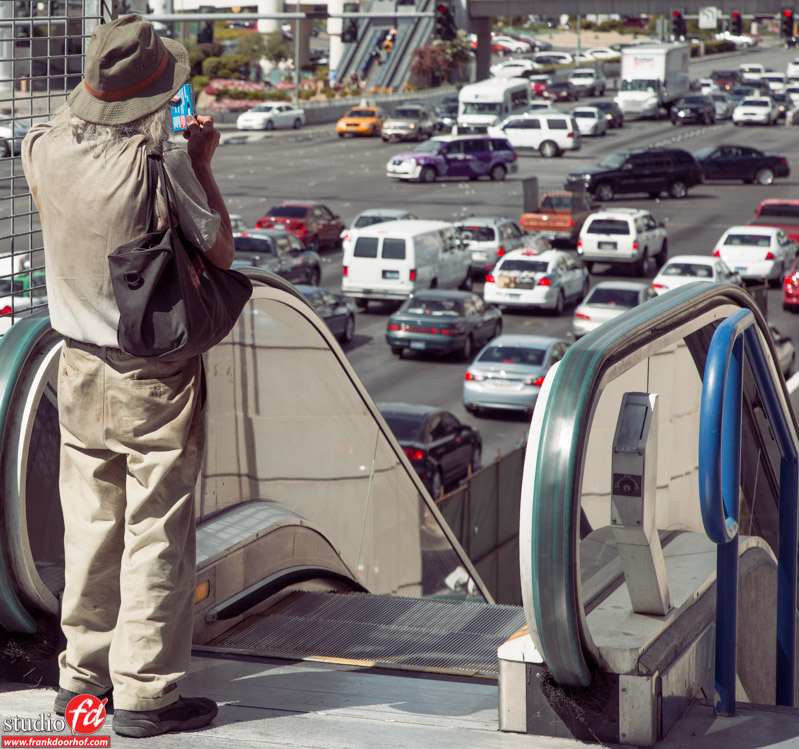 This one actually got me wondering about the story behind this character.
I shot this one in Vegas, the person, which I think is homeless, was with us in an elevator and sensing from the smell and looks I knew for sure he was homeless, but when the elevator doors were closing I saw him grabbing a deposable camera and taking this shot, I quickly took two shots just before the doors closed and am still wondering what was going on, why would a homeless person take pictures of Las Vegas…. maybe he is also on a holiday?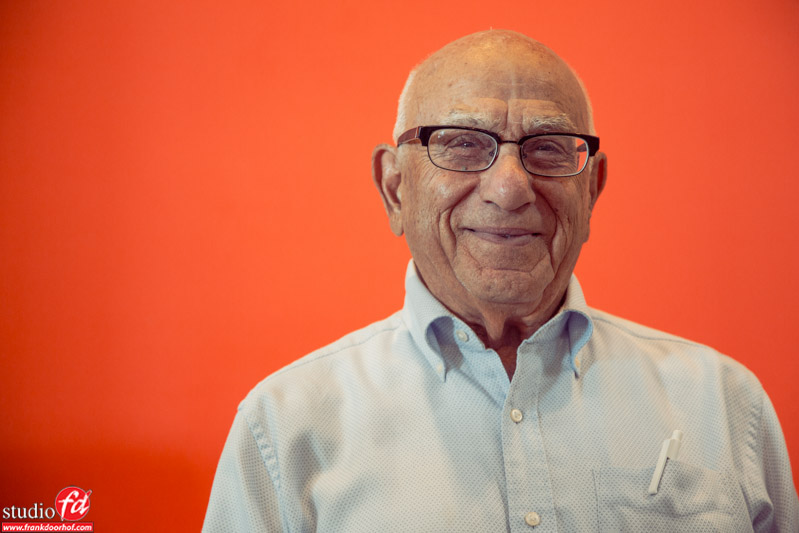 This one I personally love.
When we are in the states I always shop for clothes at the Casual Male XL stores (soon DXL), they have some awesome clothes that are made for me :D, in the Netherlands I always have great trouble finding interesting clothes in my size (too long and a bit too "wide" I always say), when I find something that fits it's too short and when it's long enough it's too tight grrrrr, well they have everything. But back to the portrait, this proud man was working his last few days just before retiring, so I offered him to take his portrait as a reminder of the store he worked in. I shot a few with the logo of the store and this one which I love for the color contrast.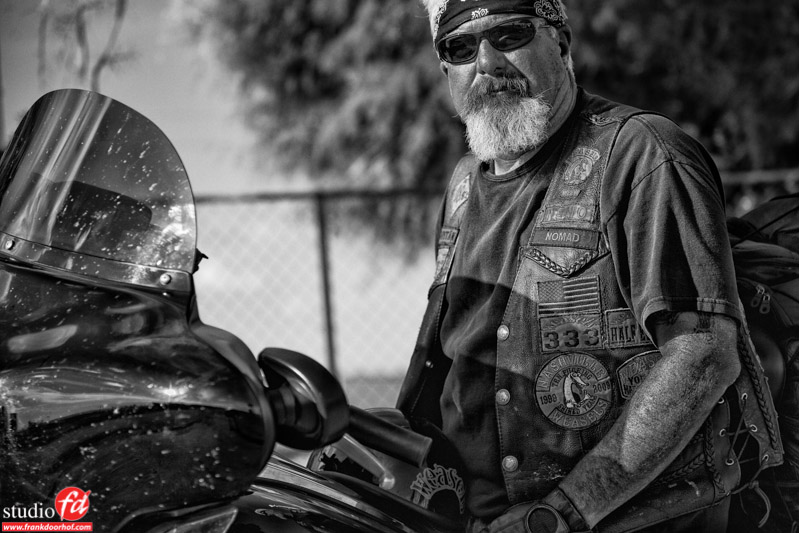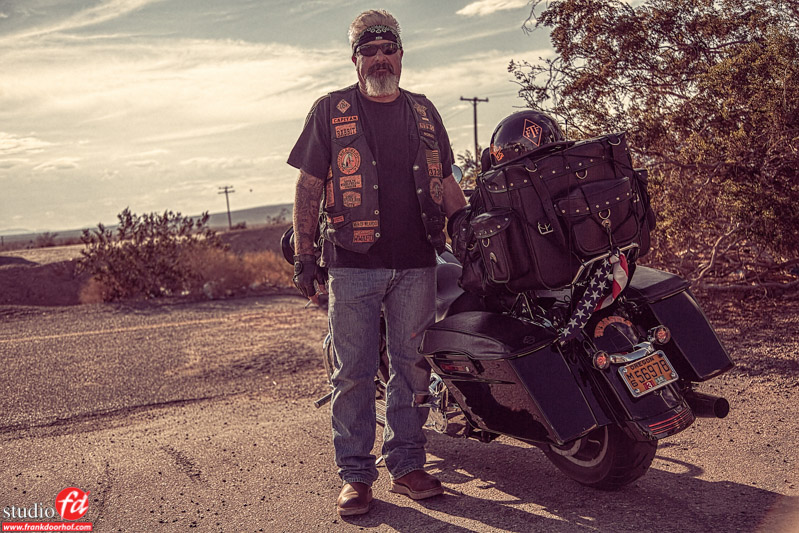 Another group I love to shoot are bikers.
Some look very intimidating and to be honest I'm always a bit afraid to approach the more "terrifying" to ask them for a portrait, but over time my experience learned me that actually those people are most generous with photos. These two bikers were not intimidating at all and loved for me to take their portrait. One was shot during our Route66 trip (BW) and one in LA in front of a Laundromat.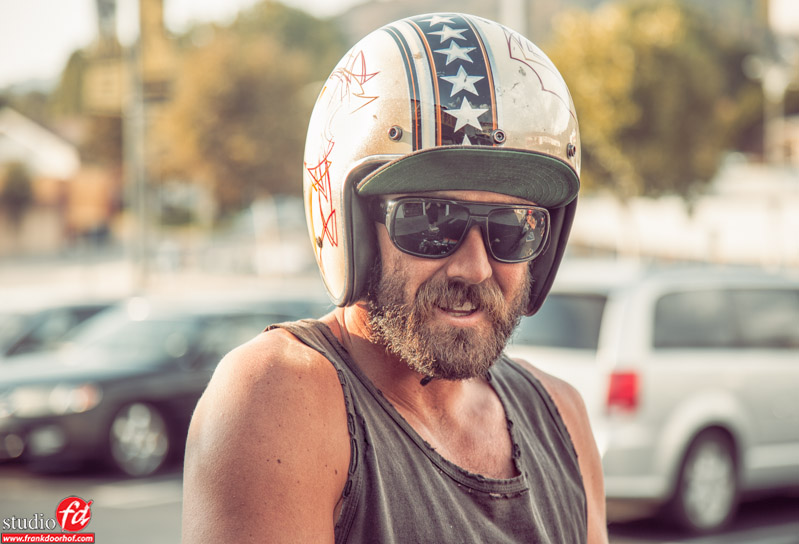 https://frankdoorhof.com/web/wp-content/uploads/2015/03/studioFD_Logo-1FV.png
0
0
Frank Doorhof
https://frankdoorhof.com/web/wp-content/uploads/2015/03/studioFD_Logo-1FV.png
Frank Doorhof
2012-09-24 07:00:07
2012-09-18 23:28:04
Some stories behind the faces