Nirmala with some "different" lighting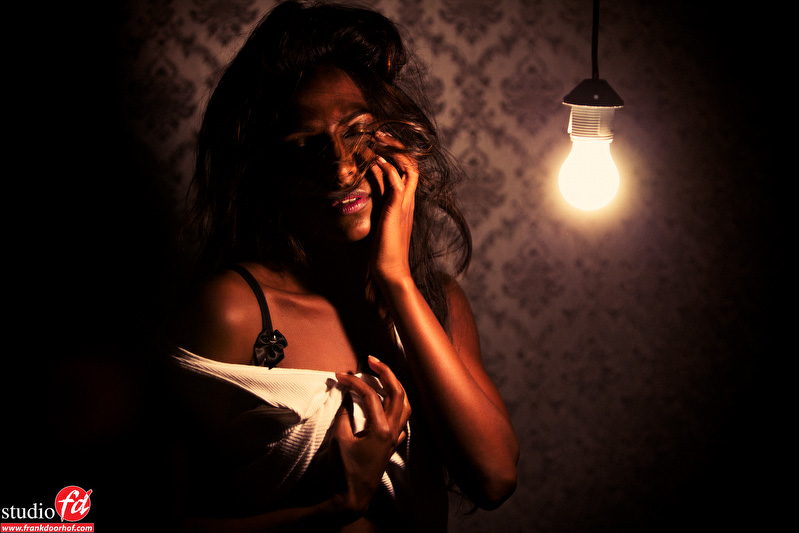 During the glamour workshops it's always a question what I will do.
Together with the Advanced workshops these are the workshops were I love to experiment, freak and sometimes do things I never did before. Add to this a great model like Nirmala and you know it's "party" time….. In this blog post some of the images and some of the techniques discussed.
You know I really love to show stuff that people don't expect.
A lot of people will comment on my work that it's easy when you shoot with expensive lights, expensive cameras etc. However what they often forget it that most of my work is shot with a minimum of strobes, often limited to maybe 2 but often only 1 is used. And let's be honest you don't really need a lot more to tell a story, it's about the model and the way the light hits her and this can be perfectly done with one strobe. So also in this workshop we started out with just one strobe aimed at the model under a slight angle. In this case the Elinchrom Deep octa with lighttools grid. The main focus for this "exercise"  was to push the students to coach the model and look for the shadows, pose and that everything stayed covered up OR not, but they needed to make that decision for the session. This sounds easy but trust me it's a difficult task when you have to perform on the spot and are not used to this. So for the glamour workshop where there is so much to watch (not much clothes covering everything up, and the change of showing for example a nipple when it's not meant to) it's a difficult task. One of the assignments I set myself was to shoot a few covered up shots and one were there was something showing very slightly from the shadows to make the image a bit more "adventurous" Personally I don't like a full topless look so I will always try to make the image a bit more covered up or what I like is something like the second image, where there is not a real "attention grabber" but it's still there.
Here some of the images I liked myself.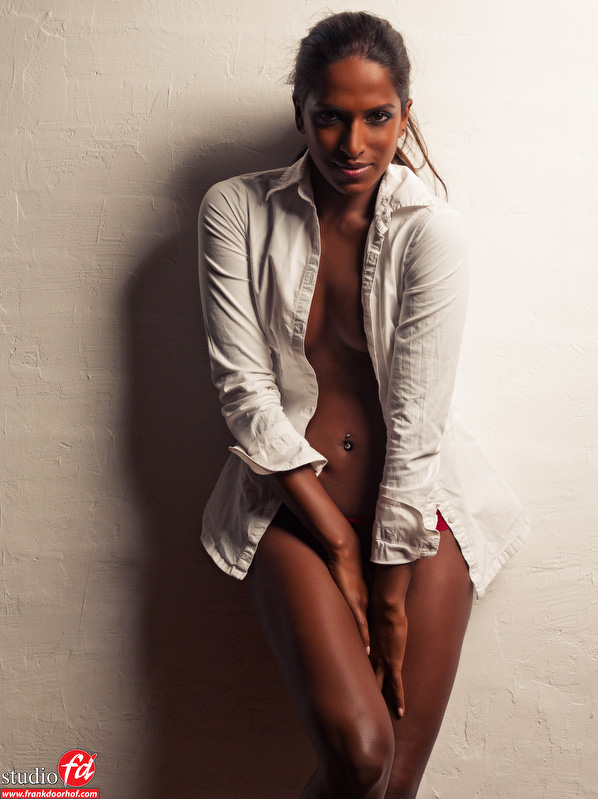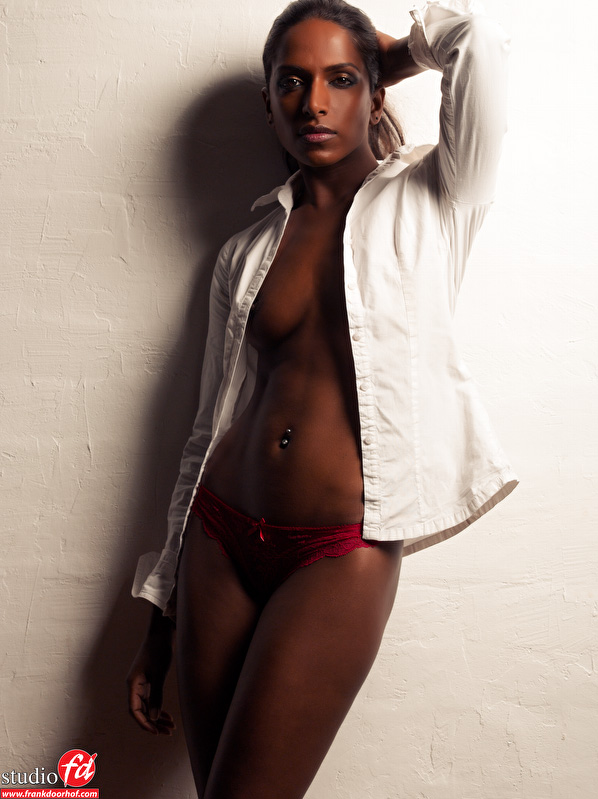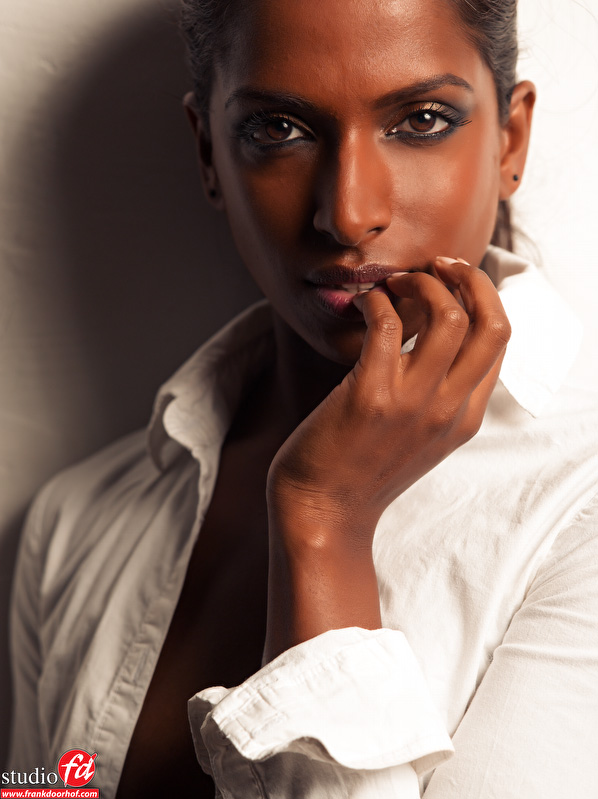 Adding some motion
Posing is ok, but I really don't like the well known "stiff" posed poses. You know what I mean, those safe poses you see a lot. For me it takes the image down in quality, sometimes you see perfect images but they are destroyed because the model is just "beautiful" but not "alive" and especially with glamour expression is key. However I have to say that with the following shot I did go a bit overboard with the movement thing but I just loved it. And I've done so many other poses on that setup that I wanted to show something different this time.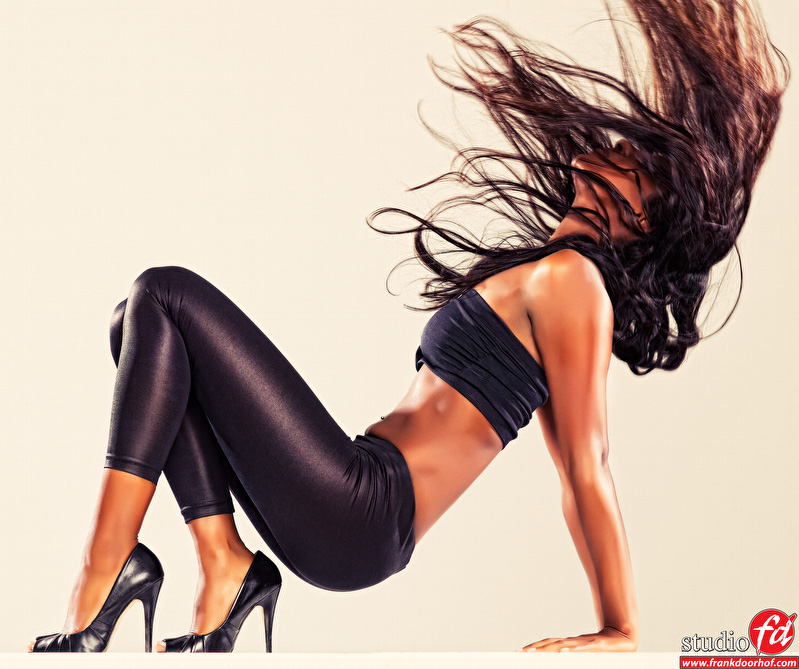 Does it has to be sharp ?
Well normally yes, but sometimes you capture something and it's just awesome (well at least I think it is) and it's not sharp, well in some cases I will just use the image, especially because this is a movement shot I don't really mind and even think it adds some to the mood of the shot. This shot was done very quickly with the same setup as the shot above with one difference, I changed my own position to shoot straight into one of the accent lights. The outcome even was a surprise to me, normally they turn out nice but somehow I fell in love with this one.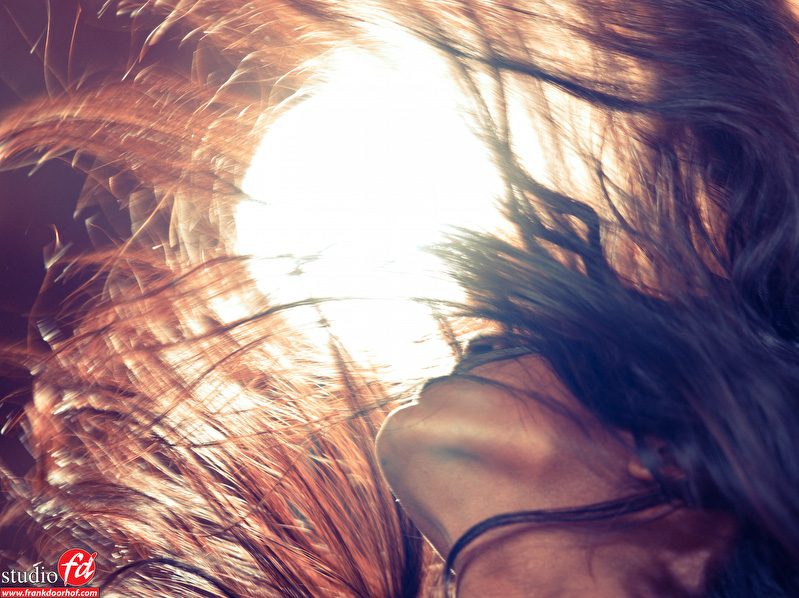 Only expensive lights ?
Well that depends on your view on light of course.
Some people will say they will never shoot to the level of photographer X or Y because they can't afford their gear and only have cheap strobes or no strobes at all…. well that argument never worked for me. I strongly believe that if you're a photographer you should be able to see the light in many different ways, with or without strobes. Sometimes this will be done during the workshops (often glamour or advanced).
The way I do this is by using the most simple light source you can imagine, a very simple light bulb. And no it's not an Elinchrom bulb, it's not a profoto bulb, it isn't even a real brand one, you can use whatever bulb you want. For this setup I changed my camera to the 5DMKII because it handles the higher ISO's much better than the Medium Format system.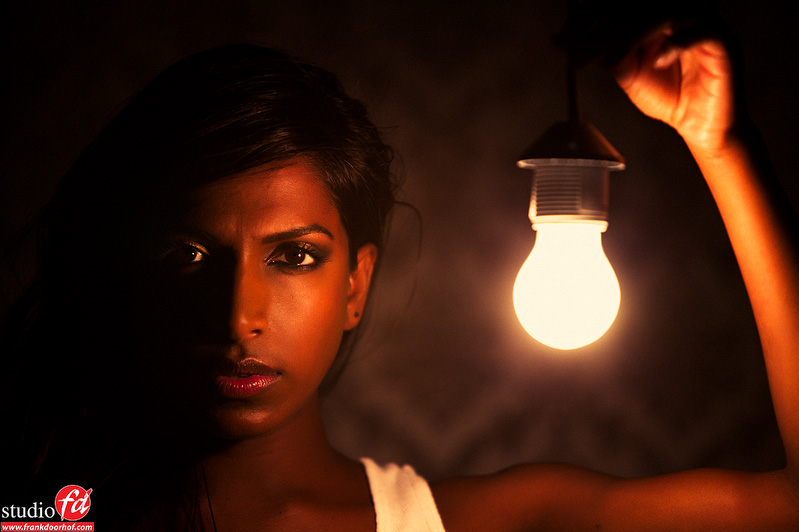 Just putting a light build somewhere however does not make an interesting image, to be honest it's maybe one of the most difficult things to do. In this case the distance between the model and the background was key as you can see in the following shots. Seeing the results I get from the students when I do something like this I think I will make a segment on it in of my next instructional videos 🙂 they all love it but when practicing at home it's often not that easy 🙂
Here are some of my favorite shots, also here I don't mind just a little blur in the images, it all enhances the mood.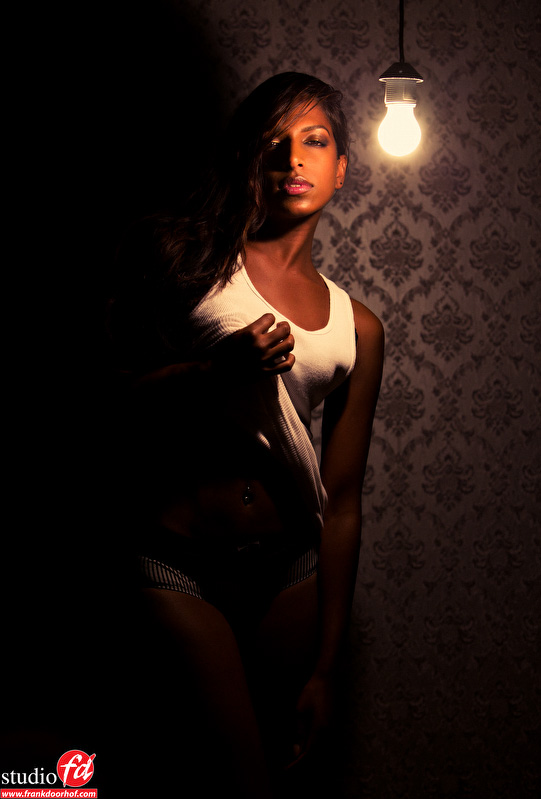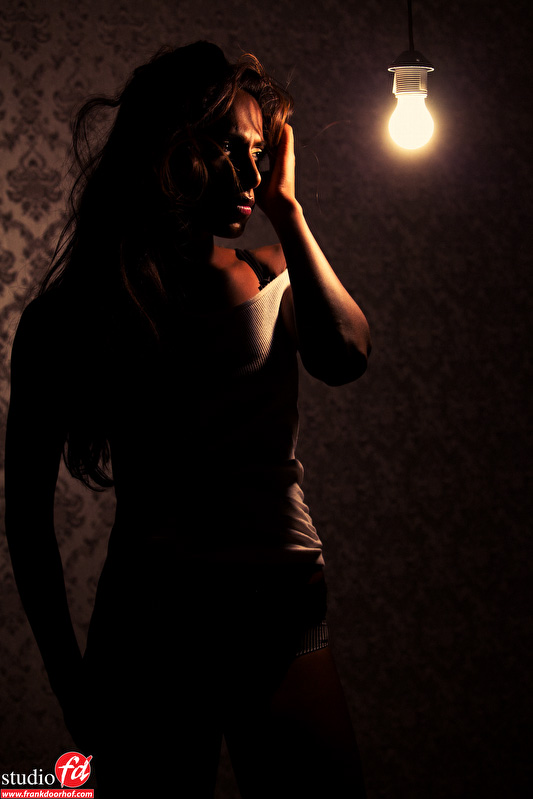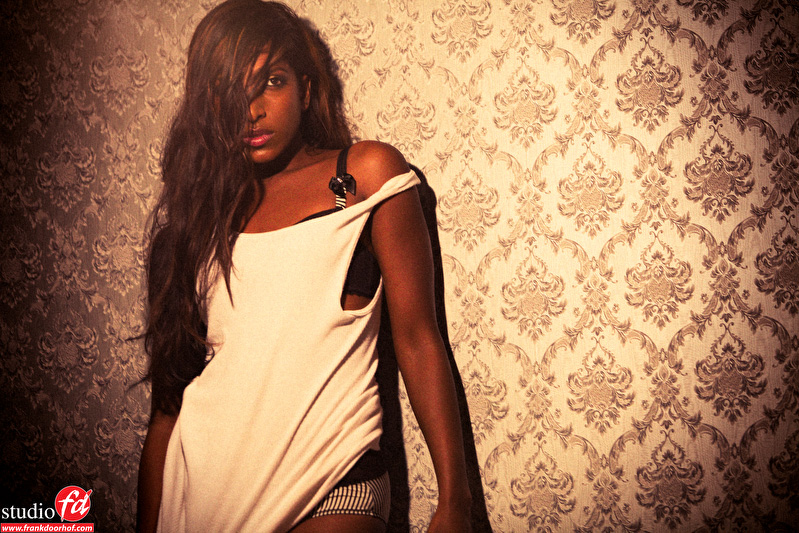 Remember that in ALL shots the light bulb was in the exact same position.
The only thing changed was the position of the model, the angle and of course…. the exposure.
Although one would think that shooting stuff like this would be perfect for AV/TV mode you can't be more wrong, especially this is very easy to measure with a light meter, try to shoot it on AV mode and you will get a lot of under or overexposed images to a point that they can't be rescued. Measure it and it's all good.
Any questions, feel free to ask.

If you like what we do here, and want to support the blog please buy from our affiliate companies by following the links or the links below.



https://frankdoorhof.com/web/wp-content/uploads/2015/03/studioFD_Logo-1FV.png
0
0
Frank Doorhof
https://frankdoorhof.com/web/wp-content/uploads/2015/03/studioFD_Logo-1FV.png
Frank Doorhof
2011-07-20 07:00:52
2011-07-18 15:44:21
Nirmala with some "different" lighting