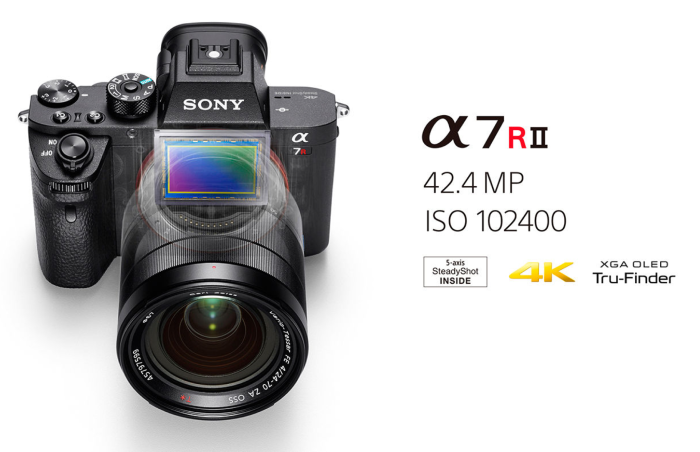 When I switched from Canon to Sony at the release of the A99 I did a small prediction…. "In 10 years Sony could be the new number 1, if they keep doing what they are doing", little did I know about what would happen in only 2 years.
At the moment you must be living under a rock to not take Sony serious.
In Medium format they are the "unknown" number 1, meaning every manufacturer is now using their sensor from Hasselblad, Phase One, Mamiya/Leaf to Pentax and to be honest, I tested the Credo50 just before release and it was breathtaking what the Sony sensor does. But also Nikon uses a lot of their sensors. The reason is very simple, their sensors are just the best in dynamic range, color and noise performance, I actually hoped that also Canon would switch to Sony sensors (I still love Canon).
But just making sensors doesn't make you number 1.
Making great cameras and lenses does (and pro-support… where Sony is still miles behind in my opinion).
Well lenses are a no-brainer, Sony delivers some of the best lenses due to their cooperation with Zeiss (and on Sony you have AF with these beauties guys :D), and their camera line is also VERY impressive at the moment, as soon as the A7 series were launched you just felt something coming. I loved the A7R but there were still things missing, the camera felt a little bit small, the speed was ok, the AF was ok… everything was ok but the images quality was WOW so you accept all the ok's for the simple reason… the perfect camera doesn't exist right?
When Sony released the A7RII it was a shock for many…. they did NOT hold back, this baby is cutting edge, and according to some "The best camera in the world"… but is it?
In the video you can see via this blogpost I did the first tests with the Sony A7RII on the street so watch it to see my opinion, but in short I'll give you some "pointers"
EVF


Without a doubt breathtaking, everyone I show the viewfinder goes back to their own camera and find themselves looking through much less spectacular viewfinder, the images is HUGE, and that's indeed the case, at the moment the A7RII has the largest viewfinder on the market period, and the EVF is very fast and responsive.

AF speed


What can I say… it's FAST, and with the phase detection it's "sick" on some lenses, 399 points spread out of over the complete sensor meaning you can track someone without ever loosing your subject, also a first in a camera.

AF speed (2)


Remember that the A7x series is compatible with almost any lens ever build?
I use for example M42, A mount (Minolta) and Leica R lenses on my camera, but Metabones also has a Canon adaptor… and it even auto-focusses, well…….as they mention on their site "don't expect to much" well also that has changed, with the A7RII the performance is even (according to some tests) marginally faster than on Canon bodies themselves… does this make Canon a lens manufacturer for Sony? well I don't know but I know it makes switching much easier for Canon users

Video 4K


On the card and in pretty good quality, I did some recordings and it's indeed very good, but I'm not a video tech so I leave that part to others, but shooting on the card is pretty nice, but you can of course also output it to a separate drive.

Image stabilisation


5 axis on most lenses, and because it's in body it also means your old manual focus lenses are…… well stabilized now.

Speed


It's not a speed monster with 5 frames a second… but to be honest do take into account it's a whopping 42.5MP that is transported and now 5 frames per seconds sounds pretty impressive, especially because there is a reasonable buffer.

Speed 2


The whole handling of the camera feels faster and easier

Body


The new body is a huge improvement for me, I like my cameras a bit more "beefy" and this body is still not the A99 but it's better than the A7R.

Auto ISO and High-ISO perfomance


FINALLY we can now set a minimum shutter speed for auto ISO, this is something we all begged for, and now we have it, and in more than enough options, also very easy to program under for example custom buttons (I use it under 2), add to this the very good high-ISO performance and you have a beast for street and travel photography.

HDR Bracketing


Same here, wanted it for a long time, and now we have timers, more options etc. I wouldn't ask for more.

Wifi


Yeah it's there and it works with Sony's app (nitpicking… I wish it would support tethered shooting for JPGs on the mac, but who knows)

Tethering bracket


Oh so cool, a small bracket you screw to the side of the camera and the cables is VERY secure. I always tell people to get a jerkstopper and although I'm a huge Tethertools fan/ambassador (we are even the Dutch distributor) I have to say that this solution is superior and I would love to see it on ALL cameras, but it's a bit of a hassle to get it on, but when it's on it works like a charm.
And so much more……
As I end the video….
Is this the best camera in the world?
I honestly don't know because I didn't test all the cameras, but I believe it when someone tells me, the camera is just bloody awesome (pardon my expression) but I really don't have any other word for it. The high ISO performance is great, the speed is great, the AF system is "sick", the feel of the body is great, but most of all the image quality is well nothing short of amazing (thanks to the new backlit sensor, which also is a first in a camera like this).
One could say this all reads as an advertising for Sony and I really can't help myself, you guys know me, if there is something to "B*tch" about I will do it, but this camera is just so incredibly well build and working so nicely that at the moment I just don't know anything to add…. well ok GPS…… (Ok, who uses that… well I love to use it).
So enjoy the video, and maybe I'll see you soon online with your new A7RII 😀
https://frankdoorhof.com/web/wp-content/uploads/2015/08/Bildschirmfoto-2015-06-10-um-19.51.25-700x4521.png
452
700
Frank Doorhof
https://frankdoorhof.com/web/wp-content/uploads/2015/03/studioFD_Logo-1FV.png
Frank Doorhof
2015-08-21 19:54:08
2015-08-21 19:54:59
Sony A7RII review video