The perfect camera bag…..
We all look for them, and often we spend a great amount of money on bags that will end up not being perfect. Well let's say photographers can be picky. And I'm without a doubt one of them. When we travel we bring a lot of gear, and I've tried the fair amount of camera bags. A few years ago I thought I found the perfect bag, of course it was a Lowepro and I loved it, however a while ago I got the new version from "de greef and partners/Lowepro" and to be honest I thought there would be nothing more fitting my needs than the Lowepro Vertex 300. A great bag pack for all my gear…. well I already said "I thought"


While teaching at Photoshop World I saw the X200 bag that David Ziser was using and he loved it, so I mailed them to send me one to try. Today it arrived and I must say I've never ever been so enthusiastic about a camera bag, this thing rocks. So today a small review on the "for me" perfect camera bag. The Lowepro X200 roller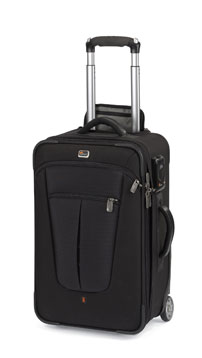 When we travel I always have to bring a rather large amount of gear.
Normally we travel with one backpack containing a Canon system and one with the Leaf/Phase One system. Luckily for me Annewiek always accompanies me when we travel so we can share the "load". However lugging around with two backpacks sometimes is very impractical, especially on airports. However the bag packs are just so easy and the roller cases I saw up until now never really got my attention for travels, so Yes I know the X200 has been on the market for some time but I just got it now 😀
So the most import thing for me was that we could replace at least one backpack with a roller case, but I needed a big one, because somehow the stuff we carry in our "carry-ons" get more heavy because airliners are charging ridiculous amounts of extra money when a suitcase gets just 1-2 pounds over weight, meaning we are cramming more and more into the carry on luggage which up until now only has been weighted once (thankfully), which meant a huge problem right away, but we solved that by taking out the camera with the biggest lens and labeled that my personal item 🙂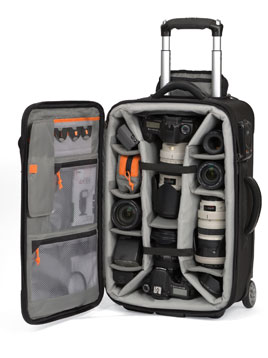 As you can see there is loads of room in the X300, and because the bag is a bit deeper than my Vortex X300 I already love it. With the X300 some of the lenses needed to be flat because they were just a bit too heigh for the backpack.
Size(Interior): 


12.2W X 6.6D X 19.8H in./
31 X 16.8 X 50.5 cm

Size(Exterior): 


15.7W X 11.2D X 24.2H in./
40 X 28.5 X 61.5 cm

Notebook Compartment Inner Dimensions:


12.7W X 1.1D X 18.1H in./
32.5 X 3 X 46 cm
Another cool thing compared to the bag packs is the way you can set it on the floor. A backpack you can just put flat on the floor, but with the Lowepro roller cases you can also them under an angle which is great on location.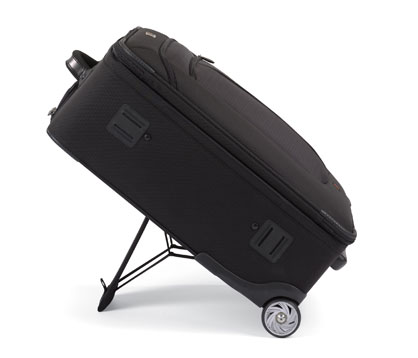 But we're not there yet.
Lowepro really thought about this bag, because the following "tricks" really got me smiling.
I love backpacks and there are situations were I prefer a backpack over a roller case, especially when you go out shooting in the street. I often don't carry a lot of heavy stuff with me during those days and I will most of the time just bring the D300 Stealth reporter which I love for carrying around just some lenses and smaller items (and you can carry a lot in that bag) but sometimes I need more space for longer hikes or walks and than I love the bag packs….. well no problem anymore. You can unzip the inner part of the X300 and look there you have a backpack.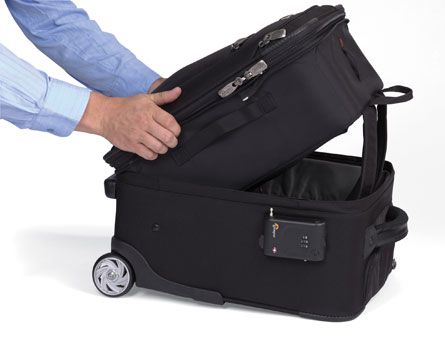 That's a nice trick.
But the best is yet to come.
We often travel to the states (and other countries) and we always bring two suitcases that are rather full with clothes and other necessities. This means we can buy some articles abroad but we have to be careful with space. It happens several times that we had to buy an extra suitcase abroad because we bought a bit too much clothing, with the X200 this problem has been solved also. Because when you take out the backpack version you will see that there is an extra "flap" inside the bag that can be zipped closed and now you have an extra suitcase, so you fly with a roler case and one backpack and 2 suitcases and you fly back with two backpacks and three suitcases…. genius.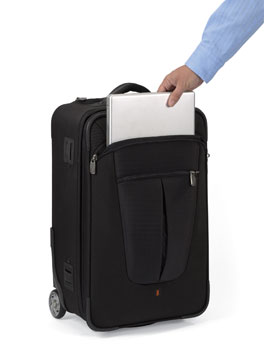 Of course it also fits your notebook.
And it has a nice TSA lock so you can lock your case while on a trip or when you have to check it, however I would never ever check camera gear, but when used as a suitcase with for example clothing it's a very safe idea to know you have a good lock on it, but not only that. I demo a lot on exhibitions etc. and it has happened to me several times that gear got stolen, with the TSA lock you can mount your case to a pole or something else steady so people can't run off with your case.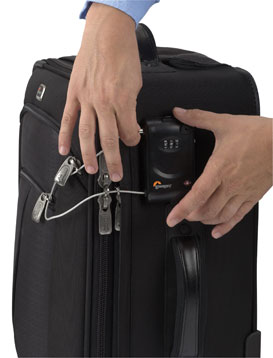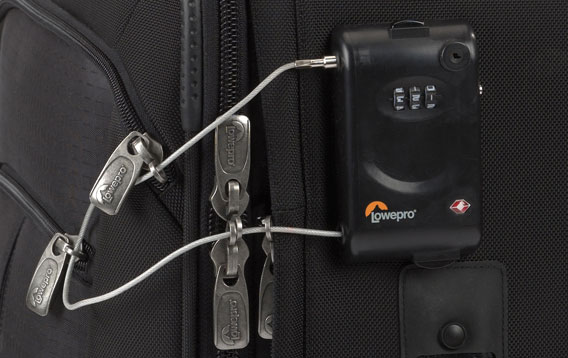 But there is even more….
When on location it can happen that you forgot to bring your tripod or stand for the strobes. It happened to me a few times that I thought I would not be needing my strobes off camera and later found out that it would have been nice to bring a stand for my strobe, well with the X200 also this is solved.
Believe it or not but you can mount a small camera or flash unit on top of the bag for use on location…..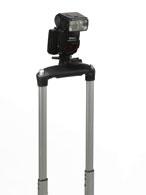 Oh and finally…..
The wheels are removable.
The case fits in the overhead bins and is approved for air travel carry on.
It fits a LOAD of gear and has a lot of extra pockets for cards and other smaller gear you need quick.
To be honest I've been enthusiastic about a bag before, but never wrote a review on it, simply put because it was just a bag… but the X200 well as you have read here, that's a totally different story. Maybe you already heard about the bag and is it old news for you, I know that there are a lot of photographers out there that struggle with the same dilemma we do and maybe this is also the solution for them 🙂
If you like what we do here, and want to support the blog please buy from our affiliate companies by following the links or the links below.



https://frankdoorhof.com/web/wp-content/uploads/2015/03/studioFD_Logo-1FV.png
0
0
Frank Doorhof
https://frankdoorhof.com/web/wp-content/uploads/2015/03/studioFD_Logo-1FV.png
Frank Doorhof
2011-09-23 07:00:20
2011-09-21 19:43:24
The perfect camera bag…..