Todays tip is about working with assistants.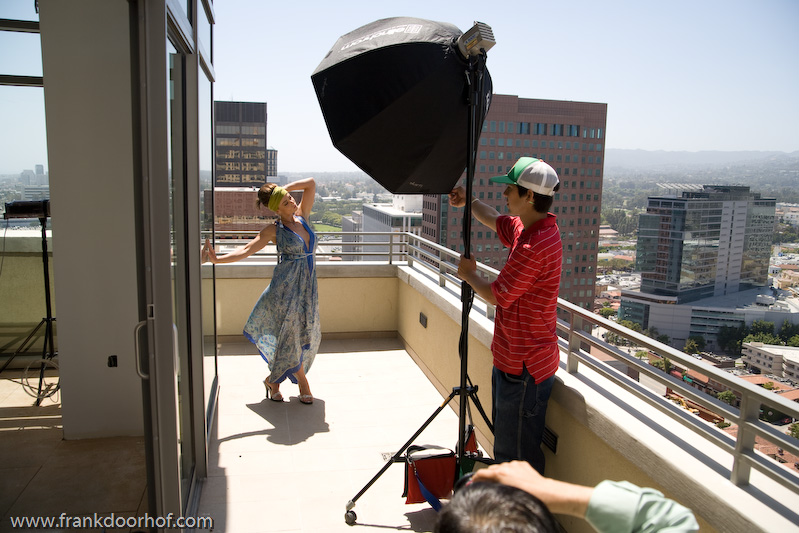 A few years ago I never thought about working with an assistant, I love to work alone or when needed I just asked my wife Annewiek and she helped me out. However when one of my models needed a quick change for her internship (which didn't work out) I decided to help her out and gave her a spot without our studio. Well to make a long story short, at the moment we have one intern in the studio which stays for 20-25 weeks and one of those interns is now part of the studio as a shooter and retoucher (Wendy Appelman). I do have to add that I only hire assistants abroad when I really need to, Annewiek is always traveling with me and she knows exactly what to do (and when), if she wouldn't travel with me I would however without a doubt hook up with a local photographer to help me out, because the results will simply put be much better when someone takes some of the "stress" off.
Now I hear you think "Yeah well, you have work enough and need them but I only shoot weekends" etc.
Weekend shooters need assistants too
Well actually I think every photographer needs one, let me explain.
During the shoot there are many things you have to think about, setting the lights, coaching the model, doing some backstage photos or video, cleaning up the site, making sure everyone is happy (food drinks etc), picking up the phone during a shoot, emptying cards, checking focus, talking to people passing by and making sure you are not send away etc. etc. etc. there is just too much going on I can't even post it in one blog post if I wanted to (although I will vary per shoot of course).
Just think about all this being lifted, some else is taking care of everything and the only thing you have to do is focus on the shoot, the model and getting THE shot, wouldn't that be great ?
It can be free
Sounds funny, but trust me a good assistant can be totally free.
There are a lot of starting photographers out there that would love to help you out during a photoshoot, shoot backstage images and probably also do some filming. However I can imagine you don't want a second shooter that will learn from you and emulate your style, although I have to add that this is not a real issue because we are all different and I actually never experienced that one of my students was doing exactly the same that I did, well actually it did happen but the quality is so different it's not competition. We are all different and see things our own unique way.  But ok you don't like the idea, I dig that.
Your assistant doesn't has to be a photographer.
Try to team up with a videoshooter and you can have a killer combination, he/she has great stuff to shoot and in between he/she can help out. But the problem with this is that it's not really an assistant, it's more someone that shoots your backstage material and gives you nice videos for youtube or vimeo, in the end it can mean you are even bussier.
No the real answer is much easier, but often overlooked.
Ask a friend….
Sounds strange but it actually works like a charm, I've used this many times. Friends are always interested in what I do and asking them to help out during a shoot can be fun for both you and your friend. He/she can help out with everything that doesn't need photographic knowledge, can shoot some backstage stuff when there's nothing to do and will take a lot of work out of your hands. However we often don't ask because we THINK that it's just uninteresting work, remember it's the work we hate to do, for someone who doesn't shoot this is however often an adventure and something he/she loves to do. Actually I still have several people that ask me if they can help out during a session. I once made the joke on Dtowntv that when you mention beautiful women in bikini's the "assistants"  will line up, but this was a joke of course (although for some people it does actually help, but those are not the kind of assistants you want), the whole experience of a photoshoot and being part of a creative team is fun, exciting and always inspiring who wouldn't want to be part of this ?
So next shoot just ask one of your friends and see how handy an assistant can be, and how much fun they have.
Feel free to comment and post your opinions/tips/stories.
https://frankdoorhof.com/web/wp-content/uploads/2015/03/studioFD_Logo-1FV.png
0
0
Frank Doorhof
https://frankdoorhof.com/web/wp-content/uploads/2015/03/studioFD_Logo-1FV.png
Frank Doorhof
2011-07-27 07:00:10
2011-07-18 08:45:45
Having an assistant can be great…..