Kimberley free work session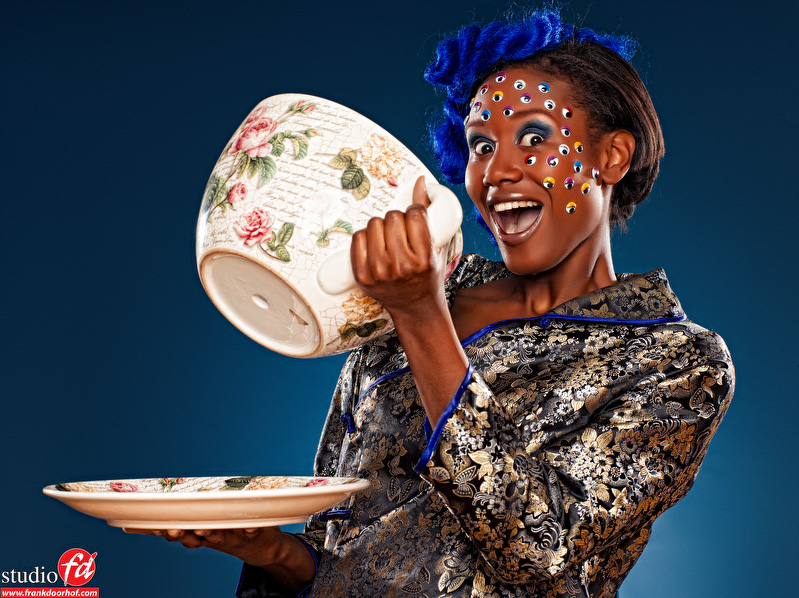 A few years ago I never wanted to work with an intern, I thought I would work faster without one. However the appeal of having someone that could help me out with the work that was eating away time from the creative stuff also called out to me, so finally I decided it was maybe time to start using interns.
In our studio I will invite one intern for a period of 20-30 weeks and they will be my assistant for that period, meaning they will help out with photoshoots, workshops etc. but also do the basic video editing and some more routine Photoshop work, this week we had a special intern, a one day "snuffel stage". Because of this I decided it would be fun to invite a new model over and make a creative day in the studio were we could play a bit with styling and concepts and just have some fun. The following images are the result of that day.
Model : Kimberley Gerot
MUA : Linda Rutgers
Assistant : Dilani Butink
Intern : Jolien
Photographer : Frank Doorhof
Linda is without a doubt one of my favorite Makeup Artists because whatever we throw at her she will make something creative and interesting. Kimberley already send us some mood boards from which to work from, but as usual (and it should be that way I think) the mood boards were greatly improvised upon. For the first setup Linda used just a newspaper to create an interesting "clothing" piece, it's been done over and over but to be honest I never shot something with newspapers so for me it was a new challenge.
Lighting wise it's a very simple setup where I used the Elinchrom Maxilight with a new grid (on which I will write a small review after the weekend), as accent light I used a strip light, we wanted to put this against a black background so I wanted to see a small accent on the side of Kimberley.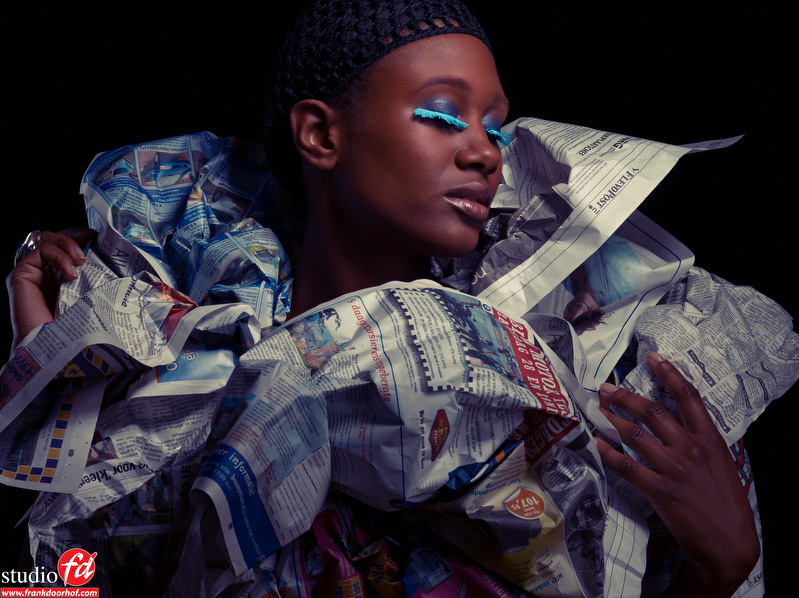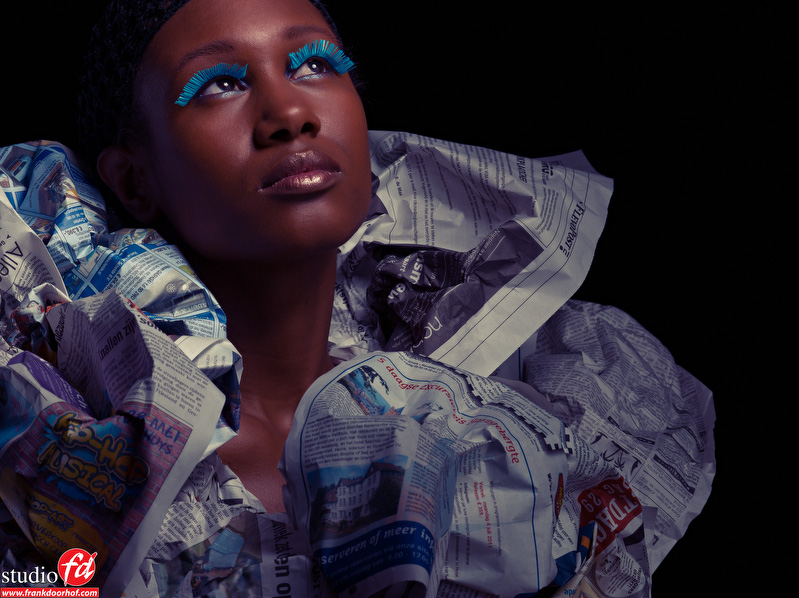 With the next setup it was all about the colors.
I just love to shoot the more dark skinned models and when combined with earth tones and a dress like this I'm totally in love with the outcome. Light doesn't have to be complicated when everything comes together. For this setup I used the  Elinchrom Maxilight also with a new grid.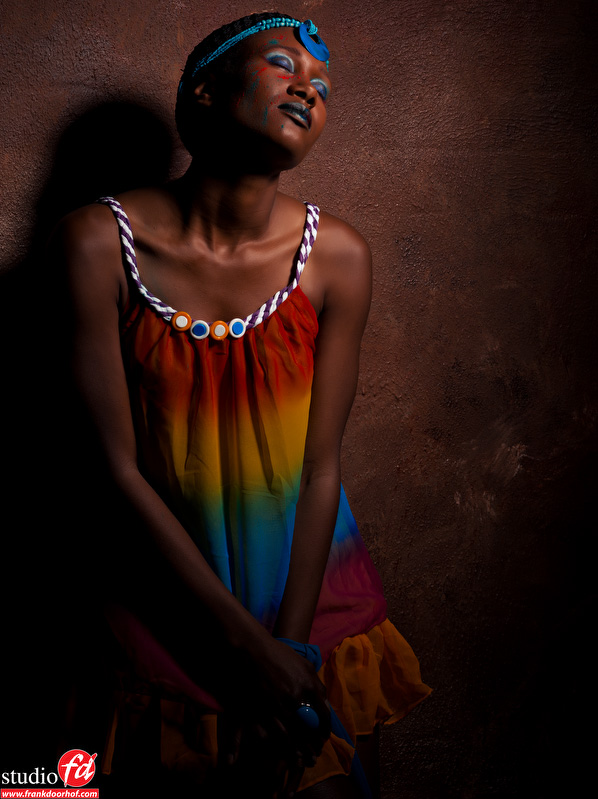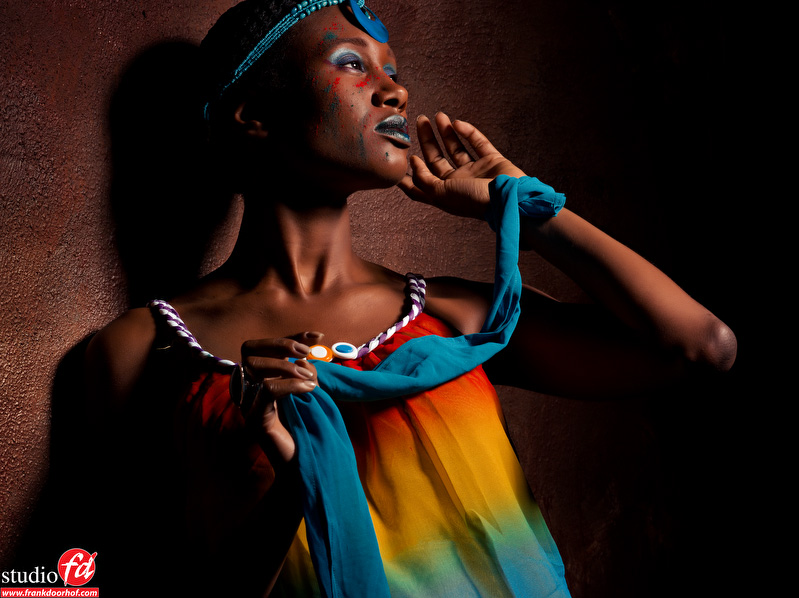 With the last setup we started with just some shots in front of the blue background, but very soon I started using the arsenal of expressions that Kimberley can show, and more and more the idea started to build to add a prop to the shoot. I first wanted to use something else, but as soon as I saw this cup and saucer I knew it now was time to use this prop. I have this in my possession for some time now and once used it in a shoot but I did not like the end result from that particular setup, so it was a second change for the cup and saucer, and this time I think it worked out just fine, my fav shot is the one at the top of this blog post, and here are the other ones.
The setup was more complicated than the other light setups.
As main light I used the Elinchrom 1.90 Octa.
Two accents with the Elinchrom wide reflectors.
And one strobe with grid was aimed at the background.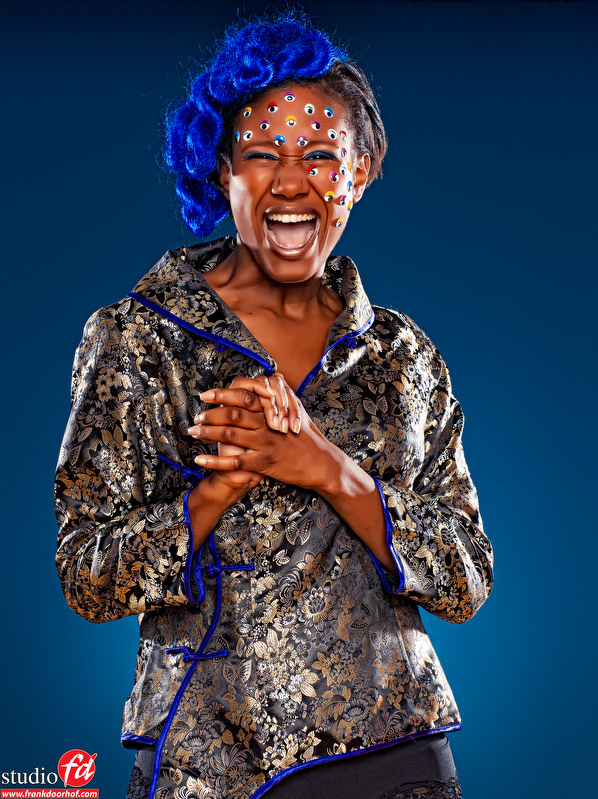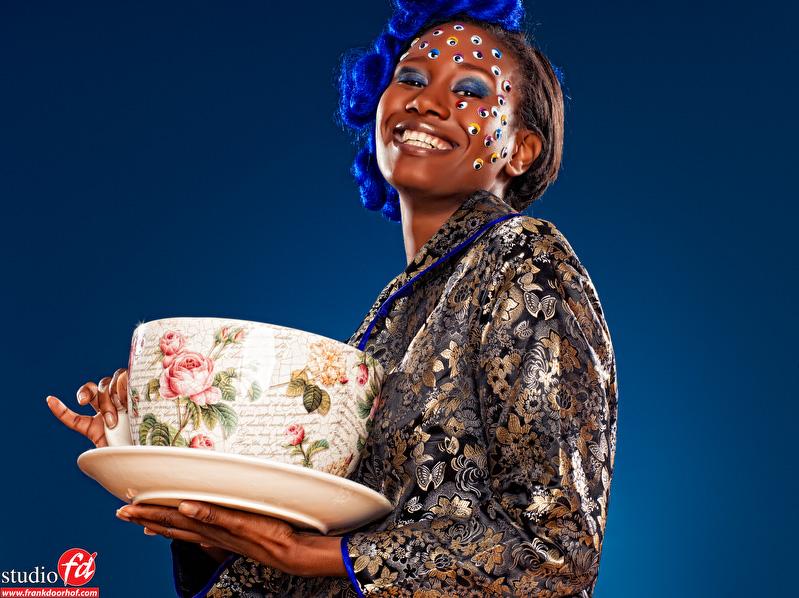 Feel free to comment and share this blog post.
If you like what we do here, and want to support the blog please buy from our affiliate companies by following the links or the links below.



https://frankdoorhof.com/web/wp-content/uploads/2015/03/studioFD_Logo-1FV.png
0
0
Frank Doorhof
https://frankdoorhof.com/web/wp-content/uploads/2015/03/studioFD_Logo-1FV.png
Frank Doorhof
2011-06-17 08:19:40
2011-06-17 08:19:40
Kimberley free work session