How to work with your models
Let me first say that some of this blogpost should be read with a big "tongue in cheek" approach.
Although the text I use will be serious, the images will not be 🙂
Recently I did a demo day for Leaf at the Eyes On Media shop location and during this kind of demos I love to work with Nadine, she is without a doubt one of those models that can show many different looks and expressions during a day. She is also a model I use a lot during the workshops and I guess she listened very good when I explained how to work with models during the workshops (which is a standard part of the workshops). Because together with her sister she created a very funny first style I had to shoot, and as you will very soon see this series inspired me to write this blog post. I want to thank Anastasia (Nadine's sister) for creating the artwork for this blog post.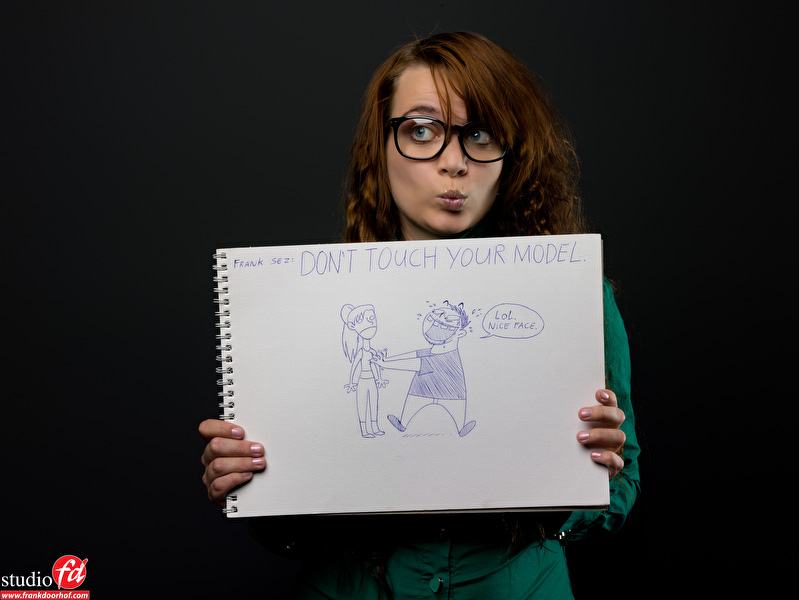 Don't touch your models
The first and very important rule when working with models is "don't touch your models".
I know that some photographers will push models into the position they want to see or straighten out clothes etc. My experience however is that this can best be done by the stylist or MUA (Make Up Artist), or the model herself. If that is not possible you can always ask if the model minds that you do it of course, but from the start I strongly believe in the personal space of the model. Often a model will say that she doesn't mind the photographer touching her/him but in many of these cases there will be some sort of "well I don't mind if it really has to happen". When you respect the personal space of the model you will notice that she/he will be more relaxed during the session and when a model is more relaxed the shoot will go much better.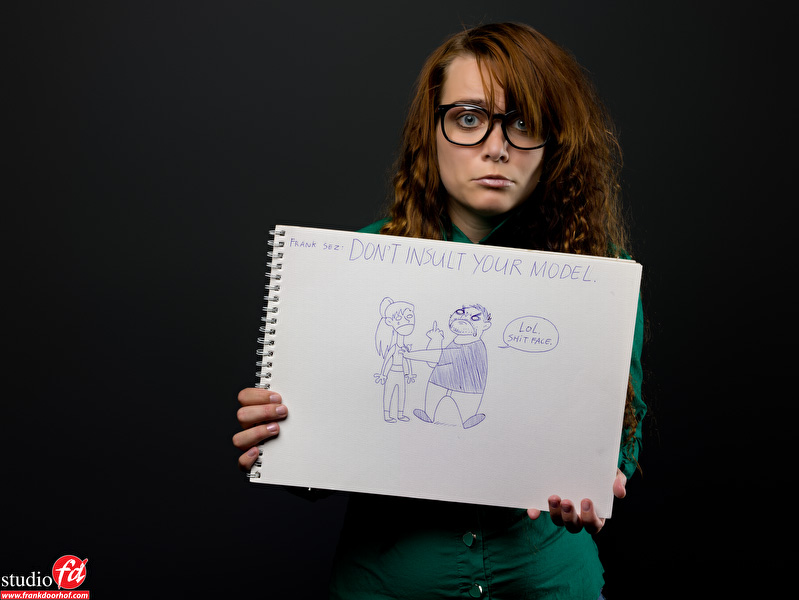 Don't insult your model
Well it will never be as rude as in the image (although I've heard some stories :D).
Do remember however that you are shooting a model and that the way they feel will reflect on the image you take. When you choose your own models you can of course choose a model that is awesome, perfect, great and has a body/face to die for…. however I know that a lot of photographers have to work with the material they get from the client or shoot the client her/himself. When you are "too honest" this will probably reflect on the mood of the model and this reflects back to the images. Trust me I've shot some "modelzillas" over the years but I've never told them they are ugly, I always tried to find something very positive (sometimes very hard) and concentrate on that and make the model feel at ease about herself. Remember that the models in front of your camera probably know how they look, although I sometimes wonder, and don't need confirmation that their nose is to big or her eyes to "droopy", she/he needs to hear that she/he is doing great and that the session rocks. You will notice an increase in performance over time during the session, the more you motivate the better the images, and the more you will sell……… you can always complain to your partner after the shoot.
Don't ignore your model
Wether it's a commercial shoot or a personal shoot for the model, NEVER ignore your model.
I know that when you are shooting for a client that is demanding it's very easy to give all your attention to the client and forget about the model, do remember however that he or she is the one that has to deliver the images that will please your client. In my opinion it's therefore much more important to give attention to your model than to your client (however don't forget the client), coaching the model and letting the model know she/he is doing great will again result in better images and make your client much happier. a model that will not get enough attention will start to feel insecure, or will perform not at her/his peak, and that's a killer for a commercial shoot.
This is something you can also explain to your client, and in 99.99% of the cases the client will understand.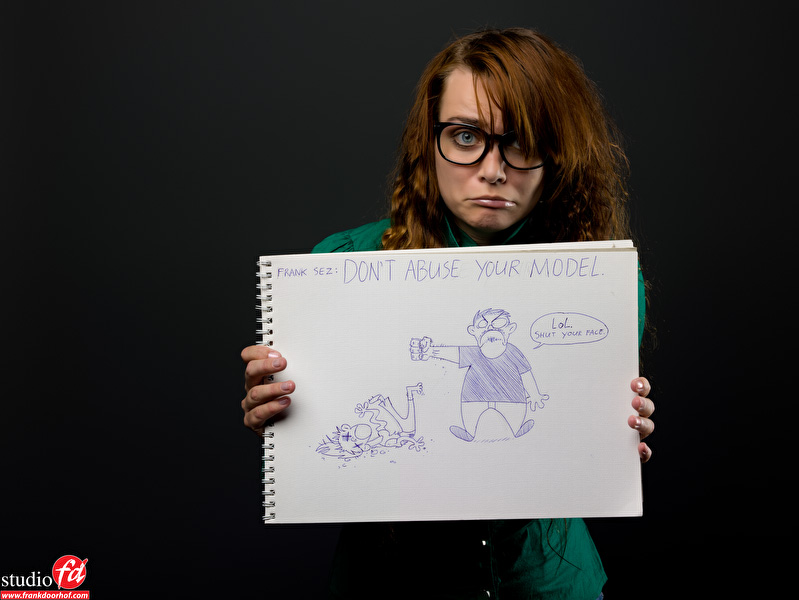 Don't abuse your model
Well ok, there won't be many photographers that really hit or kick their models, although not so long ago there was a documentary on the Dutch television (Undercover in Nederland) where a photographer was followed (undercover) that really hit and hurt his models, gave them too much to drink and abused them. Well that of course does happen but in almost all cases there won't be an issue like this, however abuse can also be something else.
I love to work outside, and fact is that summer fashion is often shot in winter and winter fashion in summer. This sometimes means that you will have your model in summer clothing out in the freezing cold, we shot in below zero temperatures in summer dresses many times. The advantage of the photographer is that he/she can wear warm clothing, the disadvantage of this is that we are warm and don't realize that the models will be very cold, often the models don't talk about this because they want the job. Do realize however that if the model is uncomfortable the images will suffer, and also the models health will suffer and this is something we have to avoid at all costs. Talk to your model (and client) and make 100% clear that you know the circumstances and that you are really sorry they have to do this (take off your coat to be solidair if needed) but make sure he/she understands that they are in control in those situations, if a model is a little cold she/he can warm up in a few minutes, if she/he is very cold this will often mean the end of the session or a much longer pauze. Make sure you have something close by where the model can warm up, change etc.
When you shoot in dangerous locations always let the model be the judge if something is possible, don't look at an old staircase and say "Hummmm that will hold, now get up there", try it yourself and when it holds you it will often give the model enough trust to do it, when she/he is afraid and doesn't want to do it, DON'T PUSH, this will destroy all following setups and will probably make sure that model will never want to work with you again. If the setup is very important save it for last and try to help the model out with overcoming her fears (better is to ask before hiring the model). Remember that being kind is much better than being an…… well you know what.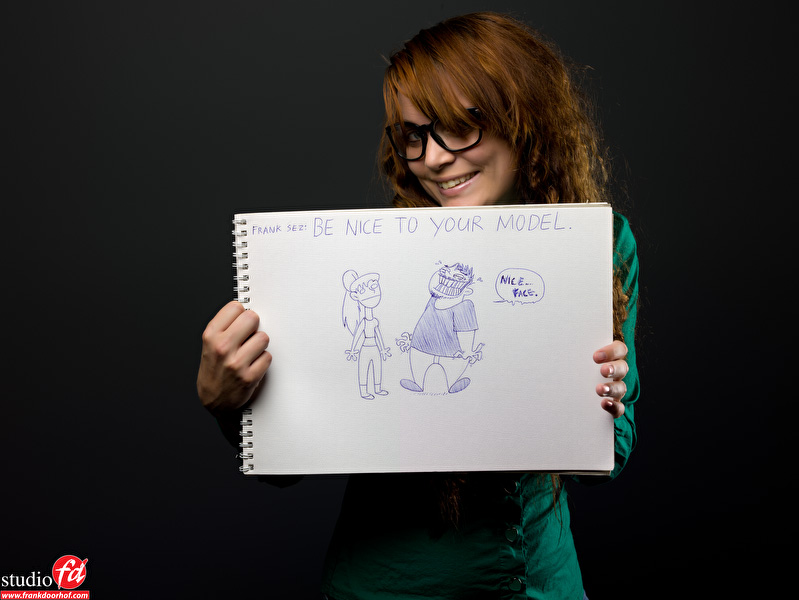 Be nice to your models
A client will give you money (sometimes the model can be the client of course), a model however will make sure you get the client. Yep you read it correct, in fact the model is the most important part of your "toolbox" if she/he wants she can destroy your session, so be nice. However there is a limit to being nice. I strongly believe you should keep a business relation, it's not standard that you go out with a model after the photo-shoot, or take out some alcohol and order some takeout for a cozy evening on the coach…….
Do I never take a model out to diner ?
Well actually no (hey I'm Dutch ok)
There are exceptions however (as always), when we are working in a team with several people and assistants it's usual that we all visit something to eat or drink after a photo-shoot, but this is with a whole team. Of course it will happen that you are alone with a model on the road, and of course you can get something to eat that's not the problem, but keep it business. Remember that a good reputation is build in many years but can be destroyed in a fraction of a second. I know a lot of you are thinking that this is something that is no problem and maybe it works for you (I know some photographers that do it after almost every shoot, but I also know that some models tell me that they think it's a "bit" weird). Keep the relation business, but be kind to your models. During the session you can coach in many ways that will push your model forwards but this can very easily get "tricky" especially with glamour photography, so be very aware of your word choice and the way you approach your model.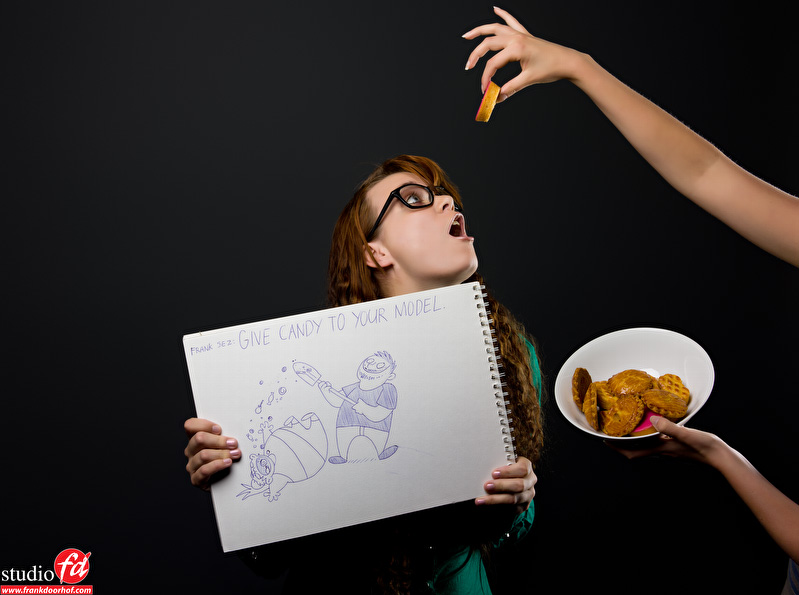 Give candy to your model
Some models are not eating well, so feed them as much candy as you can……
Modelling and photographing can be very tiring. As a photographer you will only find that you need some more images to have the correct one, but when a model gets tired you will see it back in the images. For me it's very important that I make sure that my models are always feeling great, this also means that we will have several moments where there is an option for food. We will always have a lunch around 12:00AM with bread. Ask your model/client/team if they have problems with butter or certain other things, when you don't they will sometimes look and say they are not hungry because they are afraid to ask for non butter bread, be ahead of them and ask before.
In between we will offer something else during longer sessions, I will also make sure that the models/team know that they can get coffee/tea etc. whenever they want, and finally we will always make sure we will have some small snacks on standby (nothing unhealthy of course :D). Make sure that everyone is not hungry or thirsty and your shoots will be much more energetic and the results will be better.
One small tip, make sure you have drinking straws available, a lot of models will not drink because they are afraid to ruin their makeup (lips), by using drinking straws this is often much easier fixed (if necessary).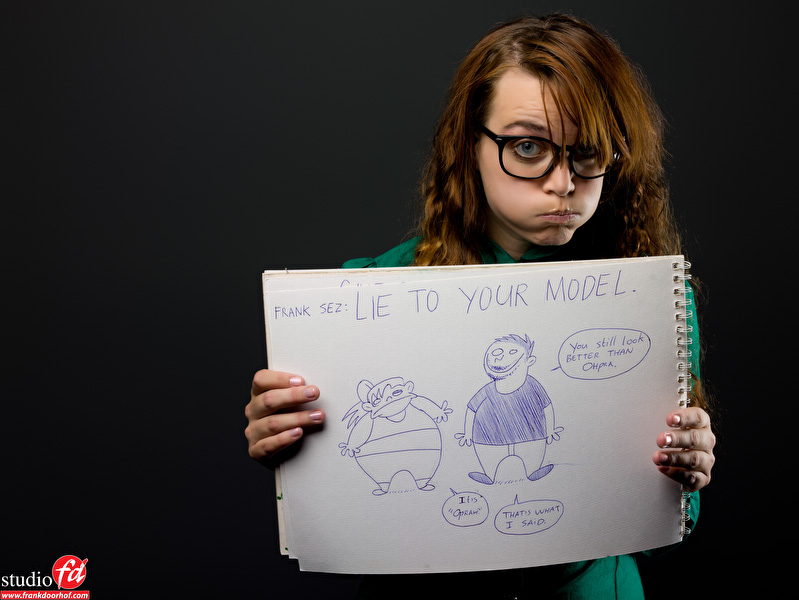 Lie to your model
Well this one is a bit tricky……
I'm someone that strongly believes in honesty, you know the less you lie the less you have to remember, but sometimes a little lie can save the day. When working with non professional models it sometimes helps a lot to not be totally honest, as mentioned before the models will often know how they look so it has no use to tell an overweight model that she is not heavy, however it can help to tell someone that is very insecure about him/herself (and she/he is right) that they look great "everybody is unique, everybody is beautiful, so you will rock girl/dude".
This approach can make a model perform to a level she/he never would have imagined possible, and best of all the model will go home feeling great about him/herself. Now one could say that it's not good to not be honest, but do remember that we as photographer are working with people and people have feelings, sometimes it will simply happen that you will have to shoot a model that REALLY is a challenge, sometimes the model will not have a problem with this and some will even offer themselves to you as a professional model (yeah really), in that case…. just be nice.
However sometimes you will also find yourself in the situation that you are a "gift" and the model REALLY doesn't want to be there because she/he thinks that they are ugly as can be, in those cases some little "lies" can go a long way…. but also realize that with those models it's more than normal important to understand how your light and lens choice will influence your final outcome. When you're shooting tethered make 100% sure your model doesn't see the images coming in, when you're done with a set send her to the MUA for some adjustments (even when nothing has to be done, just let the MUA stroke her hair or powder her nose, whatever), be very quick and delete ALL the images you think your model will not like and make 100% sure that the BEST image is the first one the model sees… you will see that from there on the shoot will go much smoother and maybe you will even be surprised with the outcome because I strongly believe that everyone is beautiful in all the variety we come in. Over the years I've shot many models that were very uneasy in the studio and started with explaining to me all the parts of their body they did not like and although I have to add that in most cases I could not agree with them, and told them that in all honesty, in some cases I could find many things more they forgot….. in those cases a little lie can go a long way, but as always make sure you don't make it to obvious 😀
Some more tips
Some quick tips when working with models:
I will always make sure the temperature in the studio is based on the models preference.
I will always ask my models which music they like and play that, itunes is very nice in a studio.
Before the shoot I will show the model the options available and let the model choose what will be shot.
Shoot tethered so the model will see the images and see what has to be changed, but tell this nicely.
Remember that most models that hire you are not experienced, don't treat them like a pro, help out and stay nice.
Mark the images the model responds to with "WOW" so you will give them what they want (only if you stand behind the image).
Before the photoshoot ask for a moodboard so you can prepare.
Tell the model to wear loose clothing on the day of the shoot, vital with glamour shoots.
Make sure the model knows your limitations, it has no use to shoot an outside theme in the studio.
Don't object when the model wants to bring a friend, parent etc. when it goes wrong you can always take your actions but then with a reason.
Deliver what you promise, I will always say they get the images within 2 weeks, in reality they will get them within 2-3 days.
Don't promise things you can't do, it has no use to claim you can shoot like xxxxx while in reality you can't.
Keep your prices real, offering a photoshoot for very little money can never be something that builds your career, but don't overcharge.
Remember that when you have satisfied customers this will work MUCH better than advertising (and saves money).
And finally:
When shooting a glamour/nude series I will NEVER ask the model to undress, she/he wants it so wait till they think it's time for the shots, in some cases the model is impressed by the studio, the images they see and get cold feet. It's better to keep it to fashion or portraits in those cases and the model will come back another time for the glamour part, and if he/she does feel up to it they will ask, don't worry.
https://frankdoorhof.com/web/wp-content/uploads/2015/03/studioFD_Logo-1FV.png
0
0
Frank Doorhof
https://frankdoorhof.com/web/wp-content/uploads/2015/03/studioFD_Logo-1FV.png
Frank Doorhof
2011-05-26 06:00:05
2011-05-25 20:48:23
How to work with your models