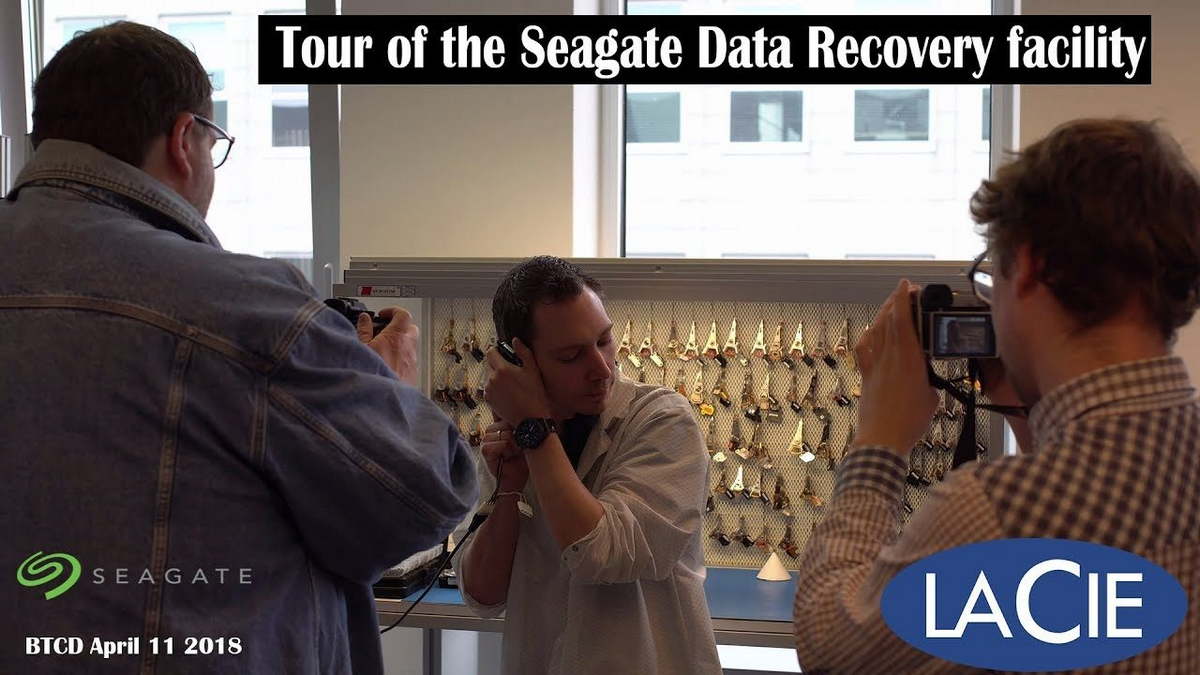 Tour of the Seagate data recovery facility BTCD April 11 2018
In todays episode a real special visit.
You all know I'm always telling you guys how important data protection is right?
Well what if all your efforts didn't work and you in fact do lose data, is that the end?
Well actually not if you are lucky enough to own a LaCie harddrive that is covered by the Seagate/LaCie data program, because in that case you don't only get a brand new drive (even if it was your own fault), but you also have a pretty big change to get your data back…
How they do that we show you in todays episode of behind the closed DOORs.
We are very grateful to both LaCie and Seagate for allowing us to film inside their facility and talking to the engineers, it really was a very cool experience, these guys rock…..
If you liked this video give it a big thumbs up and subscribe so we can keep on making them.
Want to support this channel?
And get a LOT of benefits?
Check out our Patreon: https://www.patreon.com/frankdoorhof we really appreciate the help and support
+++++++++++++++++++++++++++++++++++++++++++++++++
Gear I use for the vlog:
The Sony A6500 (my video camera) : http://amzn.to/2r5WBVA
The BT microphone I'm using (LOVE IT) : http://amzn.to/2qnV0Hv
Sony 20mm lens : http://amzn.to/2slrqTz
The amazing Joby : http://amzn.to/2rjabms
LaCie Rugged USBC, 2TB : https://goo.gl/CugeUG
LaCie 2big Dock Thunderbolt 3, 8TB: https://goo.gl/14E6Wo
Follow me on G+, Facebook, Twitter, Instagram and I will see you in the next video!
Find me online via the following channels
 
G+: https://goo.gl/3OfnSi
Facebook : http://bit.ly/2pZ8kF5
Twitter: http://goo.gl/udzyzm
Instagram : http://bit.ly/2qMtYgj
YouTube: http://bit.ly/2qV7w0O
Join our Email community : https://frankdoorhof.com/email
Portfolio website: http://smu.gs/2qMooL2
Workshop agenda: http://bit.ly/29CJ7Gp
Join the Mastering the Model Shoot facebook group: https://www.facebook.com/groups/masteringthemodelshoot/
See my gear guide (and buy it) via: https://frankdoorhof.com/gear
https://frankdoorhof.com/web/wp-content/uploads/2018/04/GUIzk1ri_JI-1.jpg
675
1200
Frank Doorhof
https://frankdoorhof.com/web/wp-content/uploads/2015/03/studioFD_Logo-1FV.png
Frank Doorhof
2018-04-12 00:09:49
2018-04-12 00:09:49
Tour of the Seagate data recovery facility BTCD April 11 2018