The Scott Kelby seminar in Amsterdam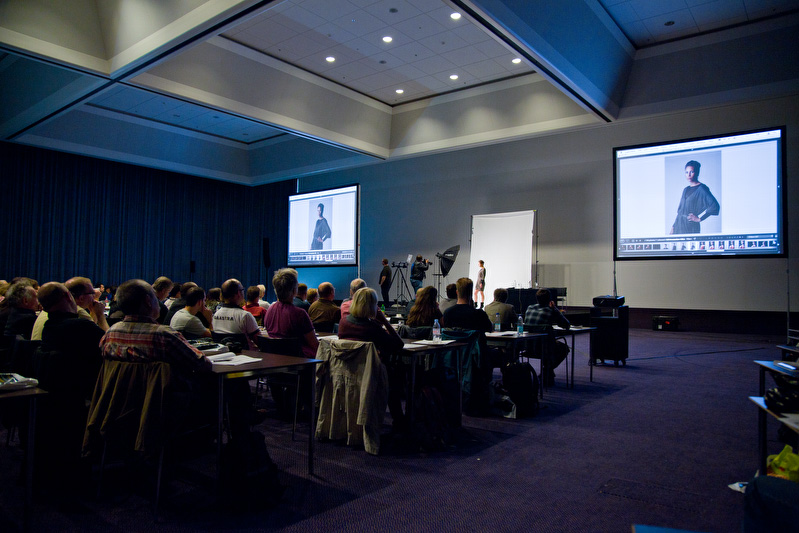 Somethings you simply can't miss….
August 12th it was time for Scott Kelby's "Light it, Shoot it, Retouch it LIVE!!!" seminar in Amsterdam, and trust me this is something you don't want to miss, so whenever their tour hits your town (or if it's in travel range) make sure to visit, the pricing is insane for this kind of seminar and the best investment you can make in your photography I think.
The seminar
Scott has hit the nail on the head on this one.
There are a lot of seminars where there is talk about lighting, or technique, or photoshop….
However there are not that much seminars where you start with an empty stage and the photographer shows you how to setup the lights, tells you the thought process, shoots the set and after that retouches the images and does this in several looks and setups through out the day. I have to admit that I do this sometimes but most of the time Photoshop is also a different seminar/workshop… anyway this approach to do this a full day with so many different setups is I think unique.
I'm a pro this is way too simple
Yeah I hear that all the time.
And you know what "you're wrong", well not YOU of course, but those people saying that.
Of course I set my lights different than Scott, I'm a big supporter of the use of a light meter, color checkers etc. but I strongly believe that every photographer has his/her own way of working and seeing that is wildly (and I really mean wildly) inspiring. And because photography is an art form I also think there are no real wrongs and goods, I've seen people shooting stunning work without ever touching a meter, and I've seen incredibly bad stuff from photographers that use a meter and color checkers…. it's what you as a photographer see and do with the images, it's your vision, it's your "soul" that speaks to the viewers, that's what's it all about and the technique to get there is personal. That being said my mission from now on is to get Scott to the light meter 😀 (just kidding Scott).
So to make a long story short (yeah like I ever do that, glad I'm a quick typer) I enjoyed the seminar A LOT, I've seen Scott (and many others) several times live or on recordings and I always pick some things up, and I would be surprised if there were people in the room that did not think it was worth their while. Scott LITERALLY fires tips after tips after tricks after tricks at you and it's so good there is a (great) seminar work book available otherwise people would probably not keep up, man I know most techniques Scott teaches and I got so many new things from that day. You do have to realize that there are MANY ways to do 1 thing in Photoshop and your option might be the one you use and love but there is always a different way and maybe that's even smarter… for example (don't ask me why) but I never retouched on a new layer, until Matt pointed that out to me a while ago, that was a real "aha, I'm stupid" moment, and trust me I know my way around Photoshop, but let's also be honest Photoshop is so diverse and complex that you will always miss something or do something not 100% effective, that's why these seminars are great for beginners and pro's alike. And yes I know that sometimes you can be very disappointed with a seminar and I've had many were I left and thought "I want that hour, or day back" but with someone like Scott…. well you just know it's gonna be interesting… and it was.
Frank on stage
Scott asked me a few months ago if I would join him on stage for a piece in the seminar, and I immediately said yes. I love Scott and his way of teaching and to be part of that is not only an honor but also fun (and let's be frank, it got me a free access pass, hey I'm Dutch :D) Scott gave me the choice what to shoot and I opted for the high contrast look, meaning I would shoot with a deep octa and strip light and explain the different options you get with these light sources. I also explained some uses of the light meter of course and briefly introduced the color checker passport which I forgot to shoot in my setup (aaargh), the 30 minutes flied by and before I knew it I was back in my seat seeing how Scott retouched my images.
Models can be perfect…….. especially from the Netherlands
The story about how I almost unwillingly sabotaged Scott's seminar.
Scott asked me if I knew some models that would be fit for this day, and of course I did.
For the beauty model I did had a great model in mind, Corine…. Corine is a bit of a story. I've know her for many years and she is one of my so called "muses" or in other words a model you just love to work with, however Corine has one major problem for use in a seminar like this… We always call her "Photoshoped inside" or as Scott found out she is pretty much "perfect", hardly any blemishes, high contrast eyes and great eyebrows, well at least Scott would find some veins in her eyes, right ? everyone has veins in their eyes….. yeah you feel it coming Corine doesn't…. under high magnification however luckily for Scott he did find some.
Sorry Scott next time I will bring ugly models.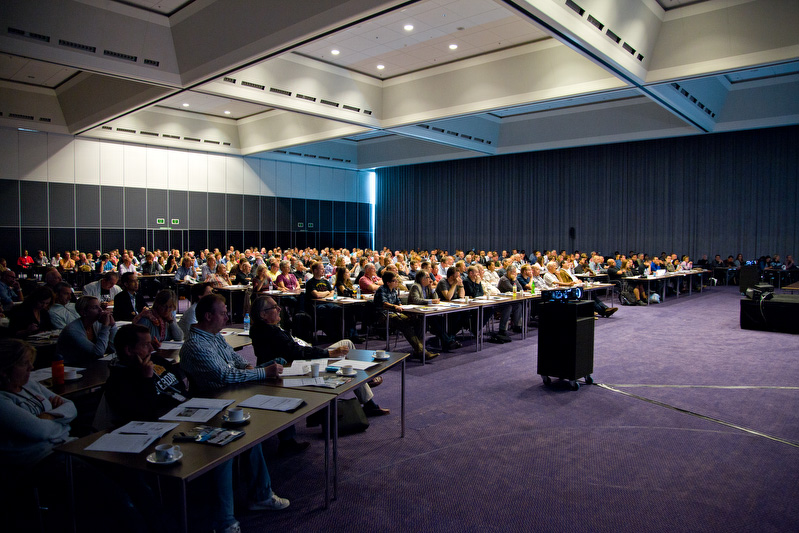 People from all over Europe
If you think that the seminar was only visited by Dutch people you're wrong. I've spoken to people from Russia, the UK, Denmark and Poland. It was a great gathering of people with one collective passion, the Scott Kelby "Light it…. Shoot it…. Retouch it…. Live!" seminar. And it's always fun to speak with people from abroad so as you can image I had a blast during the breaks.
Scott himself
Now about the man himself……
Well ok I'm more than a bit biased because I consider Scott (and the guys at Kelby media) as personal friends but I will try to not make that a part of this review. Scott is of course one of those writers you will have a book from, you probably have one or more of his books on Lightroom, Photoshop or photography on your book shelve, the man is the number 1 author in the world on those topics. It can go two ways with "these kind of people" they can get disconnected from it all and find themselves better than the rest (oh I've seen some of those) or they can be fun to hang out with and open for fans and everyone that wants to chat… well Scott is in that last category.
During the seminar there are many breaks for people that have to visit the restroom and don't want to miss anything, however Scott almost never leaves the room, he's there signing autographs, taking pictures, answering questions and just chit chatting with everyone that wants to, it doesn't matter if it's before the show or after, he always takes time for the people that want something…. now one could ask why I write this down…. for me personally it's a very important part of being successful, giving back to your "fan" base is one of the most important things there is, and some people will "fake" this and that will some day surface, but people like Scott (and I have to add up until now all the people I've gotten to know from Kelbymedia, it's like they attract those people) are real, they really enjoy the interaction with the students and really listen…. and now we get to the point why I mentioned this.
A growing seminar
During the tour, the seminar changes, Scott keeps adding stuff that people ask for.
During the seminar you have to fill out a form in which you can also say what you would like to see in the next seminar, and believe it or not it DOES get added, for me that's something that gives the whole "experience" so much more. I've seen so many seminars that are "fixed" or in other words where you can't ask questions that go beyond the material, not with this one, he included some questions that were asked during the breaks and he also showed some videos and new shoots and techniques that were added later on and were not in the workbook.
More than a seminar
During the breaks you can stay in the room, go to the restroom or visit one of the booths that were setup in the room next to the seminar room. My friends from OnOne were there (love their stuff), but also Adobe and of course Kelby training were you could join NAPP (if you're not a member yet you're really missing out on some fun stuff) and buy some of the Kelbytraining instructional DVDs (including mine). OnOne's Bob also told something about their products, I really wanted to see this but was dragged outside by someone who wanted to talk to me, and I missed that one (sorry Bob).
After the seminar several prices were raffled including an insane full access pass to Photoshop world (the one who won that will have so much fun, Photoshop World for me is the best thing I ever visited, and if I was not there as an instructor I would without a doubt be there anyway).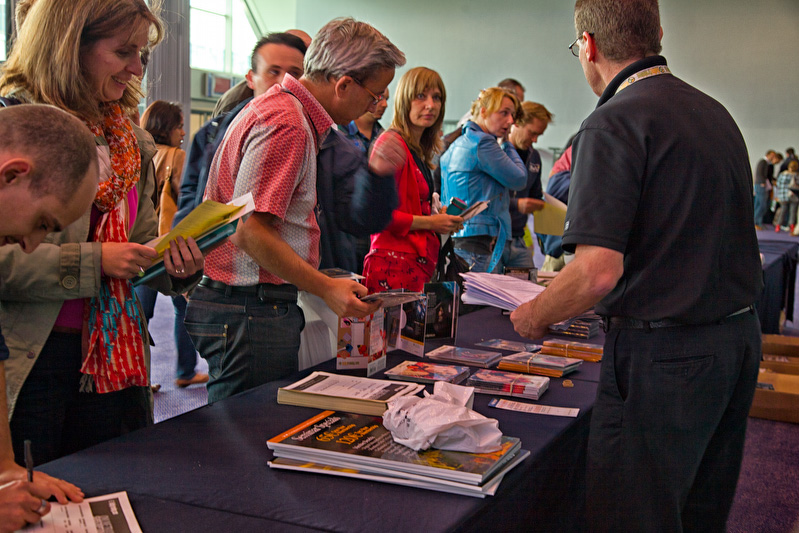 Concluding
Seminars can be boring, seminars can be interesting and boring.
And some seminars hit the nail on the head with humor, great tips, a good team and a great ambiance. Without a doubt this seminar is one that I HIGHLY recommend to everyone from beginners to pro's. There will be so much to learn for whatever level you're in. And remember even if there is one killer tip there it's often already worth the money. And trust me there is way more.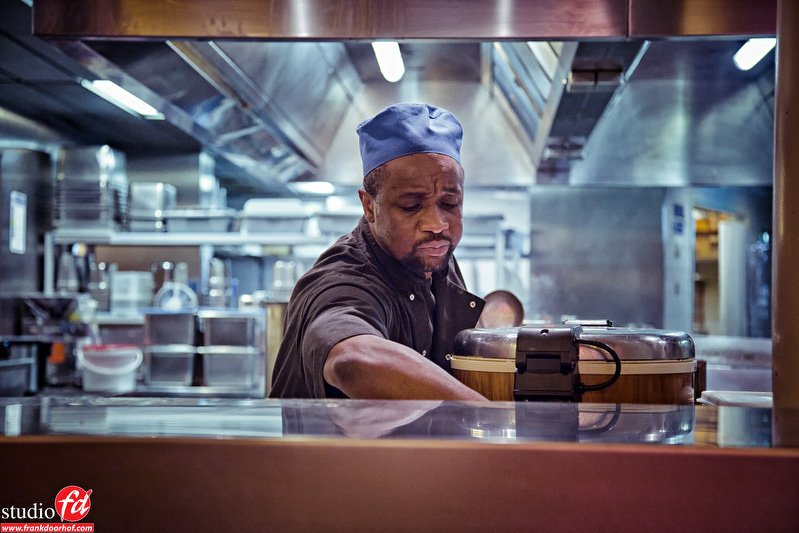 The spoon restaurant
After a hard days work it's always fun to relax and have a nice meal, when Matt (Kloskowski) visited the Netherlands in March this year to speak at the Professional Imaging we took him (and his wife) to the Wagamama in Amsterdam, a great noodle restaurant with a unique vibe, when ever you see Matt ask him about "the spoon". Because the seminar was in Amsterdam this time we visited the Wagamama again for a great night diner and of course sang a birthday song for Brad who would celebrate his birthday the next day, and the fun thing about Amsterdam, nobody looks weird when a large group of people starts singing "happy birthday" in the street (some even joined in). I do think I'm gonna give Scott some sunglasses and a hat for his next birthday, because even in the Wagamama he is famous.
Well ok, this blogpost is already way too long, when you were there thanks so much for the warm responses I got, and if you we're not…. make sure to visit one of the dates on the tour, it's REALLY worth it.

We also shot a small backstage video of the day, nothing fancy.

https://frankdoorhof.com/web/wp-content/uploads/2015/03/studioFD_Logo-1FV.png
0
0
Frank Doorhof
https://frankdoorhof.com/web/wp-content/uploads/2015/03/studioFD_Logo-1FV.png
Frank Doorhof
2011-08-16 07:00:04
2011-08-15 18:53:15
The Scott Kelby seminar in Amsterdam