With pride I can announce that today sees the release of our new instructional video :
Live in the UK 2013 : One light can be more than enough.
This video is loaded with tips on model photography and was shot on two stunning locations, the glasshouse in Edinburgh and Studley castle in the UK.
Join the group of students in the workshop and see the video in full 1080HD filmed from different angles so you can really see what's going on.

Topics covered include :
Metering for ambient and flash (Including the tricky spot metering), coaching the model, finding the right location, working with angles, story telling, styling, coaching the model, how clothing can have a huge impact, vintage lenses on modern DSLRs, composition, finding lines and repeating patterns, using the background, dragging the shutter (using the shutter speed to control the ambient) and much much more….
In the video you see me working with just one strobe and ambient light, you will see that in most cases you really don't need more. Also on the modifiers we kept it really simple this time no big soft boxes (of course) but nice smaller modifiers that really give the image some POP.
When we release a new video it always have to add something to the videos we already have online and trust me… this one will give you enough tips and inspiration to get you going for a long time.
You can now download the video from https://frankdoorhof.com/web/shop-videos-etc/direct-video-downloads/
Pricing is set on EU 35.00
Run time is app 90 minutes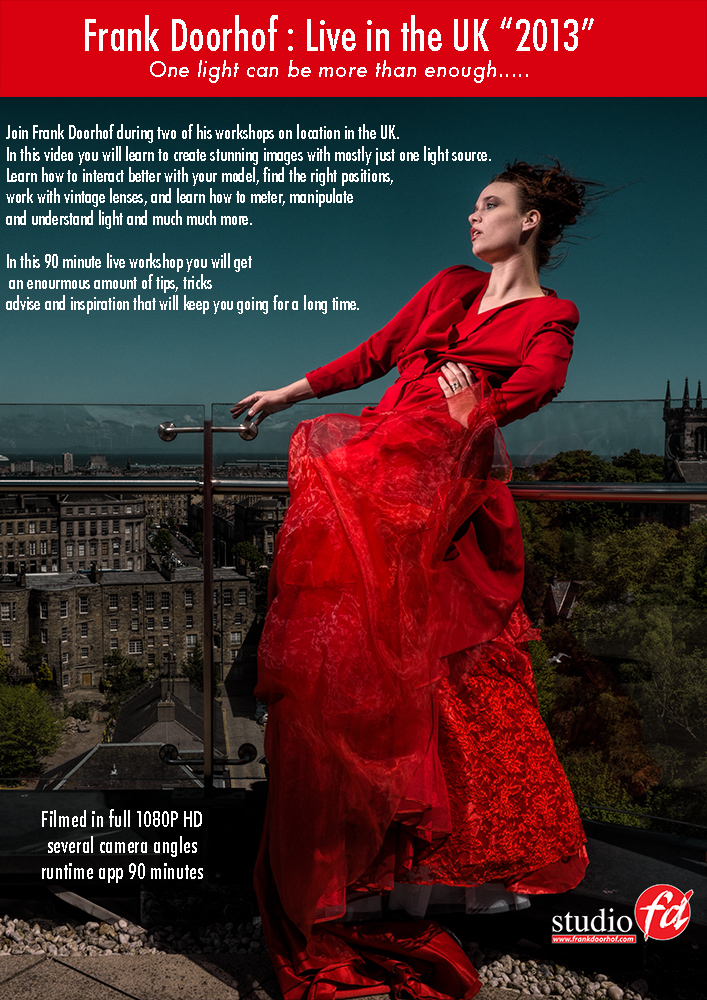 https://frankdoorhof.com/web/wp-content/uploads/2015/03/studioFD_Logo-1FV.png
0
0
Frank Doorhof
https://frankdoorhof.com/web/wp-content/uploads/2015/03/studioFD_Logo-1FV.png
Frank Doorhof
2014-03-28 05:00:17
2014-03-27 17:44:28
New instructional video : Live in the UK 2013