One of the most asked questions must be "what's your favorite light"
One of the most heard excuses is always "I don't have the gear to do this"
In reality the answer on both questions can't be given 123.
Let me start with number 1.
My favorite light source is something I always have problems with explaining, somehow my mind never thinks about light sources, but in the total image, and I choose the light source that give me the look that I need…OR I use what I have with me. So saying I love light source XXX or YYY doesn't really make sense because it could very well be that that light source doesn't give me the end result I have in my mind. I strongly believe that is also one of the problems a lot of "starting" photographers struggle with, and also a part of my workshops where I always tell people to NOT think about lighting as a source but as a means to get the look you want for a certain shot.
Now let's look at number 2.
Nobody will have all the gear in the world, so there's always something you don't own or can't use, so if you REALLY want, there's always an excuse to NOT be able to do something. However when (see number 1) if you don't look at gear but only at a final result and work towards that you will very quickly find out that often the most simple light sources (and other gear) are more than enough to shoot your end result. You just have to flip that switch that tells you you need expensive gear.
So don't I care about what I use?
Well yes of course, I love my Sony cameras or iPhone, but not because I can't get my results with other gear, I can shoot the same images with Canon, Nikon, Medium Format, iPhone etc. It's just that the quality of the end result will be different, and because I also love quality (and love gear) I'm actually always looking for that little bit of extra quality, which is why I ended up with Sony and still shoot Medium Format.
Lighting wise it's the same story, during workshops I often have to shoot with different brands due to sponsors or organizers of an event, and I think I'm probably one of the easiest instructors out there because I don't really care if I have to shoot another brand as long as they can do the things I need, and if they don't I'll just adjust my program to work with the limits (or extra possibilities) I have. Personally I absolutely love my Elinchrom gear, the modifiers are in my opinion the best out there for the look that I like, and the quality of the strobes is awesome, I'm always very careful with gear but they are in some harsh situations sometimes, especially during workshops where groups of 10-12 people have to shoot in warm or cold weather, and the Elinchroms actually never let me down, so indeed there is a preference.
A while ago I started a workshop called "Alternative light sources" in which I actually teach the points I made above.
By making the attendees understand that a photograph is in essence a story or a frozen moment in time and not a mix of gear you will quickly see that their mindsets also change and they start to take risks they normally never do. One of the things for example is shooting higher ISOs, many photographers are often afraid to shoot on that higher ISO mode because there is noise. And indeed there is noise in the shot, but you have to realize that this is something you often see on the screen but not in prints (not even larger prints). Looking at a picture on a monitor 1:1 is in essence something like looking at a HUGE print from a few inches, and let's be honest… that's not something you do, you move back. This is actually why I always tell people to just print an image you think has too much noise and I think you will be surprised how good the print looks.
As soon as you realize this you will often find out that there are a lot more light sources you can use instead of strobes. You can for example shoot amazing shots with just some Christmas lights and for example a smart phone. And this is exactly what we did as the first setup during the workshop.
Nadine is lit by two smartphones and the lights she used in her dress.
Of course it's a higher ISO shot, but as mentioned before…. when you print it absolutely looks great 😀 (depending on your camera of course, some cameras are indeed very bad above ISO3200, but most will do just fine "enough" up to ISO6400.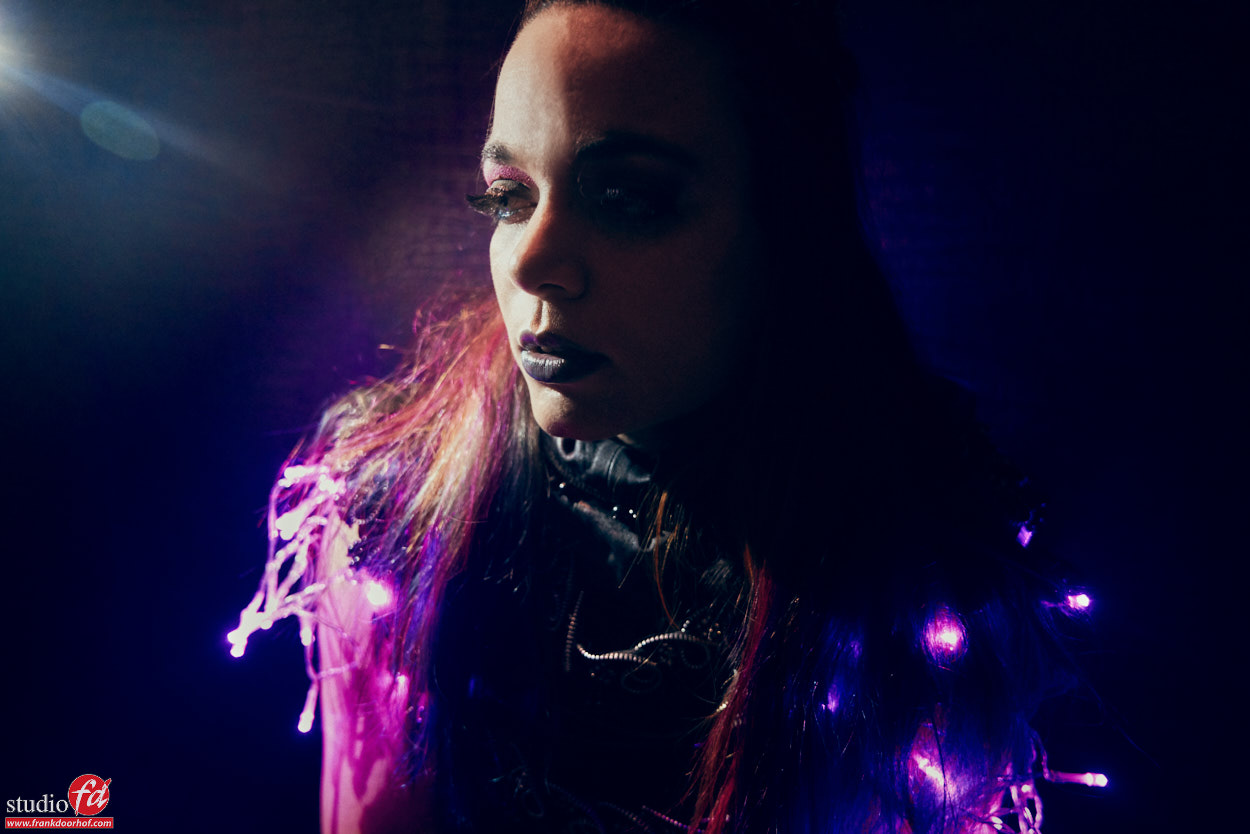 https://frankdoorhof.com/web/wp-content/uploads/2016/11/Nadine-November-5-R-2016-0002.jpg
836
1250
Frank Doorhof
https://frankdoorhof.com/web/wp-content/uploads/2015/03/studioFD_Logo-1FV.png
Frank Doorhof
2016-11-16 07:00:00
2016-11-14 19:34:23
Everything can be a light source Part I