Shoot silhouettes sometimes
Often people ask me what to look for when shooting models with shadows.
The answer is very simple "make sure that the shadow is part of the story"
In other words I don't want a big blob of a shadow behind my model but a nicely featured shadow that actually also plays a role in the shot, or in again other words, the shadow is a vital part of the shot.
So how can you "train" this.
Very simple.
Start to experiment with some silhouettes and learn what a model can do, by moving her arms away from her body she creates a certain look, when everything is connected to the body she creates just a big black "blob".
In this shot I used a white background with a small strobe with grid and nothing in the front.
I asked Nadine to create several dramatic poses and especially play with the position of her arms and keep her head/face in profile so you can see that she is a real person.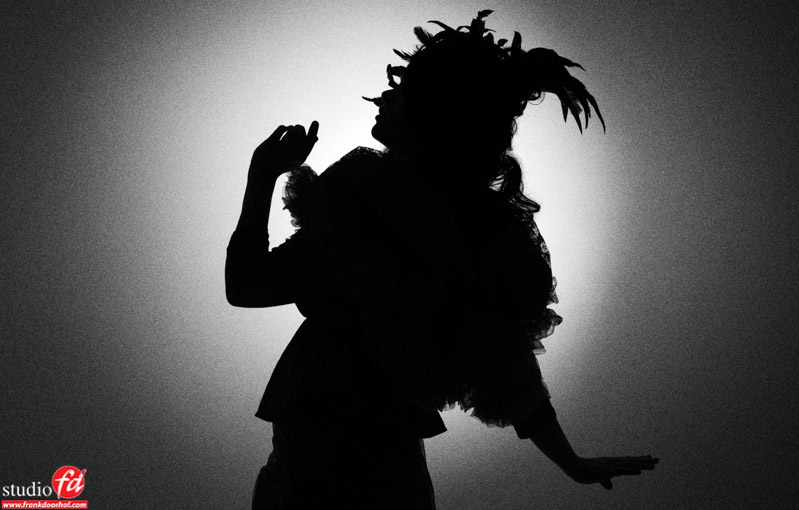 The thing you learn from these kind of experiments is that you very quickly see what works and doesn't and this helps when working with shadows, and often you will find out you also miss some things… like when I shot this image I thought it was pretty nice but when I prepared the image for retouch I quickly saw that it looks like Nadine is wearing a mustache due to one of the feathers that actually is just between her lips and nose…. oh well it looks funny too 😀
So if you want to get rid of those nasty shadows and wonder how to make them work, start working on some silhouettes first and incorporate what you learned about shapes into the shadows.
Good luck.
Want to get more in depth information check out my book "Mastering the modelshoot" or the instructional videos on the website.
https://frankdoorhof.com/web/wp-content/uploads/2015/03/studioFD_Logo-1FV.png
0
0
Frank Doorhof
https://frankdoorhof.com/web/wp-content/uploads/2015/03/studioFD_Logo-1FV.png
Frank Doorhof
2014-11-03 21:00:32
2014-10-26 10:20:03
Shoot silhouettes sometimes