Today attention for the FujiFilm X-E1 or as I call it the Sexy-1.
It's no secret that I absolutly love the FujiFilm cameras. It all started when was handed an FujiFilm X100 during a Photowalk and although at that time I did not like the focus etc. (was solved later) I fell in love with the fact that it felt like a real camera…. now what do I mean with a "real camera".
In most smaller cameras you are getting a camera that feels like a digital brick that can take photos, but the whole feel of a camera is gone. Want to change the exposure compensation? go into the menu, want to change the zoom? press a few buttons and it zooms, want to change ISO? go into the menus, want to change … etc.
In other words I love a camera that has a more real camera feel and the FujiFilm cameras have this.
For example the Exposure compensation is right on top of the camera (where it should be), setting the aperture is on the lens itself, zooming (even on the X10) is done on the lens and not via a weird feeling button system, also shutterspeed etc. is all set on top of the camera and if you want everything to be auto… no problem set both on A and you're in auto mode.  So now that this is out of the way, let's look at the "sexy-1".
Let's first take a look at the boring part… the specs.
Model Name
FUJIFILM X-E1
Number of effective pixels
16.3 million pixels
Image sensor
23.6 mm x 15.6 mm (APS-C) X-Trans CMOS with primary color filter

Sensor Cleaning system

Ultra Sonic Vibration

Storage media
SD memory card / SDHC memory card / SDXC (UHS-I) memory card*1
File format

still image

JPEG (Exif Ver 2.3)*2,
RAW (RAF format), RAW+JPEG
(Design rule for Camera File system compliant / DPOF-compatible)

movie

H.264 (MOV) with Stereo sound

Number of recorded pixels
L : (3:2) 4896 x 3264 / (16:9) 4896 x 2760 / (1:1) 3264 x 3264
M : (3:2) 3456 x 2304 / (16:9) 3456 x 1944 / (1:1) 2304 x 2304
S : (3:2) 2496 x 1664 / (16:9) 2496 x 1408 / (1:1) 1664 x 1664<Motion Panorama>
L  Vertical: 7680 x 2160 Horizontal: 7680 x 1440
M  Vertical: 5120 x 2160 Horizontal: 5120 x 1440
Lens mount
FUJIFILM X mount
Sensitivity
Equivalent to ISO 200 – 6400 (Standard Output Sensitivity)
AUTO mode: AUTO (400) / AUTO (800) / AUTO (1600) / AUTO (3200) / AUTO(6400)
Extended output sensitivity equivalent ISO 100, 12800 and 25600
Exposure control
TTL 256-zones metering, Multi / Spot / Average
Exposure mode
Programmed AE, Shutter priority AE, Aperture priority AE, Manual exposure
Exposure compensation
-2.0 EV – +2.0 EV, increment with 1/3 EV step
Image Stabilizer
Lens shift type (when OIS type lens is set)
Shutter control
Focal Plane Shutter
Shutter speed
(with mechanical shutter)
(P mode) 1/4 sec. to 1/4000 sec.,
(All other modes) 30 sec. to 1/4000 sec.
Bulb (max. 60 min.)
Time 1/2 to 30 sec.
Synchronized Shutter speed for flash : 1/180 sec or slower
* 1/180 sec can be automatically set at some shooting condition on P mode or A mode.
Continuous shooting
Max 6 / 3 fps selectable
Auto bracketing
AE Bracketing (±1/3 EV, ±2/3 EV, ±1 EV)
Film Simulation Bracketing (Any 3 type of film simulation selectable)
Dynamic Range Bracketing (100%, 200%, 400%)
ISO sensitivity Bracketing (±1/3 EV, ±2/3 EV, ±1 EV)
Focus

mode

Single AF / Continuous AF / MF Distance Indicator

type

TTL contrast AF, AF assist illuminator available

AF frame selection

Area (EVF / LCD: 49 areas with 7 x 7) / Multi
* changeable size of AF frame: among 5 type

White balance
Automatic scene recognition
Custom, Color temperature selection (K)
Preset: Fine, Shade, Fluorescent light (Daylight), Fluorescent light (Warm White), Fluorescent light (Cool White), Incandescent light, underwater
Film Simulation mode
10 type (PROVIA/STANDARD, Velvia/VIVID, ASTIA/SOFT, PRO Neg Hi, PRO Neg Std, MONOCHROME, MONOCHROME+Ye FILTER, MONOCHROME+R FILTER, MONOCHROME+G FILTER, SEPIA)
Dynamic range setting
AUTO (100-400%), 100%, 200%, 400%
Self-timer
Approx. 10 sec. / 2 sec. Delay
Flash
Manual pop-up flash (Auto flash)
Guide number: approx 7 (ISO200 · m)
Flash modes
Red-eye removal OFF: Auto, Forced Flash, Suppressed Flash, Slow Synchro. Rear-curtain Synchro, Commander
Red-eye removal ON: Red-eye Reduction Auto, Red-eye Reduction & Forced Flash, Suppressed Flash, Red-eye Reduction & Slow Synchro. Red-eye Reduction & Rear-curtain Synchro, Commander
Hot shoe
Yes (dedicated TTL Flash compatible)
Viewfinder

0.5-in., approx.2,360,000-dot OLED color viewfinder

Coverage of viewing area vs. capturing area: approx. 100%

Eye point:

approx. 23 mm

Diopter adjustment:

-4m-1 to +2m-1

Built-in eye sensor

LCD monitor
2.8-in, approx. 460,000-dot, TFT color LCD monitor (Approx. 100% coverage)
Movie recording
1920 x 1080 pixels, 1280 x 720 pixels (24 frames/sec.) with stereo sound
Individual movies cannot exceed 29 minutes in length.
Photography functions
Select custom setting, Motion panorama, Color space, Color (Saturation), sharpness, Dynamic range, Film simulation, Gradation, Auto red-eye removal (by face detection function), Framing guideline, Frame No. memory, Histogram display, Preview depth of focus, Focus check, Electronic level, Multiple exposure, Fn button setting (RAW, Movie, etc)
Playback functions
RAW conversion, Image rotate, Red-eye reduction, Photobook assist, Erase selected frames, image search, Multi-frame playback (with micro thumbnail), Slide show, Mark for upload, Protect, Crop, Resize, Panorama, Favorites
Other functions
PictBridge, Exif Print, Language selection, Time difference, Quick start mode, Silent mode
Terminal

Video output

–

Digital interface

USB 2.0 High-Speed

HDMI output

HDMI mini connector

Microphone/shutter release input

ø2.5mm, stereo mini connector

Power supply
NP-W126 Li-ion battery (included)
Dimensions
129 (W) mm x 74.9(H) mm x 38.3(D) mm / 5.1 in.(W) x 2.9 in. (H) x 1.5 in. (D)
(Minimum depth: 30.9 mm/ 1.2 in.)
Weight
Approx. 350g / 12.3 oz. (including battery and memory card)
Approx. 300 g / 10.6 oz. (excluding accessories, battery and memory card)
Operating Temperature
0°C – 40°C
Operating Humidity
10 – 80% (no condensation)
Guide to the number of available frames for battery operation
approx 350 frames (When XF35mmF1.4 R is set)
Starting up period
Approx 0.5 sec, when QUICK START mode set to ON
Approx 1.0 sec, when QUICK START mode set to OFF

* evaluated by FUJIFILM method

Accessories included
Li-ion battery NP-W126
Battery charger BC-W126
Shoulder strap
USB cable
Body cap
Metal strap clip
Protective cover
Clip attaching tool
CD-ROM (Viewer software, RAW File Converter etc.*3)
Owner's manual
Optional accessories
Li-ion battery NP-W126
Battery charger BC-W126
Shoe Mount Flash EF-20, EF-42, EF-X20
M Mount adapter
Protector Filter PRF-58 58mmø
Protector Filter PRF-52 52mmø
Protector Filter PRF-39 39mmø
Remote release RR-80
Hand Grip HG-XE1
Leather Case BLC-XE1
Ok now that we have all the boring stuff out of the way let's talk about the performance because specs are always good on paper.
Handling the camera
Many people I talk to that use the FujiFilm cameras all say the same thing that I say, working with the FujiFilm cameras bring back the fun to photography with a smaller camera. And this is mainly due to the things I already wrote down at the start of the review, HOWEVER you can have everything in the right places but if the camera is slow or doesn't focus or has the wrong image quality you are not really bringing back the fun you are actually destroying the fun.
Now let's make one thing clear.
This is not really a point and shoot camera, just like the FujiFilm X-Pro1 (which I also use) it's a professional piece of gear and it should also be handled like that, in other words you can of course pick it up and start shooting with it, but I think you will be disappointed with it, however if you take some time to learn how everything works the story changes, and I have to add to this that my wife picked up the X-E1 when it just arrived and immediately took some shots with it, but she also shot with the X10 and the Canon of course, so it's not something hard to learn, but if you come from let's say a 399.00 point and shoot camera where everything is in the menus and you only used the simple cartoon images to set the scenes well…. you will be a bit more pushed to get good images out of the FujiFilm cameras (as with any other pro camera by the way).
Lenses
When the X100 was released I really thought about buying one but in the end I did not for the simple reason that I did not like the fixed lens, with the X-Pro1 this all changed and the X-E1 uses the same mount so you can rest assure, the same lenses work (and with the new M mount adaptor also some of your old lenses you maybe have). The combination I tested in New York was the X-E1 with the brand new 18-55mm F2.8-F4 zoom lens. I also own the 18, 60 and 35mm lenses.
I can be very brief about this combination.
I LOVE IT.
I loved the X-pro1 a lot to shoot with but somehow I'm not a prime shooter, and don't get me wrong I love primes, but not for streetphotography (and this is where I use the FujiFilm cameras the most) I love to be able to zoom in or out and choose the field of view that fits my idea of that scene and I don't want to be fixed to a certain length, this is fun for a little while but somehow I also want to zoom, so I was more than delighted when FujiFilm announced two interesting zoom lenses and the fact that the 18-55 was on my X-E1 for our trip to the US.
The sharpness of the lens is amazing, I shoot a lot wide open and the combination of the sensor and the lens gives you great sharp and super detailed images, to be honest I would probably just leave the primes at home if I was not in the mood of switching lenses, but… and later more on this… the fact that the lenses are so small and light makes it possible to always have all your lenses with you, especially if you have a few pockets in a coat or loose trousers (I always carry two lenses in the pockets of my coat, now try that with a Canon L lens :D)
Focussing
Oh my, this is something that will probably stick for a while on the FujiFilm cameras, and I have to be honest the first X100 that I used did have some weird focus issues, however as soon as I got my X-pro1 there was no focus issue, as soon as I found out how the OVF (Optical View Finder) worked, you can show two focus points, one that is what you "think" it is, and one that is actually taking into account the fact that you don't look through the lens but through a separate viewfinder. It sounds weird but trust me when you see it it all makes 100% sense (well ok 98% for the people that never worked with cameras like this). However I used the X-Pro1 most of the time via the EVF (Electronic View Finder) and that one was spot on and accurate.
Recently FujiFilm released a new firmware (2.0) in which they promised a lot more speed in reading and writing to the card and a stunning increase in focus speed, now normally when you get a firmware update (or new camera) that promises something like "twice the speed" I will always divide this by 4 and expect a slight increase, because most of the time they actually mean "in theory it would be possible if everything is perfect and the sun is exactly right and the wind is not below or above…. well you get my drift" however much to my surprise after updating BOTH the body and the lenses (this is as far as I know unique to FujiFilm) the focus speed was indeed at least twice as snappy, wow it felt like a whole new camera.
Now for some people focussing speed is not that important, for landscapes for example it's nice but not vital, however for street photography the faster the focus is, the better, and in fact it's never fast enough to be honest. But the X-E1 gives me more than enough speed to be able to say that if I miss a shot it's probably my own fault.
Megapixels
Now some people I talked to are asking me why I would not use my 22-24MP DSLR and instead walk around with "only" 16. Well let's make one thing clear to start with, the megapixels alone don't tell the story. Thanks to the sensor design in the FujiFilm cameras you don't need an AA filter, this filter is used in almost all DSLRs to remove something called Moire, due to the Bayer pattern this can happen when you have fine detail, the AA filter softens the images a bit and you have much less chance of getting moire, however what is softened is actually gone, you can of course resharpen in Photoshop or Lightroom (or your processor of choice) but it's still a softer image to start with. Now some will disagree and I understand this, I also thought that it was not as bad as you think… however as soon as you see the quality of a medium format camera (without AA) and compare the same megapixels to a DSLR you will very quickly realize that whatever tricks you try to pull you will never ever get that real sharpness back. Now thanks to the design that FujiFilm uses in their sensors the use of an AA filter is not necessary and this means you will get a stunning sharpness and detail in your shots and I know for a fact that even on an A2 print the FujiFilm prints hold better fine detail than most DSLRs. And in the end we have to judge on print, on a monitor we see everything way too big (like looking at a billboard from 20cm distance).
Now why do I walk around with the FujiFilm cameras instead of my DSLR?
Well the answer is really really simple.
Try to imagine walking around with a standard DSLR and your trusty 24-70 lens and one spare lens let's say the 50mm 1.4.
As you probably know this is quite some gear and you will need at least a small bag, now imagine the same amount of gear but an extra lens and it will all fit in the pockets of your coat or loose sitting trousers and the camera itself is so lightweight that you will not even feel it when carrying it around (I use the blackrapid straps for this). But there is much more.
Think about museums, live concerts or other locations where you are not allowed in with "professional cameras" with the FujiFilm you can often just walk in and take images that are just as good (or even better) than with your DSLR, and that's the second reason. The dynamic range and the sharpness of the files are of such a quality that I don't feel like I'm making a compromise while shooting with the X-E1, instead I get more shots because people don't mind me shooting while when I point a DSLR with a large lens to someone often they will look away or start asking for which magazine I shoot. So it's a really stealthy camera which is great for street style shooting.
X-Pro1 or X-E1
Now this question is asked a lot.
So let's look at this (and this is my opinion).
Image wise they are both 100% the same.
I LOVE the fact that the X-E1 has a pop up flash, and no I will not use a lot but I've had some situations where I was really glad that it was on there. By the way I like the way the pop up flash looks and that's why I always call it "Wall-E" maybe one day they will make an Eve 🙂 the fun thing about this flash is (and it was NOT designed for this, I guess) is that you can aim it up with your finger and use it as bounce flash, and again don't be mad at me when something goes wrong but it does work.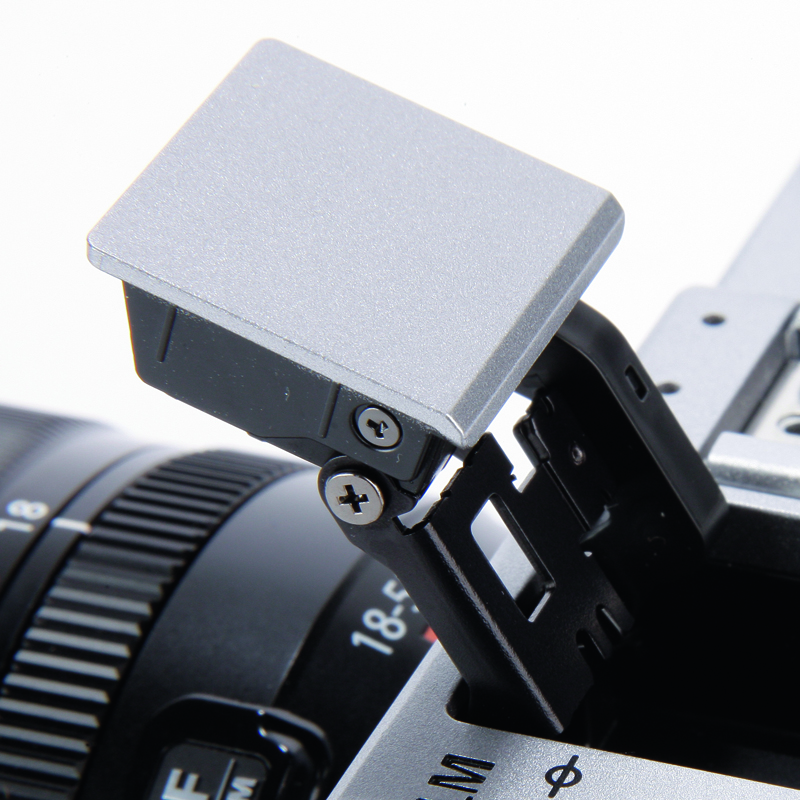 Also the EVF of the X-E1 I like a bit better than the one found in the X-Pro1, the backLCD is better on the X-Pro1 and the X-Pro1's EVF shows you when you change the exposure compensation, which the X-E1 does not (yet). However I still like the X-E1 more than the X-Pro1 and not only because it's quite a lot cheaper, but most of all because of the look of the camera, especially when bundled with the vintage looking leathercase and the silver top it's just gorgeous. Oh and with the leathercase you can still access your battery and memory slot via a smart click system.
High-ISO
Of course High-ISO is often a problem with brands that are not the big names.
But FujiFilm does very very well with their cameras, images up to ISO6400 are perfectly usable and the camera can go even higher as you can see in the specs, however with those settings it's more a matter of "I at least got the shot".
.
.
JPG and RAW
I'm a 100% RAW shooter so I shoot RAW with my cameras, however FujiFilm has some amazing looks in their JPG processing. All the popular filmtypes can be found there and your images will get a great look when you use these, now if you don't know which one to use, no problem… you can always assign the look later, or shoot for example one image and get 3 different looks. The RAW files look great in LightRoom and Photoshop although on SOME images there can be some artifacts that in my opinion are not worth the fuss you see on some forums (but that's the problem with most forums), yeah there are SOME images that show some loss of detail in LightRoom compared to SilkyPix, but even on a large print this is very very minor, and as you probably already know Adobe is working on it, FujiFilm is giving full cooperation for it, at least you can open up the RAW files and work on them now, if something gets better in the future you can still work on the RAW files, so please don't shoot JPG only for something that is written on some forums, because in reality the problem is much less than if you believe some posts. During our trip I shot over 500 images with the Fuji and did not see the problem in any of these to an extend that I found the need to go to Silkypix.
.
.
Panorama and double exposures etc.
Like any digital camera also the FujiFilm X-E1 has some tricks up it's sleeve like a "sweep panorama shot", double exposure and of course bracketing in both exposure, ISO and picture styles. This is to be honest all nice and fun but I never use it, although I did test the panorama function and thought it was ok, but I would rather let the computer do it with full res images.
.
.
Video
Well it does video and on paper it looks nice.
In reality the video performance is more of a "registration" type of video, it's not bad, but it's not as good as the 5DMKIII for example, but it's more than adequate for capturing that moment when you did not bring your camcorder. And let's be honest when I'm on a trip I never film with the DSLR, I always bring a Canon consumer camera (HD) the image quality of that camera is always good, it's focus is aimed at video and the auto functions work flawless, when shooting with a DSLR it's….. well just way too much work for my normal holiday videos.
Conclusion
What's not to like about the FujiFilm cameras… well maybe if you like the brick look of some of the competition, or if you really want something big and heavy in your hands. But when I look at the camera, the results, the focusspeed, etc. etc. I just think that the X-E1 is the perfect companion for the travel/street photographer and will really make you think twice about taking your DSLR with you, because to be honest with the new zoom lenses I think there is no need to bring the DSLR on a trip.
.
.
I would buy the Fuji X-E1 in a heartbeat and honestly think that at this time it's the system that gives you the best performance, best image quality and produces some great glass…. and let's be honest it's just incredibly Sexy 😀
.
.
One small added note.
When importing the files in Lightroom make sure you change the crop, somehow they import the files cropped to 16:9 this is easily fixed but you have to pay attention to it.
https://frankdoorhof.com/web/wp-content/uploads/2015/03/studioFD_Logo-1FV.png
0
0
Frank Doorhof
https://frankdoorhof.com/web/wp-content/uploads/2015/03/studioFD_Logo-1FV.png
Frank Doorhof
2012-12-19 05:00:05
2012-12-19 09:03:12
Fuji X-E1 review