Now normally I'm always positive on my blog and I will share fun stuff or interesting stuff, actually you will never really hear me "Bitch" about something, but what happened a few hours ago I just have to share because this is like the rudest thing ever. It all happened at this restaurant "Doner Kebab" at the Heumarkt in Koln.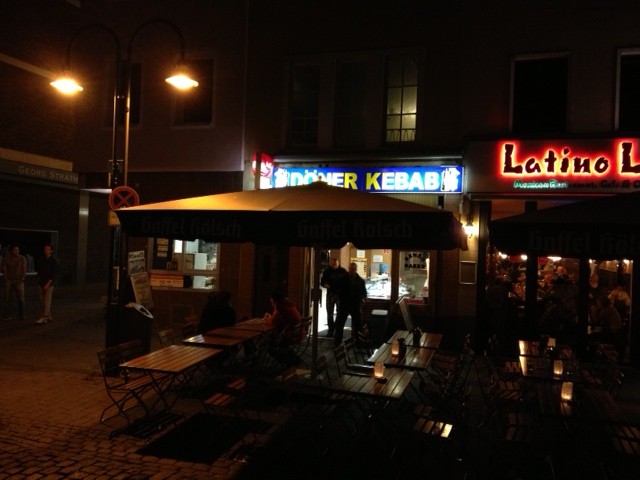 Imagine this, and I really tell you this is 100% true.
Close to our hotel there are some restaurants and yesterday we took our friends from Expoimaging out to eat to a Chinese restaurant and as you know how those things go, you eat and you talk a bit, no problem… right ?
So today I was with our friend Hector from DXO at the Doner Kebab store near our hotel.
Annewiek, me and Hector, they had some nice seats outside (lots of them) and we sat down and ate, because it was more than fun we decided to keep sitting and ordered some beers and cokes, after the beers we ordered some more, in the mean time Annewiek left us to get something from the hotel. And now pay attention (because you're not gonna believe this), Hector literally  took his LAST zip of his beer and at the MOMENT it hit the table a waiter was with us and asked us if we wanted something more to drink, because Annewiek was not back yet we answered "No not now, we wait a little".
The answer we got really got me "confused".
"Then you leave"
"You say what ?"
"we're a restaurant, not a sitting place, go sit in the square there are plenty of spaces"
"Well….. what ? you're kidding right"
"You can't sit here for an hour and no drinks"
"Dude we had diner with 3 people (and not the cheapest on the menu), we had 6 drinks and we're waiting for my wife"
"No drinks you leave…. now"
As easy going as we are we just moved to the square.
However somehow this bugged me, in fact we did wanted to order more but wanted to wait for Annewiek, and when we were send away the seating area was only for 25% filled up, I would say, the more people you have sitting in your area the better it looks for other people. When we left it was almost empty (maybe 5-6 people left).
I have to be honest, I went back inside and tried to communicate with the guy.
"listen, we had diner, and 6 drinks in 45 minutes, how can you send us away, we're paying customers"
"No, you go, we not a sitting place, you drink you stay, other wise sit somewhere else"
"Really…."
"Yeah, no sitting for an hour without drink"
"Dude again, we had drinks, my friend just took his last zip and you started harassing us (I don't think he knew that word"
Waiter waving hands and sending us away.
Well at least I made my point 😀
And two other guests who were ready to order left….. plenty of restaurants left.
Now we are people that when we like something we come back, and we're here till monday night and taking friends out to diner every night…… I think we will hit the Chinese place again they were fun and nice…….
Did you ever experience something that RUDE ?
Again I've had some shitty service in some places and will never use my blog to say something about it, but this really had me flabbergasted.
https://frankdoorhof.com/web/wp-content/uploads/2015/03/studioFD_Logo-1FV.png
0
0
Frank Doorhof
https://frankdoorhof.com/web/wp-content/uploads/2015/03/studioFD_Logo-1FV.png
Frank Doorhof
2012-09-21 22:55:08
2012-09-21 22:55:47
How RUDE