Playing and having fun with Photoshop AI
In yesterdays blog post you have read about my opinion on using artificial intelligence.
I hope you got the intention from the post that I feel it can be a great creative tool.
Now I have to be honest, I like doing things right in camera, and mostly use Photoshop/Lightroom for small adjustments and skin retouching. I do have to confess that in some images a lens flare might not be as heavy as I like it to be and I use Photoshop or Boris FX to enhance the lens flare, but in 99% of the cases the light was already there, I just enhance it.
One way I  love to use AI is for Cosplay photography.
Don't get me wrong, I love my ClickPropsBackdrops and feel that proper backgrounds should always be the base of a studio, just replacing every background is first of all not doable time wise, but it also doesn't work for every image. A background responds to lighting, focus, angles you shoot under etc.
So I clearly see AI as an option to add something to an image to get closer to my vision.
Shot a model without a necklace?
Add a necklace, no problem at all.
Want to change some colours or add something to clothing?
Even that is possible.
When I create my images I work "two" ways.
The first way is that I have an image in my mind and create it in real life as much as possible, and later in post processing I'll tint the images (color evokes emotion), do skin retouching, clean up some things that couldn't be done during the shoot. Total retouch time…. 5 minutes on average. (this is probably 90% of what you see in my portfolio).
But I also sometimes have to work with an idea that I can't create on set.
For example with the Cosplay workshops we love to add castles, fairy tale forests etc.
And it's a great tool to let the model pose with a stick and replace it with AI for a real sword that you normally can't afford or loan. Why let your creativity be limited by what you can't pay for….as long as you imagine it and create it it's your vision so your art. AI is just a tool that saves time and money.
When you visit my workshops regularly you can often hear me telling during the workshops how the images will look when they are done, it will never be 100% the same, but thanks to AI this will get closer and closer. I don't see any problems with AI that way.
And sometimes…. there is a third way.
And today I want to show you some fun examples from this method.
I've been shooting Wibi Soerjadi for quite some years now.
So I have a rather extensive collection of images in different outfits, poses etc.
Over the years we have become good friends and I love to bounce off ideas to him on how to create art work that is usable and fitting for the artist but is obvious fake. I don't even try to make it photorealistic. Which doesn't mean I do my best to make it all fit "naturally", it's just a choice to make it more surreal. The challenge for me is to tell a story that fits what you see.
Recently I did a few images for fun and because we had some good laughs about them we decided it would be a shame not to share them with you guys.
Now this is no professional work, we were literally chatting online while I was creating the examples. If you know Wibi a little bit you will know why I chose certain looks 😀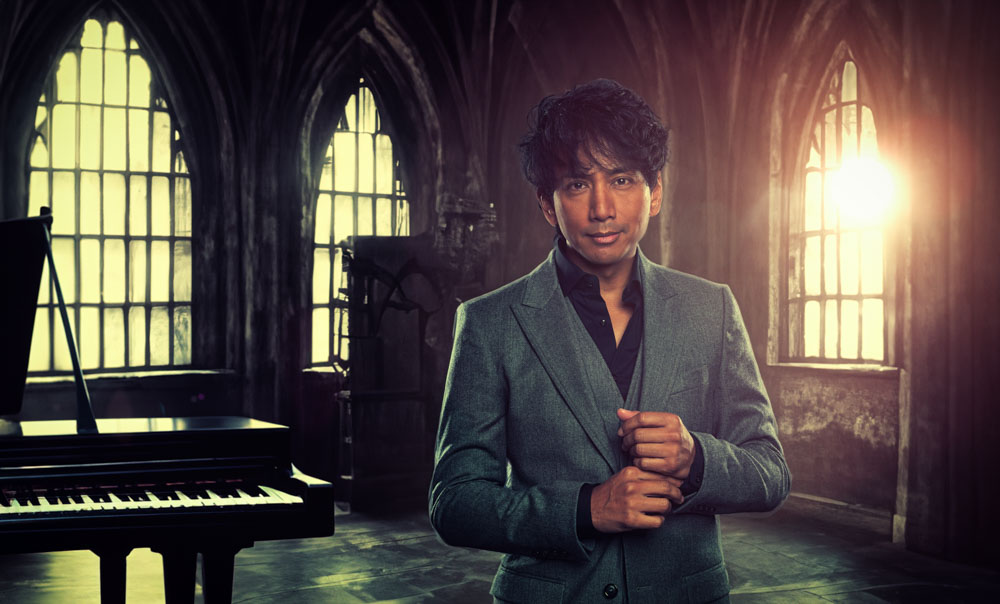 I started with this one.
His pose and lighting gave me the idea of windows behind him in a more rough area like an old church. The windows were in the right location but I did add some sunlight. It was a bit empty so I added the piano an changed some small details in the background.
To make Wibi fit a bit better I used a separate layer with some light spill to make it glue a bit more together.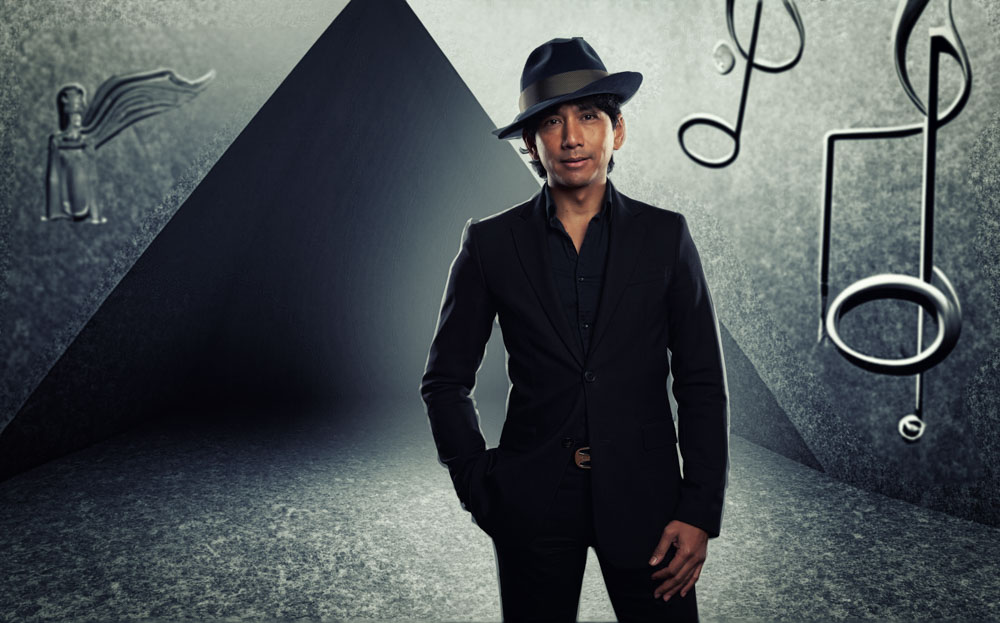 For this one I kept it a bit more abstract.
The clothing and hat gave a bit of an explorer vibe, and because he recently visited Egypt I was inspired to use a pyramid shape and some weird symbols that could be interpreted as music notes for some alien symphony. This is my least favourite one of the series because although we both love the mysteries of the world it doesn't really hit home for me.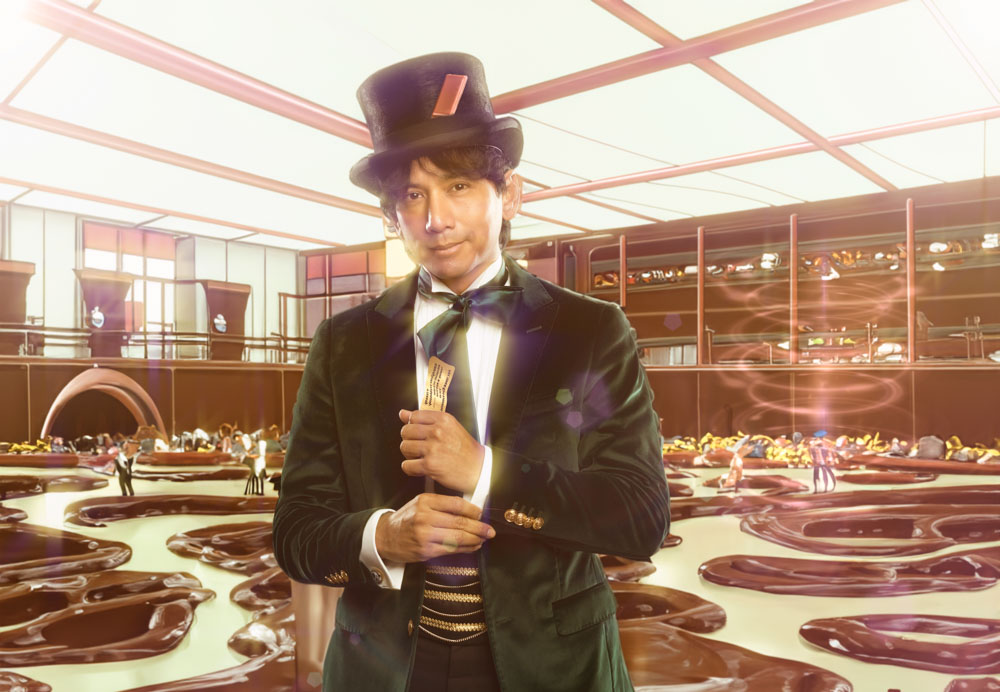 I loved his suit here and immediately thought about charley and the chocolate factory.
I added loads of effects and details that probably don't even catch your eyes so this one also didn't really work for me.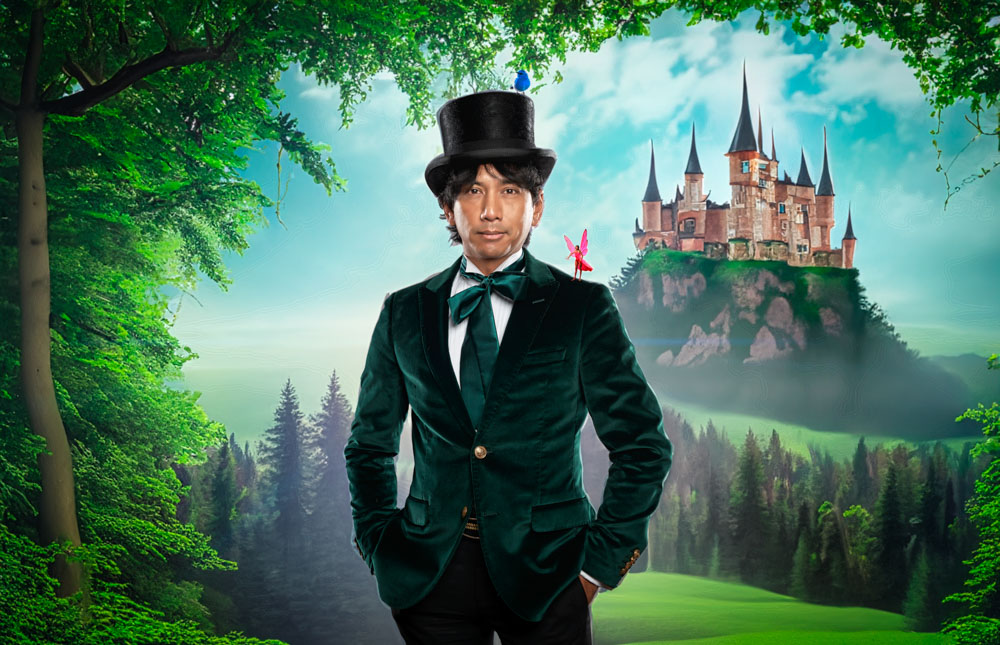 Now, this one together with the first one is actually my favourite.
Here it just all fits together.
The suit, the small bird and fairy, the castle, the forest etc.
As you can see I'm not happy with all the images.
Not because they are not cool, but because they don't "fit" for me.
And I think this is one of the challenges and fun things about AI.
You can't expect to just throw it into a shot and create magic, you still have to think about styling, lighting, poses, character etc.
But if it all comes together I think it opens up huge possibilities.
Hope you enjoyed todays blog post with some experiments.
Thanks of course to Wibi Soerjadi for being my model…. actually a second time now 😀
https://frankdoorhof.com/web/wp-content/uploads/2023/06/Wibi-okt-24-2019-4124-Edit-copy.jpg
645
1000
Frank Doorhof
https://frankdoorhof.com/web/wp-content/uploads/2015/03/studioFD_Logo-1FV.png
Frank Doorhof
2023-06-16 15:33:51
2023-06-15 16:11:54
Playing and having fun with Photoshop AI