This week you have read a few blogposts about TFP, MUA, models etc. but now the finishing touch…… Who is in charge?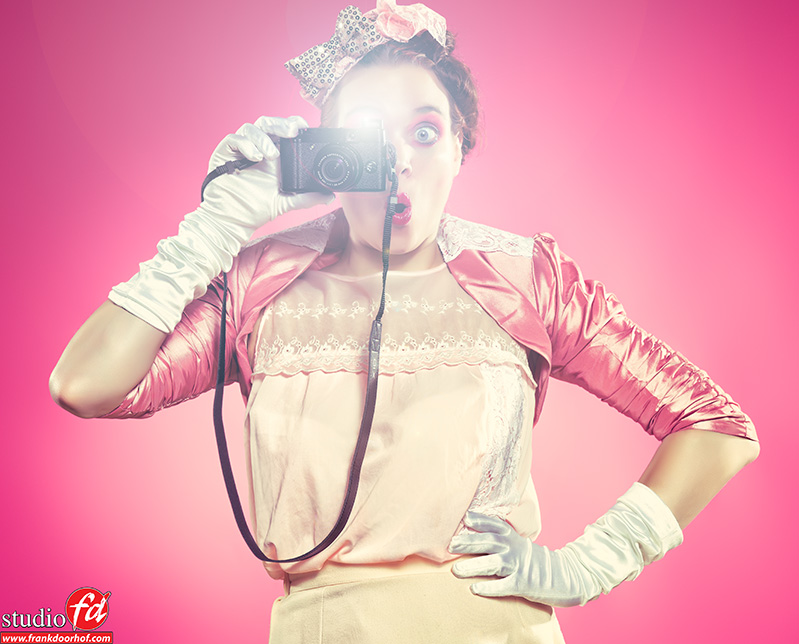 As with everything in live, there will always be a weakest link in the chain, however when you know where that link is, you can work around it. As a photographer you are the one making the shots……. already feel it coming?
It's a team, but…..
You as the photographer will be judged on the end result, it's YOUR image that is shown and will be judged. If the model "fails", if the MUA "fails", if the styling is "wrong" they are of course all debit to the end result, however in the end it's in 99% of the cases the photographer that will be judged by the public. Simply put, a lot of the people looking at your work will not realize that there is A LOT going on during a shoot.
Let's look at the most simple shoot.
It's the photographer and the model.
Communication is simple, photographer coaches the model and takes the shots, the model has to perform. Of course you can do it wrong and end up with "crappy" results, but in fact it's an easy to manage situation.
Now let's up the ante a little bit.
Let's throw in (and please don't take that literally) a Makeup Artist.
Now we have the vision of the photographer, the model and the MUA. This can be a little messy but often it's a situation where you can easily make a compromise.
Now go a bit further.
We now also have a client.
Now remember that everyone working in this business is creative, meaning they all have their own vision. Lining everything up with 2-3 people is not that hard, but when a client is also on set (and that often happens) and doesn't know anything about photography or makeup this can be a real problem.
Let's take another step (well actually a few), and this happens in our studio a lot.
We start at 10:00AM with a Makeup artist, a stylist, an assistant, me (photographer) and one artist, the assignment is very easy.. shoot a portrait, groupshot and 3/4 and "freak" or in other words, the best thing ever, you can do whatever you want.
But that's not all, at 11:30 the next artist enters the studio, followed by the next at 12:30 and at 15:00 you are shooting 5 in the mix. Managing this feels like being a juggler. They all have very busy schedules but also love to have fun. We are dealing with a stylist who wants to have her clothes shot in a certain way, a makeup artist that also wants to see some of her makeup back, and of course the client that wants to see the 3 images they need for publication but also EXPECTS some real "Frank Doorhof" images….. and preferably from everyone. However one of the artists has to go to another appointment, while the next is just arriving and they also want a group shot, but there is also some discussion going on about the styling.
Now this sounds like a horror scenario,….. but hey, this is reality, if you can't handle this you're in deep trouble, it's really not something that happens just once :-), it's normal in sessions. For me it's the time to take control and just point them all towards the set to shoot the group shots, if someone is not happy with the styling I have to decide between shooting the group shot and doing my job OR let him/her change and miss my group shot which will cost me my client because they REALLY need that group shot. In that case it's a simple matter of being in control and just saying… "ok 2 minutes and other wise we shoot it like this" that in 99% of the cases will work and the group shot is taken and is a success.
Luckily for me I've always worked with models/artists/celebrities that are great persons and up until now I honestly have never had problems with someone during a shoot, but I am often very strict and direct my models to do what I want and when I want it. If you're intimidated you are in trouble, you will have to take charge, but always in a nice way.
Every team needs a strong leader
It's not without a reason that most teams have one person that is assigned as the "captain", he/she will arrange everything OR make sure others do the things needed. Now some people are very "shy", don't talk much but can be incredibly creative, my best advise at that moment is to get a good studio assistant, and this can be someone that is your friend or family, but most importantly it has to be someone that is "nice" but has "authority" and is not afraid to tell people what to do and if they don't "make sure they are nicely "forced" to do it".
In our studio I will often take control (if possible), but am also more than willing to share this control with a client. We have worked with several hairdressers that know their business from the inside out, they have a 80% vision of what they want and have their own team. In those cases it's fun to see that he/she steers the whole team and work with me on getting the vision on the camera. For my interns this is often a weird experience because they see me telling the hairdresser what I want and him/her briefing it to the team, while we are all in a studio hearing each other. This way however it works flawless and to be honest…. I don't know as much about hair as they do, I know how to shoot it but I won't know what makeup goes with their vision and if they have it all worked out… let them arrange it and let me concentrate on the end result.
It's the end result that counts
This is the most important sentence… and really remember this one.
If getting a GREAT end result meaning that you have to share the control within your studio with someone, be prepared to do this if the session benefits from it, if you however see it goes wrong (time wise is often the problem) don't be afraid to interfere and speed things up, but always remember that in this business people hire you mostly for who you are and not 100% for the results you give them. I would say it's 80% how they like you and 20% the results. Not meaning of course that you can be a nice guy and a bad photographer 🙂 So always stay nice and not be the "arrogant" or "A hole" photographer because that will not lend you another gig, no matter how good you are.
So always remember that the end result is the most important, if that means interfering and pushing a bit harder to get the result that's ok and should be done. But that's my opinion, if you think about it otherwise that's no problem at all, in the end it's all about the end result.
Now going back to the title, who is in charge?
I think the whole team should be in charge, but the photographer should be the leading force in my opinion (and not because I'm a photographer), he/she presses the shutter button and makes sure the image gets captured, but as mentioned before he is also the one that is hold responsible for the end result, in my opinion that gives the photographer the final say in what will be published and what will not be published.
Image selection?
Yep you felt it coming, how about the image selection….
In our studio it's very simple, during the shoot I will very closely watch the responses from my team and will mark certain images that I think are "ok+" and are loved by my team, however I will only give my "ok" for the images that I think are great. The marked "ok+" images will be retouched (often a bit quicker) and given to the team with the remark that they cannot be published.
"and what about a shot you really don't like, but the models loves?"
During the shoot I will try to reshoot that image in a way that we both love it, if that is not successful (rarely) I'm very sorry for the model but that shot will disappear, again it's my work that will be judged.
"and what about if a client loves it and demands it?"
Very difficult situation, I will often during the shoot point out to my client why I really don't like the image and if he/she will still demand the image I will give the image, HOWEVER….. from then on I will shoot differently, I will not take any risks anymore and will only press the shutter when I'm 100% sure the image will be at least an "more than ok+" image. Normally I play around a lot with the models, letting them move, try expressions, different poses etc. but when I notice that my client is only happy when he/she can select the images I will make sure there are no "bad images", will this be good for the customer?
Well yes and no.
He/she will get great shots, but not the images that only happen when you "fool" around with your team, and let's be honest the real GREAT images only happen when you are being allowed and dare to make mistakes. So in the end the client will be happy and as long as that means a great publication with good images and bread on the table that's more than ok in my book. Again if everyone is happy that's the most important thing, and if you except the role as a leader you will also have to be able to put yourself on second place, meaning not "freaking" with your sets/models but just making the images the client wants and give him/her "great control" in what to select.
Concluding
In reality it's very difficult to say who is in charge during a photoshoot.
For me it's the photographer that should have the final say in Yes or No for publication, reality however is that you will have to deal with a team and that the end result might be different than what you want. However make sure you can stand behind the result. If you want wind in the hair and smoke but the customer wants straight hair and no smoke… make the best images you can without wind and smoke and save that for another day…..
Every shoot is different, every team is different. The same team in a different shoot can be different that's what makes this job the most interesting for me, you work with creative people all with their own voice, finding something that everybody likes is the best feeling ever.
Hope this helps.
https://frankdoorhof.com/web/wp-content/uploads/2015/03/studioFD_Logo-1FV.png
0
0
Frank Doorhof
https://frankdoorhof.com/web/wp-content/uploads/2015/03/studioFD_Logo-1FV.png
Frank Doorhof
2012-04-14 07:00:56
2012-04-14 08:00:24
Who is in charge