Downloadable instructional DVDs
It has been asked many times, but to be honest I was not yet ready for it.
However since the release of "Live in Boston" things have changed, we never sold so many DVDs in the first week of the release, but we also got a lot of questions about the shipping costs abroad, the main problem is that we really can't help the shipping costs abroad….We also got some complaints about certain countries that would not deliver the DVDs because there were girls on the cover (all covered by the way), we solved this in most cases by sending the DVDs without covers but let's be honest it's a lot of work. Because at the moment there are 7 English instructional DVDs and the demand is getting higher, I thought it was a good point in time to make them available for download now.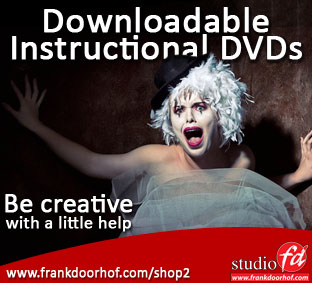 The downloads are high quality captures of the original DVDs.
Meaning all the chapters are in the downloads, including the intros, extras, slideshows etc. You won't miss a thing. Because we don't need to send the physical media we could cut the costs down and there are of course no shipping costs making it possible for everyone worldwide to get the instructional DVDs. The downloads clock in at around 1-1.5GB per download so make sure you have a good internet connection.

All downloads will contain at least 60 minutes of instructional material, and the tempo is…. well as you are used from me, it's fast. So not 10 minutes of posing with a nice (or not nice) soundtrack, it's "hard-hitting" instructional material in a really fast tempo. At the moment we have the following downloads online :
Guide to modelphotography
My first instructional DVD in English.
Lots of information on studio and location work, some jump shot tips, shooting someone with glasses and much more.
Inside Look 1-2
On these DVDs we take you backstage in photoshoots we do. Explaining the light setups, but also a lot of tips about the styling, ideas behind the shoots and of course inspiration.
Light 1-2-3
This series contain the workshops in Los Angeles, UK/Ireland and New York.
Light 1 also adds a powerpoint like presentation with loads of theory about working with light, manipulating light and measuring light.
Light 2 is fully aimed at location work with strobes and also includes a theory part.
Light 3 contains the New York workshops, but also a lot of information about shooting groups and working with themes.
Live in Boston
Maybe my best DVD ever.
More than 130 minutes of high tempo instructional material, shot live during the workshops I taught in Boston in 2011, lot of information on using a meter on location, a Q&A, working with small flash and flash benders and some stunning locations.
For more information and to buy the downloads follow this link.
https://frankdoorhof.com/web/wp-content/uploads/2015/03/studioFD_Logo-1FV.png
0
0
Frank Doorhof
https://frankdoorhof.com/web/wp-content/uploads/2015/03/studioFD_Logo-1FV.png
Frank Doorhof
2012-02-01 07:00:27
2012-01-28 20:02:13
Downloadable instructional DVDs