Day 1 Professional imaging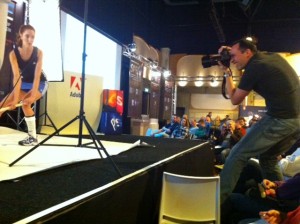 First day of the Professional imaging is always very busy, but this year…. Oh my.. they had to open a few minutes earlier because it was too busy outside, I never heard that before, and I know why… Matt Kloskowski openend the day with a wonderful keynote about compositing where he shot a model and within the hour he created a stunning image with a simple backdrop he shot the day before. And don't think it took him an hour to work on the image, that went lighting fast, in that hour he explained something about compositing, did the shoot and did the editing of both the background as the model, very cool stuff. If you did not plan on visiting the Professional Imaging, make sure you do, this keynote alone is worth it (well and my demos also of course), I immensely enjoyed it.
After that it was time for my first workshop at the Elinchrom booth.
I used three different models for today, Nadine, Alice and Myrthe.
All three are different so the people who visited several of the workshops (I taught 3 in total and did several small demos) always saw something new. Also in the teaching material I tried to experiment a bit with different topics during the different workshops because it was clear that some people were there for every workshop and doing the same thing over and over is no fun of course.
In short I explained the working of the light meter for incident readings and a quick demonstration about how to measure backgrounds with the reflective readings. For the demos I used the Deep Octa, a small strip and a reflector with grid. With these I showed some one light setups were it was easily to see what happens when you take care of choosing your angles, but also how you can light the background without adding a second strobe.
The most fun was to show our wallpaper stone wall background that looked very fake when shot with the wrong light transform into something that was 100% believable just by choosing the right angle for the light and photographer, this set got the most Aws en Ows from the crowd.
For the second and third set I also added some wind and firecloth as you can see in the next video which gives you a small impression of day 1. Remember that the images I shoot these days and post and the videos are all shot with the iPhone4 and are just for fun, there is no top quality of course.
We are also filming some material with the Canon HF11 (link to the camera I would buy now because the HF11 is not longer delivered) which will be edited next week and will be better quality. Still I hope you enjoy them they are edited very quickly in our hotel room on the iPhone with iMovie.

https://frankdoorhof.com/web/wp-content/uploads/2015/03/studioFD_Logo-1FV.png
0
0
Frank Doorhof
https://frankdoorhof.com/web/wp-content/uploads/2015/03/studioFD_Logo-1FV.png
Frank Doorhof
2011-03-14 00:26:55
2011-03-14 00:26:55
Day 1 Professional imaging