One of the things I absolutely love to do is testing new gear, especially when it gives the photographer totally new options which were not possible before.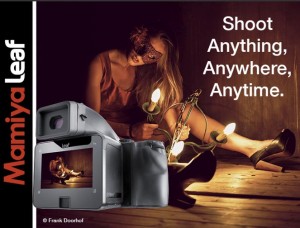 As you probably know I'm shooting different systems.
I always tell people that I will use DSLRs for when I don't really can control the lighting, or if I need higher ISOs and Medium Format when I can use strobes or if there is more then enough ambient light. The simple reason for this is that Medium Format (although a superior format) is not really usable above ISO400 (some even ISO200). But this has now all changed.
Sony makes some amazing sensors and since a while they also have a 50MP semi Medium Format sensor, I say semi Medium Format because in reality it's a crop sensor for Medium Format, now is this a bad thing? no not really but personally I love to use a full frame sensor, that being said….. man does this sensor rock.
When Leaf asked me to test this back the idea was that I could use it for a few days during a session and had to send it back, however I got so attached to the back that I kept sending them images and they let me keep the back for a much longer time, actually ALL the images you saw appearing online from our trip through Denmark were all shot with this back and that's something that I would not be able to do with my Credo60 for the simple reason that I would also need a DSLR for the higher ISO material and traveling with 2 cameras is… well just a bit awkward sometimes so I often opt for the DSLR, however seeing that I can now easily shoot up to ISO3200 and even ISO6400 makes a HUGE difference.
Now there will be many reviews about the technical stuff and the specs so I thought "let's make a much simpler user based review", I will do this from both the viewpoint of a DSLR user and a MF user.
https://frankdoorhof.com/web/wp-content/uploads/2015/03/studioFD_Logo-1FV.png
0
0
Frank Doorhof
https://frankdoorhof.com/web/wp-content/uploads/2015/03/studioFD_Logo-1FV.png
Frank Doorhof
2014-09-09 14:14:25
2014-09-09 14:14:25
Leaf Credo 50 user review