As you know I'm mainly specialized in teaching workshops/seminars, in our studio in Emmeloord I teach them approximately twice a week in different settings and with different themes ranging from Photoshop/Lightroom, basic, glamour, small flash and even DSLR Filming….. however that's me….
During the workshops I hear a lot of stories from students that were disappointed by other workshops they did, the stories range from "no new material", "bad teacher", "no teaching at all, just shooting" etc. you probably all experienced situations like this, for a while I did not think about this and just tried to teach the best workshops I could to make sure that my students would always be coming back for more and were happy (which they are :D).
However while traveling the world and teaching I meet a lot of great photographers and instructors, often friendships are build and we often communicate through social media or email, so slowly I started to think why not use this network and create something really cool for the students in the Netherlands, and before I knew "Frank Doorhof and Friends" was born.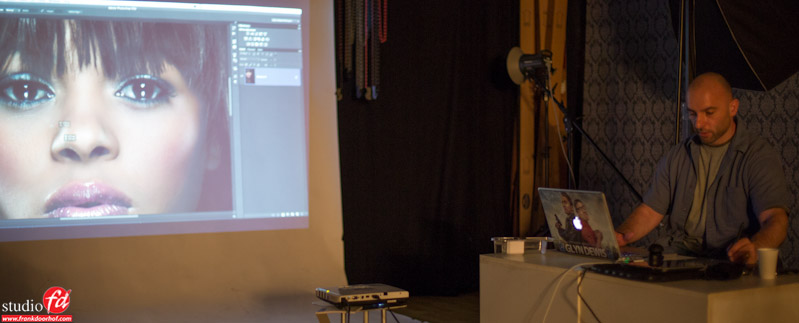 In this program I'm inviting some of my friends over to teach in our studio in unique marathon workshops, spreading 4 days in which both I and the guest instructor teaches full day workshops, this weekend it was the kick off for "Frank Doorhof and Friends" with no one less than (in my opinion) one of the best UK retouchers and instructors Glyn Dewis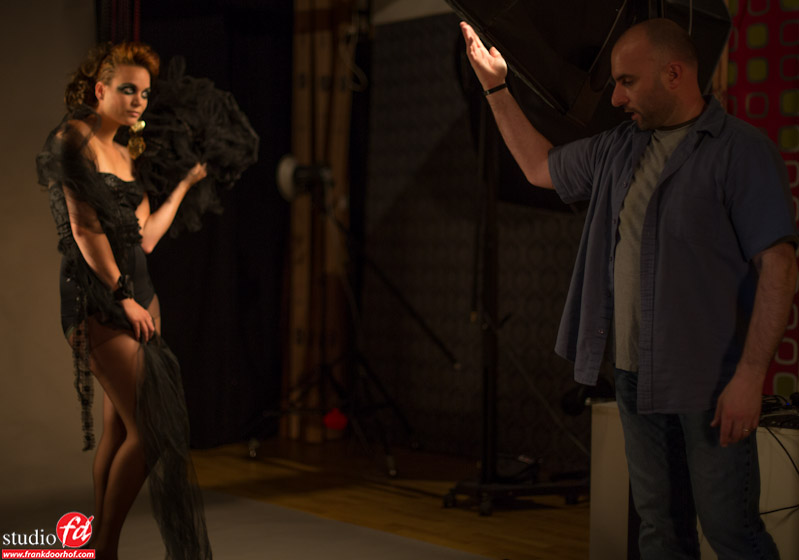 The kick off of the weekend were two workshops I taught, Photoshop/Lightroom and a combination workshop containing topics normally covered in several of the "standard" workshops I normally teach in Dutch, on Sunday and Monday Glyn took over, and of course I did some small segments on setting up the lights in a quick way and metering the backgrounds for the compositing work.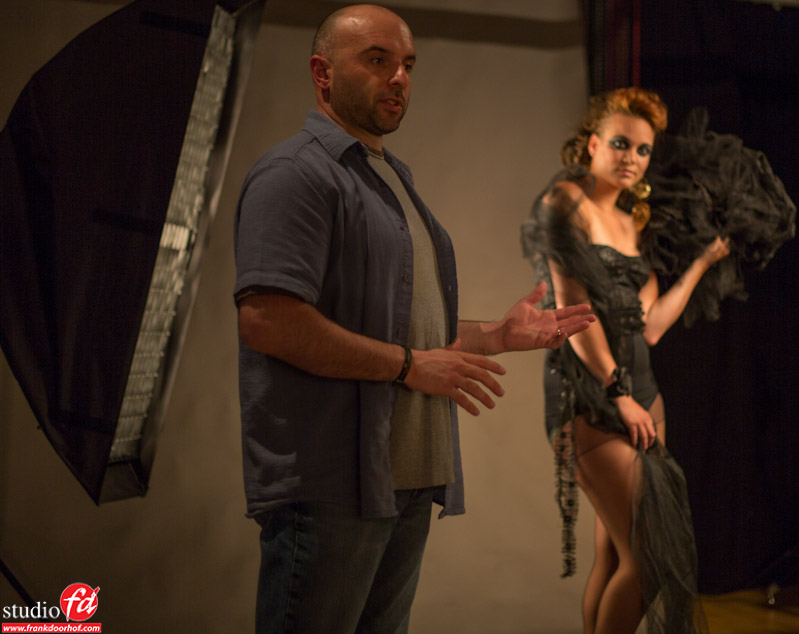 Glyn is a great and entertaining instructor and I must say that, although I do know Photoshop pretty well, the stuff he creates with very simple steps is just plain awesome, I picked up several tips and tricks that I will be using to speed up my workflow. That's the fun thing about Photoshop there are so many ways to do the same thing that's it's impossible to have just one workflow that works, in other words you keep learning every day you open the program and as Glyn said (loved that expression) "You can't break it by pushing buttons so just experiment, you can always go back".
For me Photoshop is like a route planner, we both want to go to the cinema and there are two routes. Both are 10km in length, one will go through the country and one will go through the city, it depends on which route you prefer which one you take, but in the end you will both end up at the cinema, some will drive quicker through the country, sometimes the city will be quicker, but the end results is the same.  This is also why I strongly believe it's important to always keep your eyes out for workshops like this, even if you're a Photoshop expert/guru or whatever you think you are 😀 there will be tips/tricks little actions/filters/plugins that you did not hear about and that will help you in your workflow or simply put enhance your quality/output.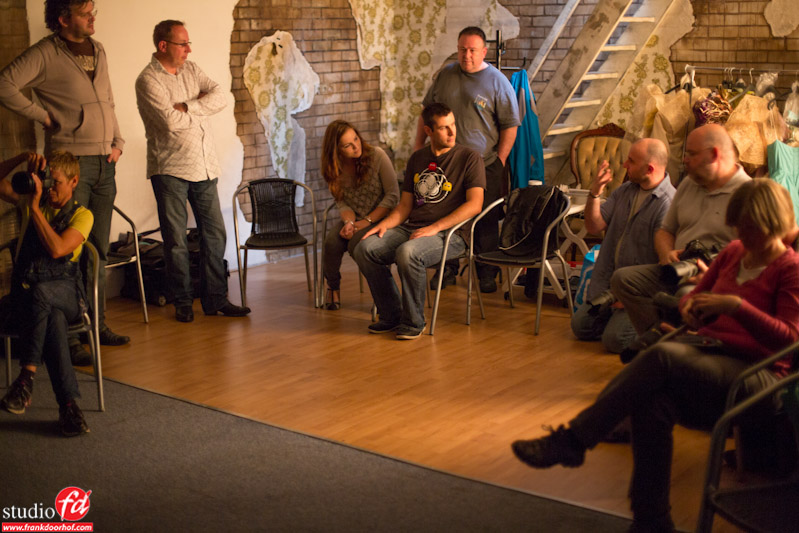 The workshop was a combination of small tips to speed up your workflow, enhance portraits (very cool eye and beard technique), compositing in a very quick and simple way, cut outs, a new technique to get even more out of the refine edge for hair (awesome) and of course the cartoon characters that I think Glyn does great… and yeah even I was the victim 😀 will show you a video and the first result tomorrow.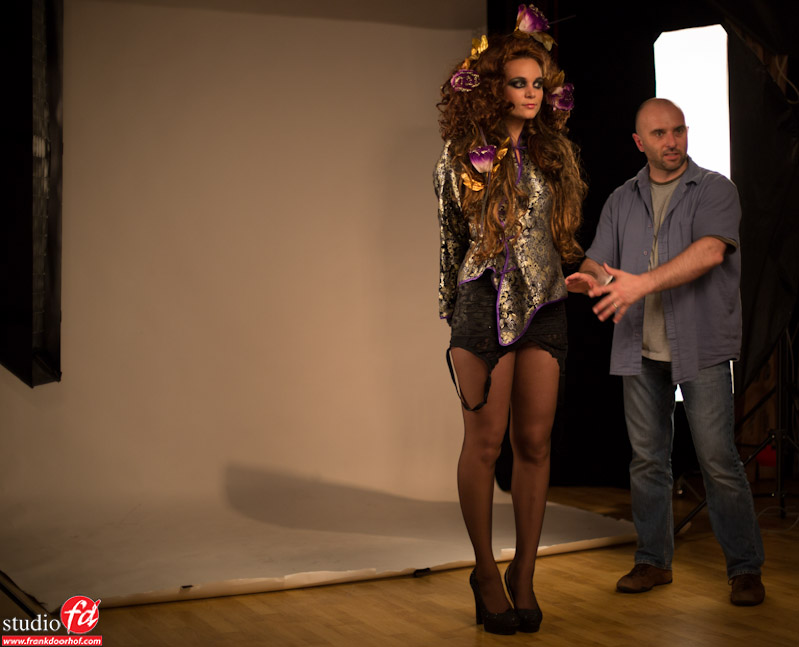 Our model for the workshops was, the always stunning, amazing and fricking awesome Nadine. And also this time she really outdid herself with the styling, keep an eye out on this and Glyns blog for some images he will be doing from her shoots, I can't wait.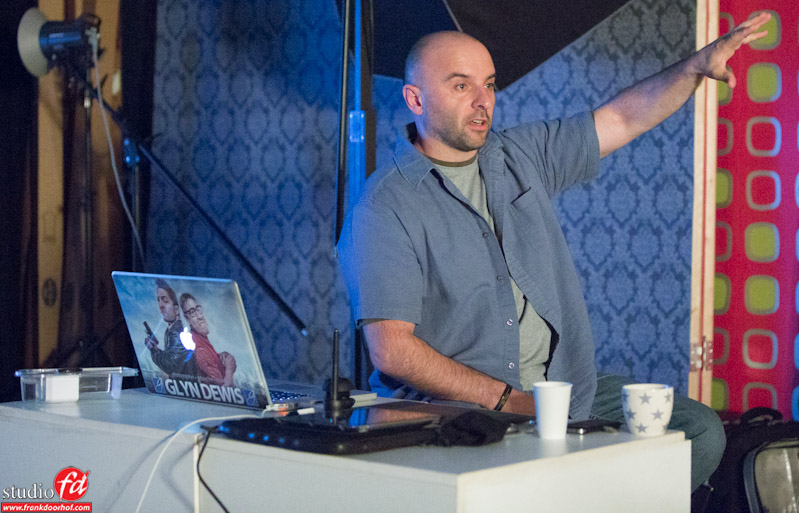 Of course we also filmed an interview with Glyn for my videopodcast "The DOORhof is always open" loaded with tips and tricks, I just let the camera running for 15 minutes 😀 you will love it.
Looking back it was an awesome weekend and I'm sure there will be more like this.
Glyn and I have been talking a lot and I can already give a small idea of what will come…
In the "near" future we will team up again (as the DoubleD's) but we will not be teaching separate, the next time we will really team up during a combination workshop meaning the first part of the day I will be teaching simple but rocking setups in the studio/location where you create everything with light, props and surrounds in the style of the "Why fake it when you can create it" tours, however the last setup will be a compositing setup, similar to what we did this weekend, explaining how to meter it, set it up and coach the model. After this setup Glyn will take over and start retouching the shots I made and doing the compositing. Please don't ask about dates yet, both Glyn and my agenda are rather full but this is something we both really want to do so expect something to be announced on this and Glyns blog for sure in 2013.
From our side I would LOVE to thank Glyn and I'm sure I'm gonna use some of the techniques 😀
https://frankdoorhof.com/web/wp-content/uploads/2015/03/studioFD_Logo-1FV.png
0
0
Frank Doorhof
https://frankdoorhof.com/web/wp-content/uploads/2015/03/studioFD_Logo-1FV.png
Frank Doorhof
2012-08-28 07:00:10
2012-08-27 09:25:03
The DoubleD workshops