There are always those products where you think "that's not made by photographers". You probably know what I mean, it looks fantastic (on paper) but to use it in real life is of course something completely different.
Let's face it, this isn't the first magnetic system, but it's probably the last one you need.
But let me first make something clear. This is a very flexible set. And although I use it in the studio for this review and the enclosed live stream, it's the perfect tool for weddings, events etc because it's not only flexible but also a very fast system….. But I'm getting ahead of myself.
Rogue
If the name Rogue sounds familiar to you… that's very well possible, Rogue released the flashbender on the market years ago, and together with Rogue we have put together the Frank Doorhof signature Flashbender which I actually used almost exclusively on my speedlights, until now ……
The Flashbender is great, let's be clear about that, and I still use the Flashbender on my speedlights, but not exclusively anymore….
Rogue Magnetic flash system
As mentioned, there are more magnetic systems, but Rogue has listened very carefully to the complaints and wishes of the photographers using them and adapted their system exactly to what a photographer needs. So, let's take a look at the system.
First, you should know that this system is designed for the wildly popular "round" flashes such as Goddox, Westcott and the Profoto A series for example. Special adaptors are available for both Profoto and standard rectangular speedlights. I use the standard speedlight adapter for my Nissin speedlights, the adaptor is available in "standard" and "small", for most speedlights "standard" will work perfectly. In the case of the Nissin speedlights I did remove the zoom head (it also works with the zoom head on the flash but without the zoom head everything is a lot firmer) Note… not every speedlight has a separate zoom head.
I am going to review the complete set in this review, but you can also buy parts separately of course.
You can see the kit in 3 parts.
First we have the Dome.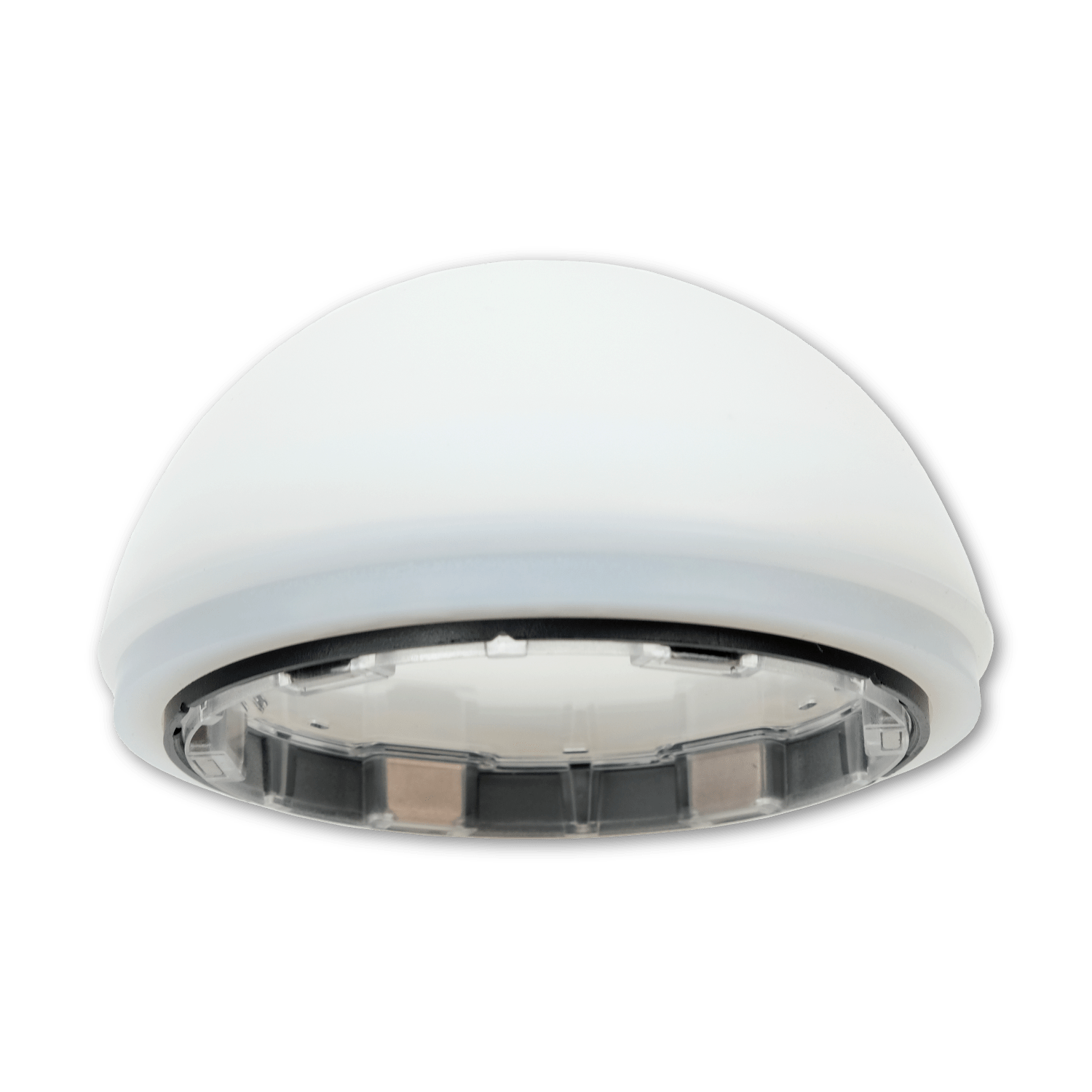 The Dome
Let's get straight to the point.
Of course, we are not going to get super soft light from a small light source, everyone who promises such a thing is not aware of how light works. A small light source will always give a harder light than a large softbox.
But still, the Dome does something very beautiful.
Due to the entire structure of the Dome, the light becomes omnidirectional instead of focused and this makes a HUGE difference. I'm not going to say that you get the effect of a large soft box, but this is very close to what you can expect from a medium/small soft box. This is actually a very smart way to turn a small light source into something that comes very close to really soft light, and that in such a small Dome, I'm impressed.
The "disadvantage" is that the light goes almost everywhere, but this will not be a problem for most people, on the contrary it helps enormously with lighting up the entire scene or a large part of the model, I use the dome also as fill in for color gels and it literally does a perfect job for that.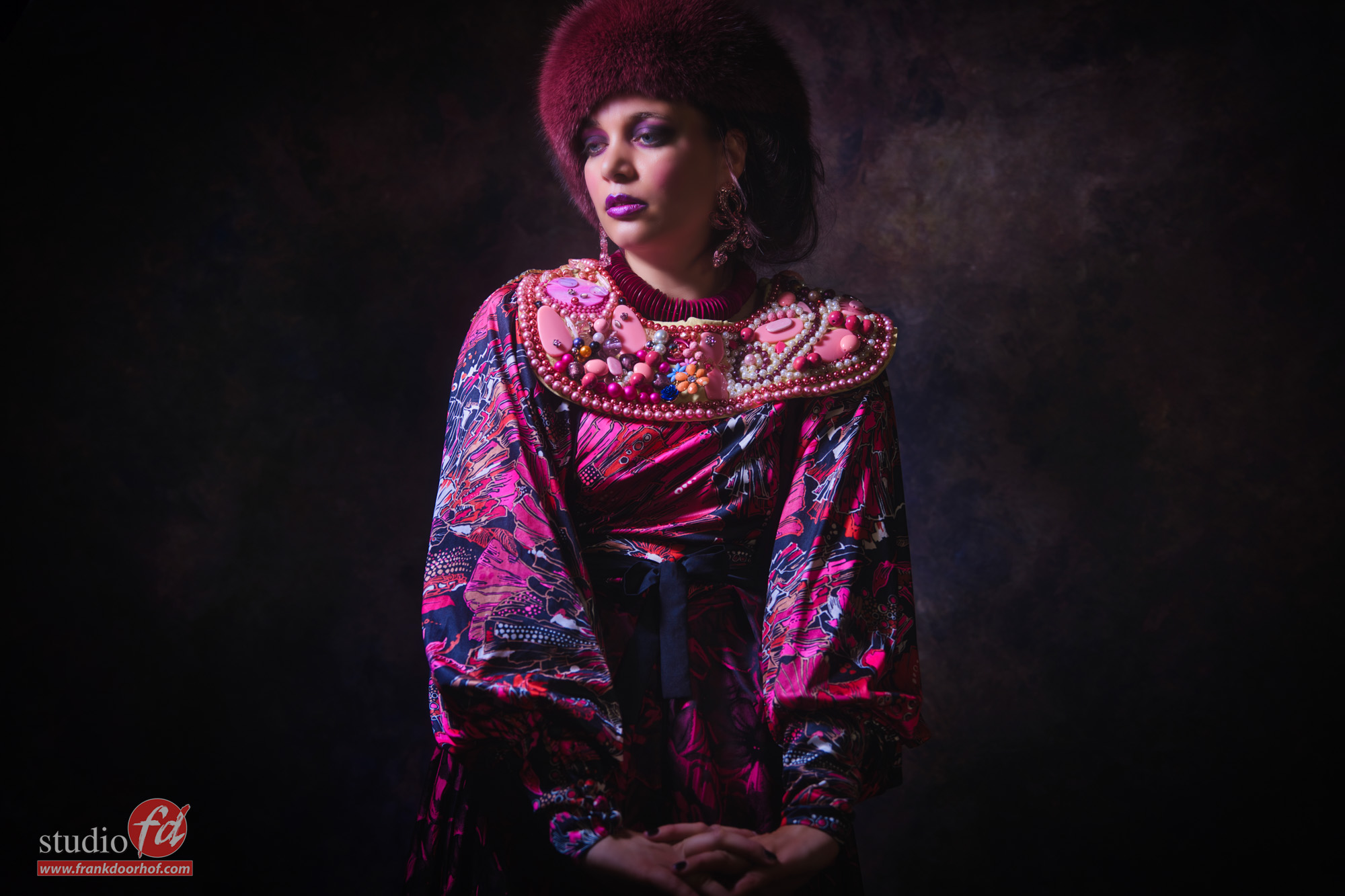 During the livestream of Digital Classroom, I used the system for the first time, the reason was actually very simple, I wanted to give people an impression of how easy the system is to use, even if you have never worked with it before. I could already predict the light, but I had the Dome, well it could go both ways, especially since using something like a dome is not really my thing. But as you can see in the stream I became more enthusiastic with each photo.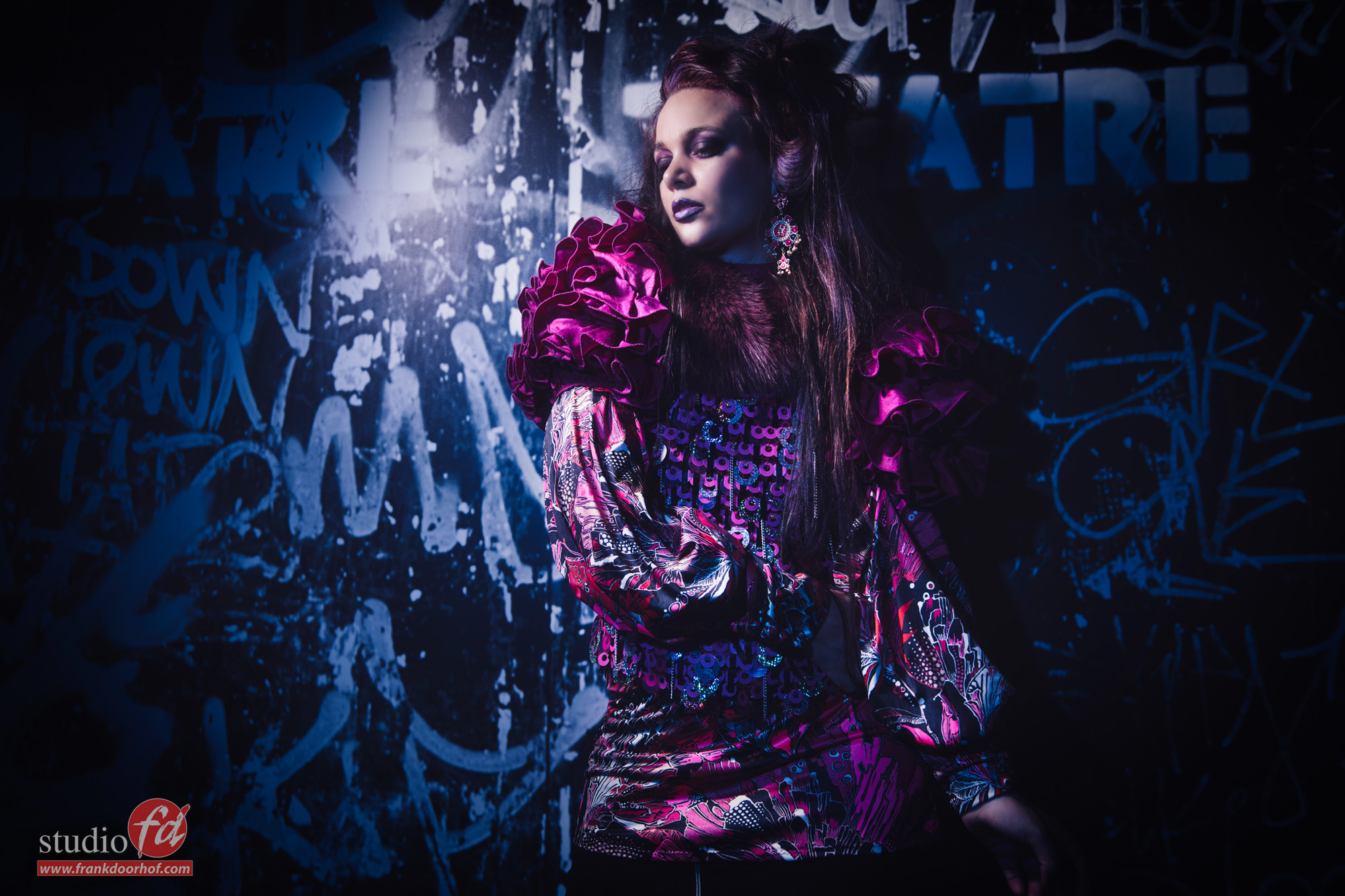 Using the dome and gel for fill in with color is absolutely awesome with this system
The Dome is perfect for a beauty portrait, as you can see in the examples.
But where the Dome really comes into its own is as a fill in with or without colorgels. During the livestream you will see me doing this as well. And the beauty of the Dome here is without a doubt that you can illuminate the entire scene with standard or colored light without too much effort. This gives a lot of flexibility in terms of highlighting a model / set but also a lot of creativity by using the gels. If you still use shadows in your RAW convertor, start using fill in flash, trust me you'll thank me very soon.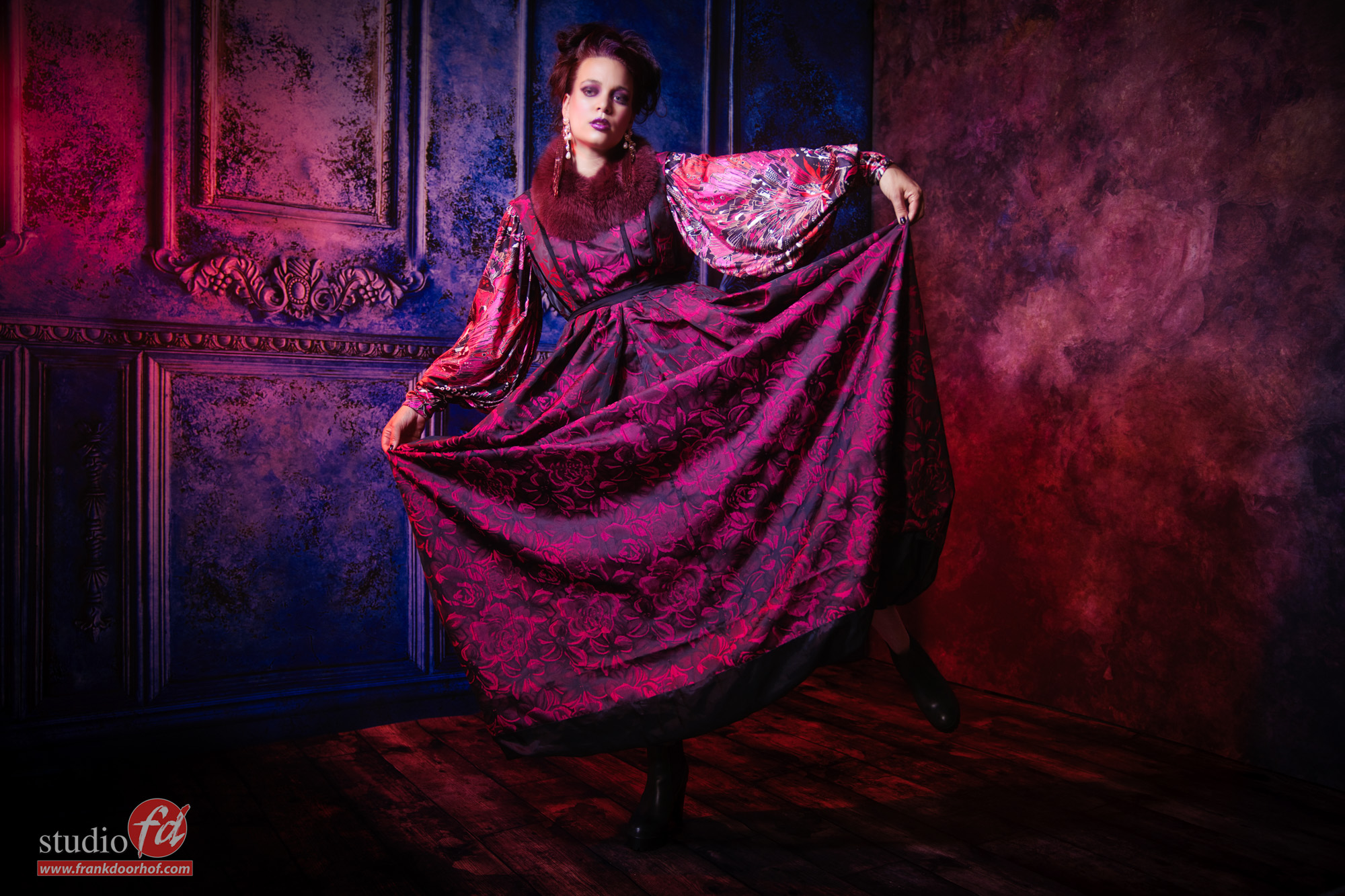 Gels
And then we of course arrive at the gels.
Under the dome I usually mount the gels.
Changing gels is super simple, you remove the ring with the dome and place the new gel and… well you click the Dome back and done.
The gels themselves are from the well-known brand Lee and are super strong and specially coated so that they do not tear (easily). This is a problem with many color gels, but the Rogue kit feels nice and strong and if you buy the special gel package you get a huge selection of cool named colors, if your favorite color or shade of that color is not among them it would surprise me.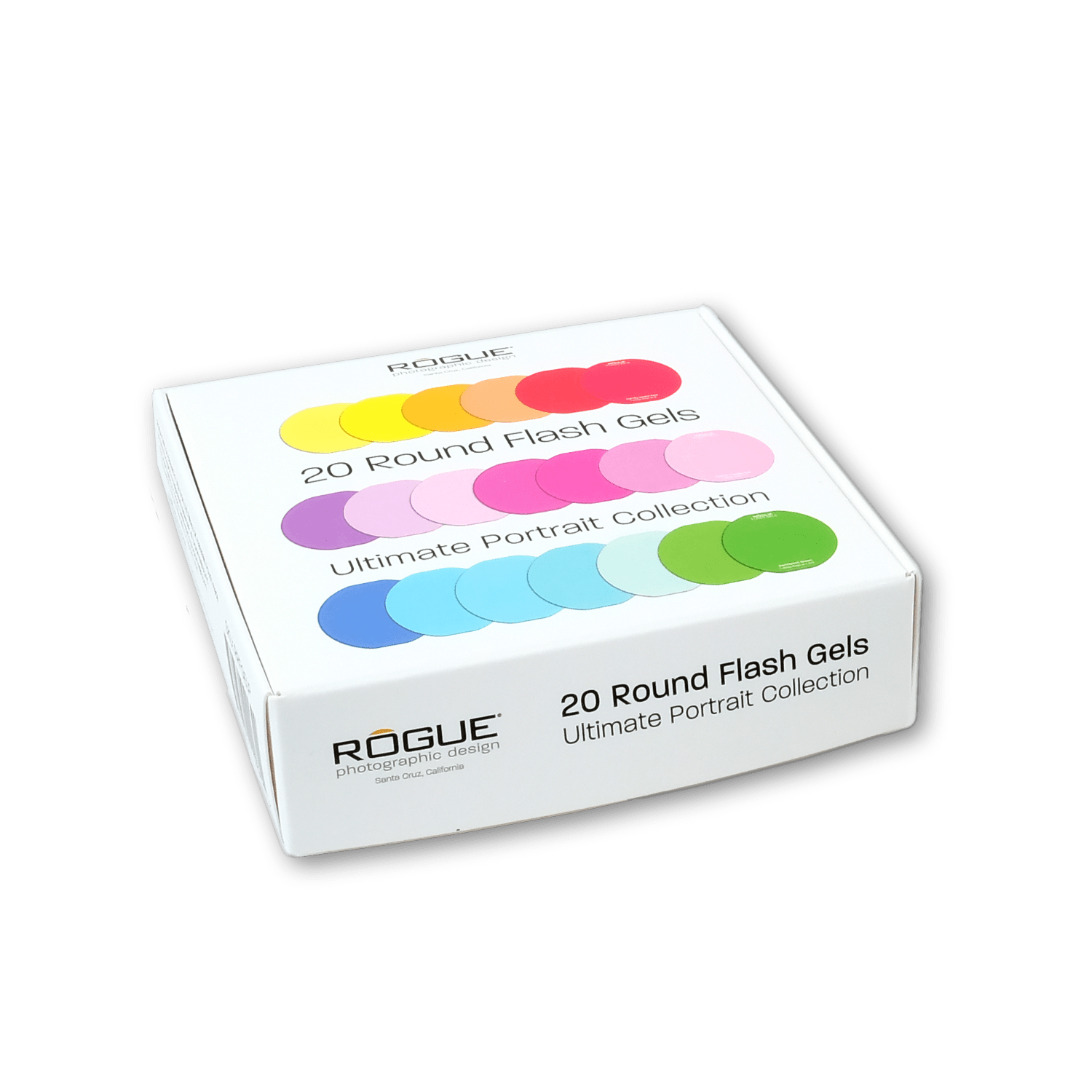 Besides the colorgels there is also an extensive color correction set available. These are a must have for every photographer that needs to balance the strobes with other light sources.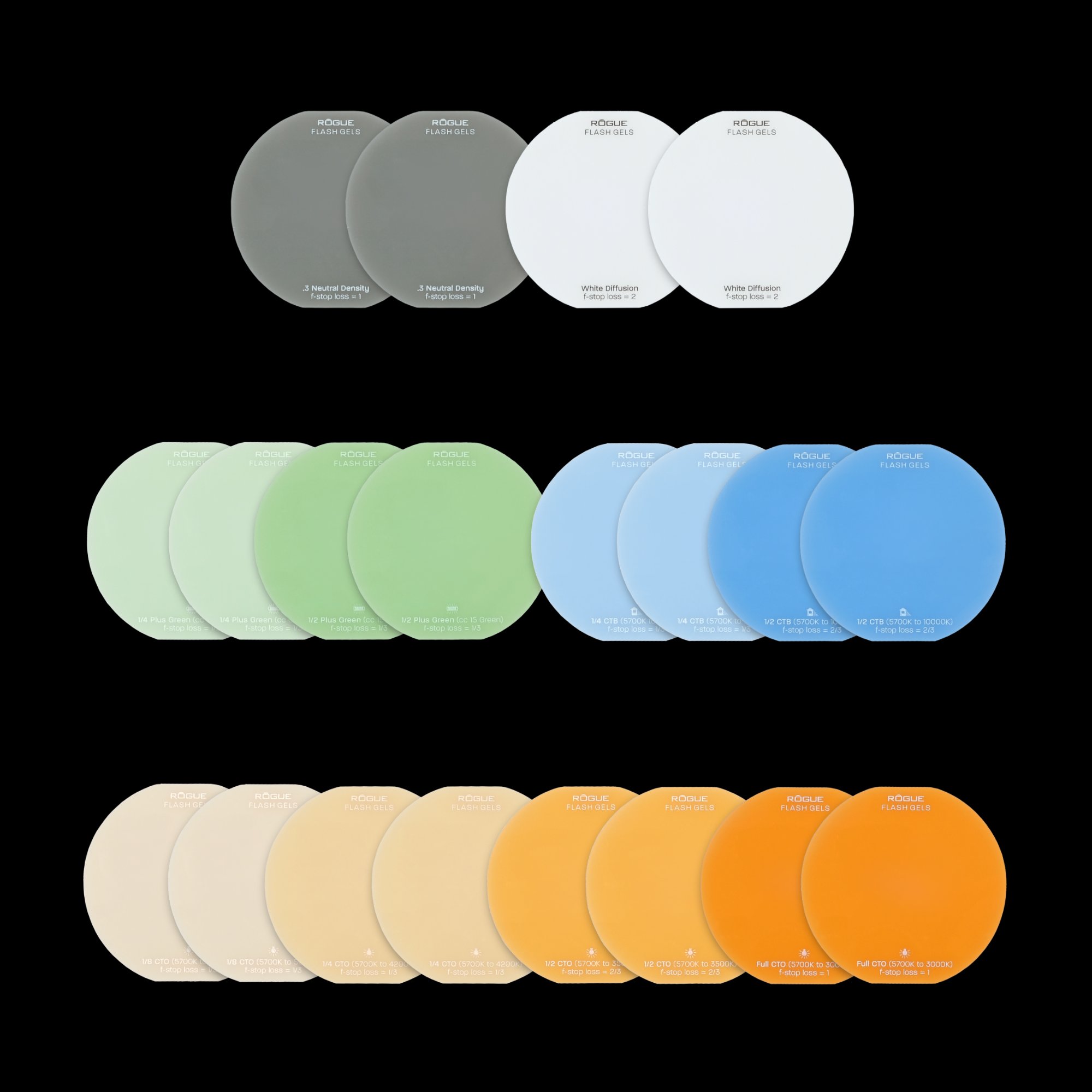 Grid(s)
A good flexible system also needs a grid, and as expected… the grid is of course also present in the kit. If you (like me) use a lot of focused light and want to have a bit more flexibility in terms of grids, you can of course just stack a few grids on top of each other for a super focused light source.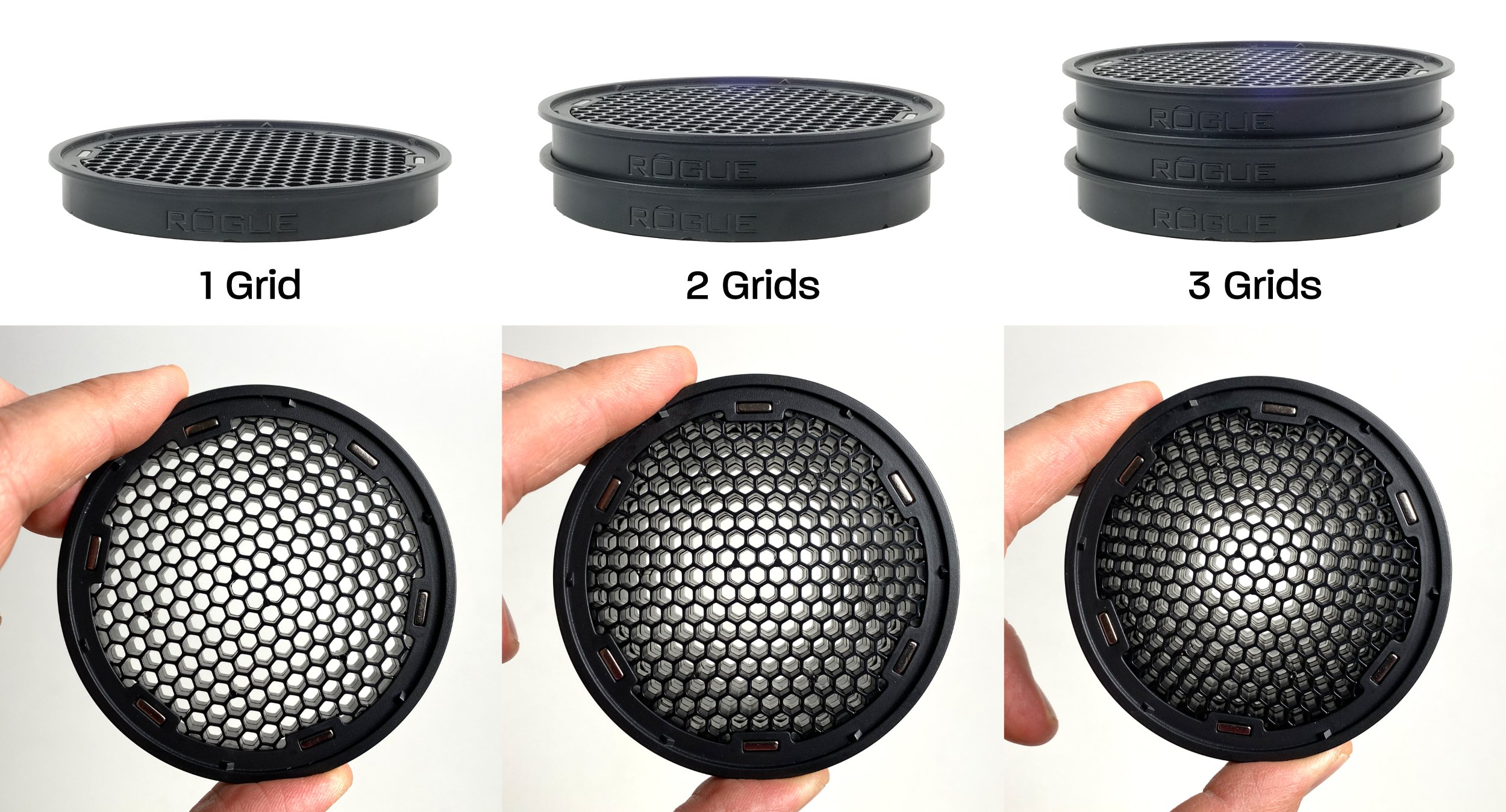 Speedlight adaptor
As mentioned before I'm using the system on standard speedlights, and that's where the adaptor comes into play. The adapter is made of a flexible material and slides easily over the speedlight when you stretch it. When fitted, it is "fixed" but is also easy to remove by stretching it slightly again.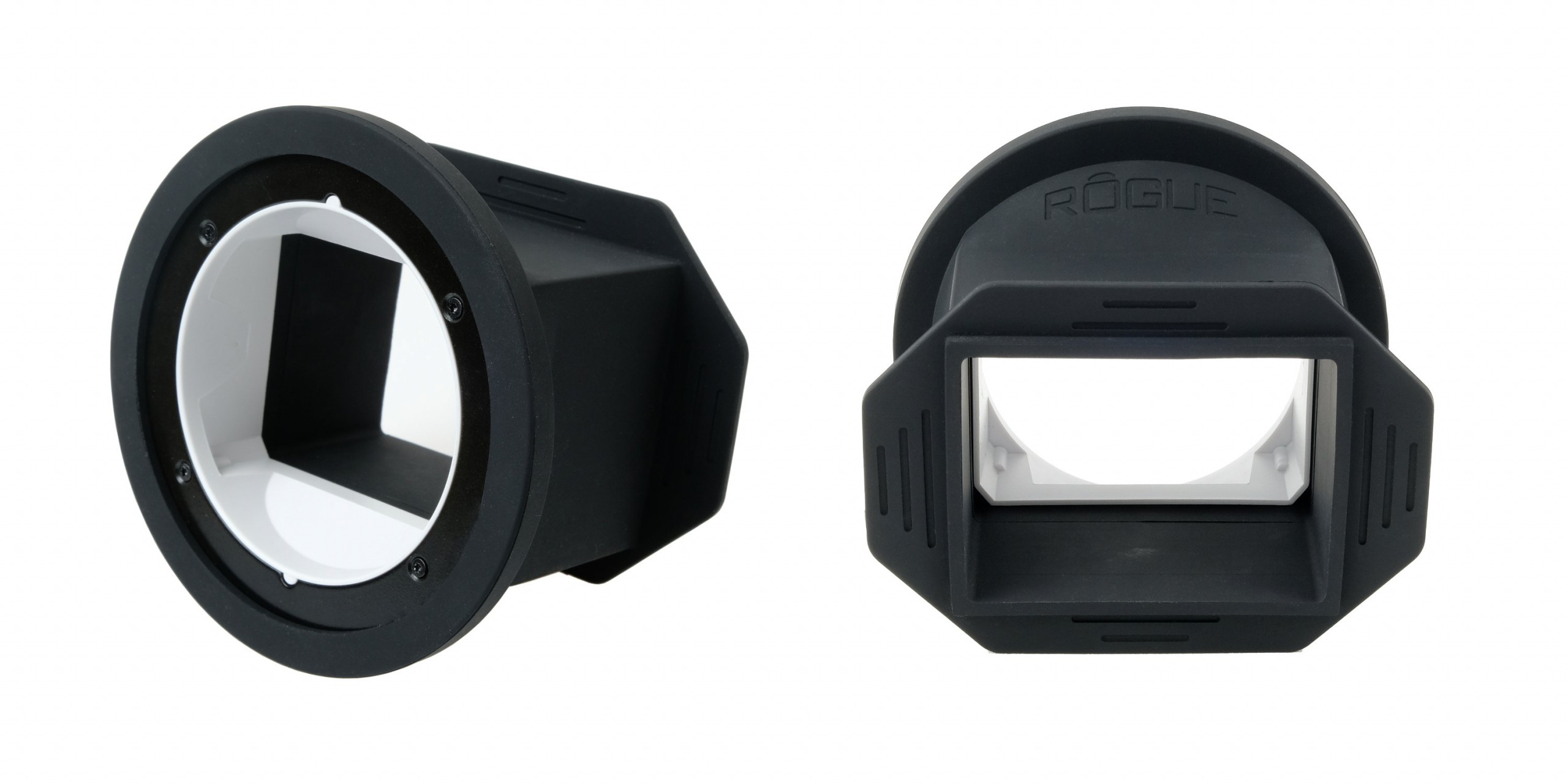 With the new magnetic system Rogue puts a product on the market that solves many problems which photographers encounter in real life. Sometimes it's little things like the way you click the rings together, they click together very easily but try to remove them in a straight movement, and you really have to pull it off, but once you understand the trick you literally click them loose with ease, just push it up on one side and it's easy to remove the ring, place a new gel or accessory and back to shooting in seconds.
Personally, I find it important that the system really locks, I do not want parts to come off during a photo shoot, but I also don't want to be messing around with changing color gels because I can barely get my system loose. This is literally the best of 2 worlds, it is both locked very tightly but can also be easily removed by the proper move, very cleverly done.
What will make many people very happy is the way the magnets are fixed inside the rings. This system is designed in such a way that the magnets remain stuck in the rings, so no magnets that fall out and have to be found again, they are fixed in there to stay.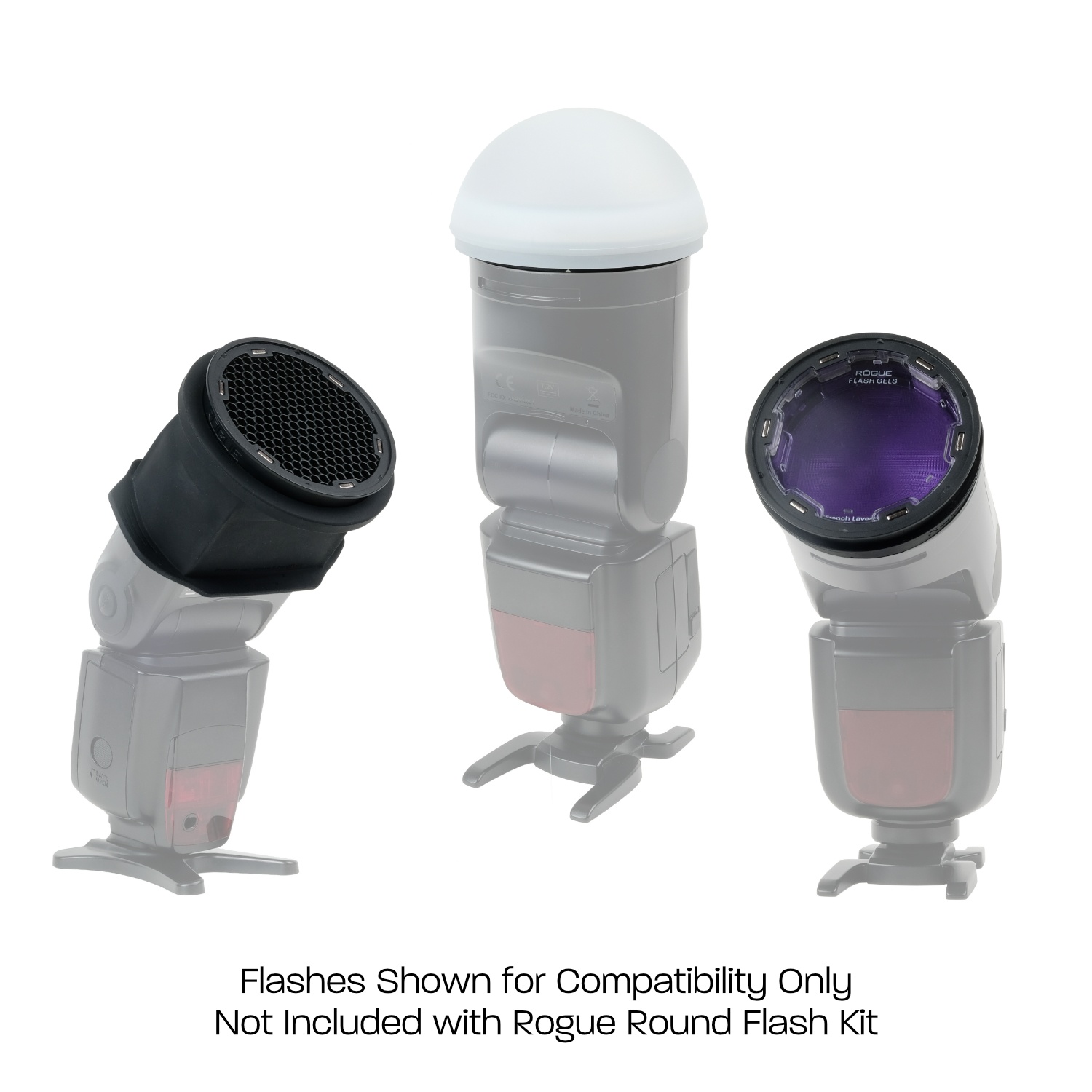 Conclusion
Rogue has a super flexible system that will perfectly match any photographer who likes to work with speedlights or round flashes but does not want to limit him/herself to 1 style. With the magnetic system, a lot is possible switching from flat (beauty) light with the dome to very high contrast with the grid(s) and of course every combination and order, you can even take the dome off the ring.
If you also the color gels you will quickly understand why I became more and more enthusiastic during the livestream, this is really a system I am 100% psyched about. Personally, I use 3 speedlights on location with 2 magnetic systems and a flashbender with strip light and one color gel kit.
If I'm honest, I wouldn't know what else you'd need.
And the best thing?
The whole system is affordable and doesn't take up a lot of space in your back, in fact you can probably fit it in your pocket during the shoot.
The magnetic system is for sale via our webshop or in the better camera shop
For international sales please check www.rogueflash.com
See the live stream where I introduce the system for the very first time here.
See the introduction video here.
Join the Home of Rogue Facebook group for loads of information and inspiration.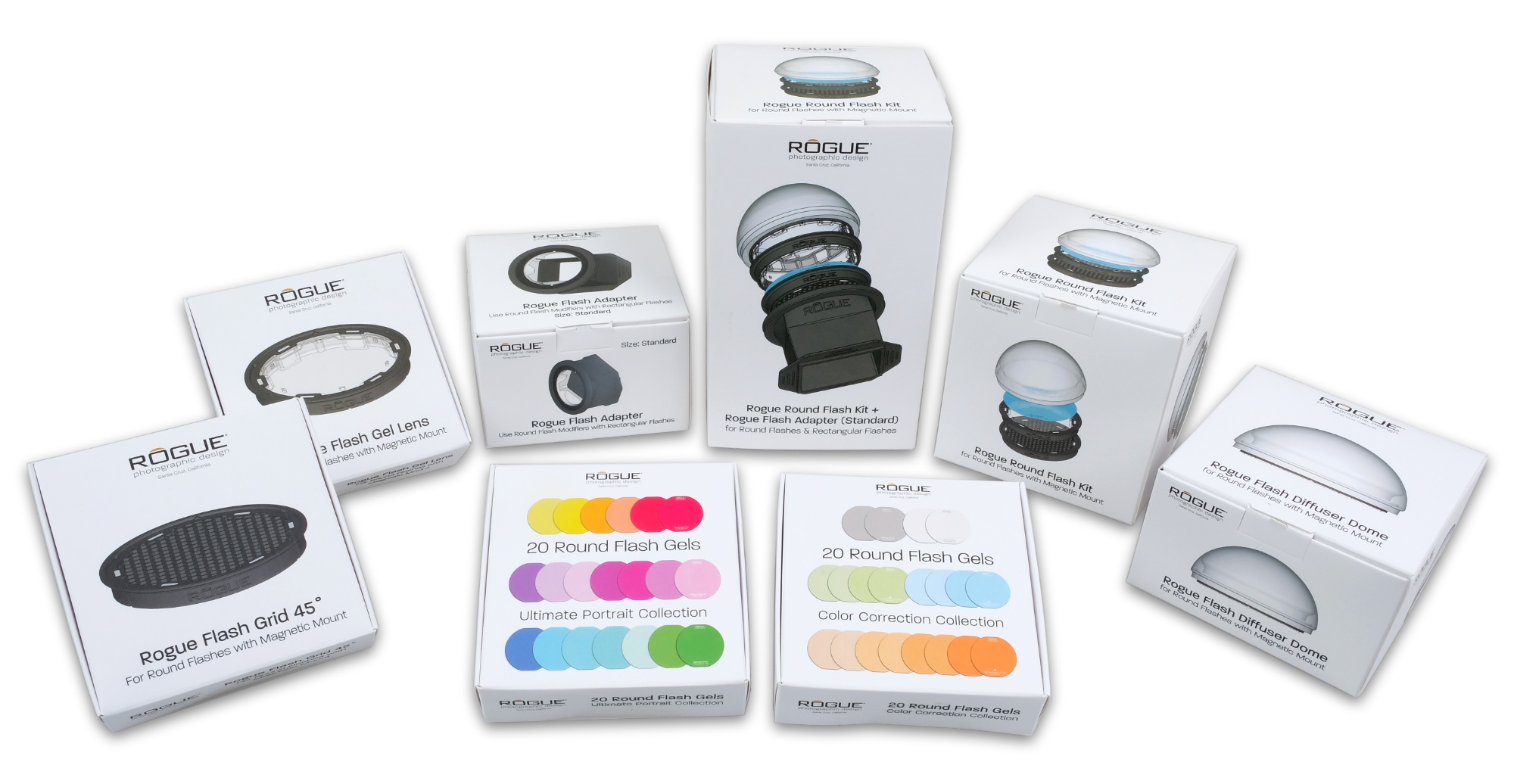 https://frankdoorhof.com/web/wp-content/uploads/2022/06/Rogue-Round-Flash-Magnetic-Modifiers.jpg
1036
2000
Frank Doorhof
https://frankdoorhof.com/web/wp-content/uploads/2015/03/studioFD_Logo-1FV.png
Frank Doorhof
2022-07-14 19:55:50
2022-07-15 16:26:58
Rogue magnetic flash system review