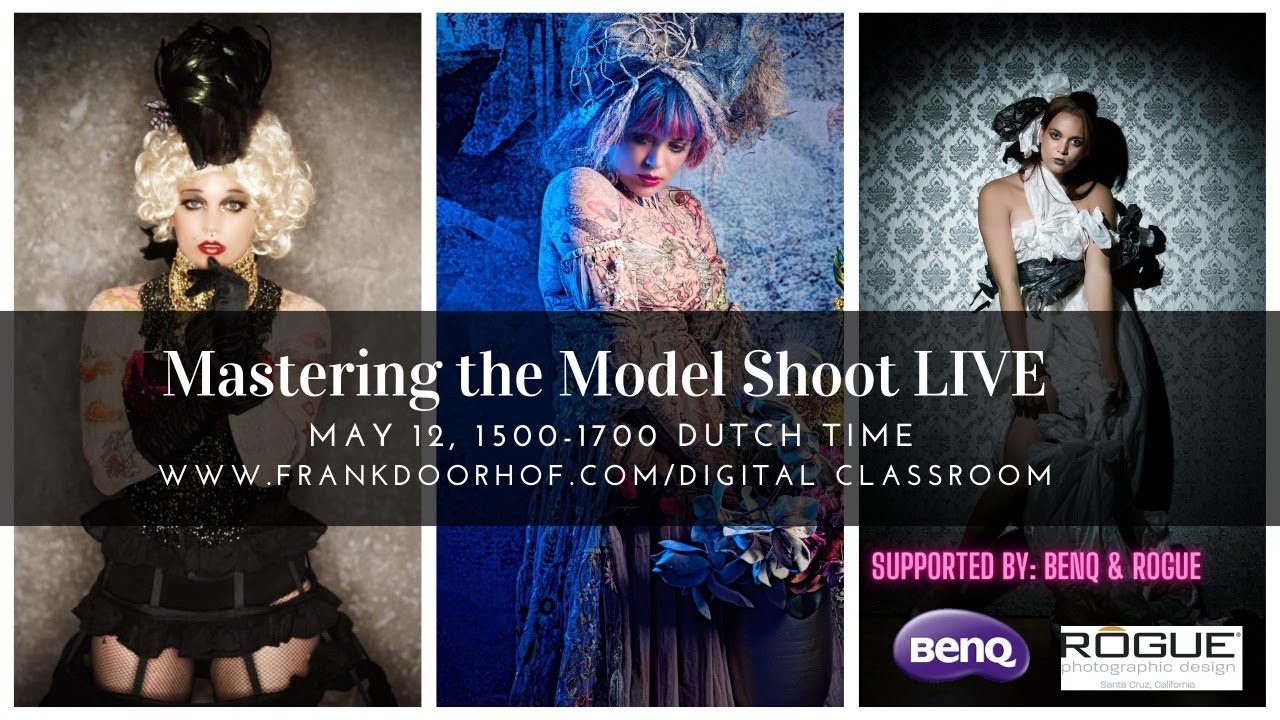 Mastering the Model Shoot LiVE
This is a FREE live, interactive, free, online broadcast from our studio in Emmeloord. The topic is:
"Mastering the model shoot Live Shoot" with amazing model and stylist Nadine!
Finally, we can work with a model again. So, we invited our friend Nadine for this first Digital Classroom Live Shoot of 2021. It's going to be 2 hours with a lot of shooting, fun, and a little retouching.
It's all about how YOU can Master the Model Shoot too!
Nadine is great with styling, but how to properly light this? First, we discuss what is important in the clothing and then Frank will adjust the light, or add some special effects. Because Frank shoots tethered you can see the results immediately. Frank is going to make some amazing shots with 1, 2 or 3 lights, with different modifiers and different styling.
Of course, you can see how Frank meters the light, coaches the model and takes the shot. Because we have multiple cameras in de studio you can see it all: an overview of the light set-up, the model, Frank and of course the results
Join us in this episode! Tune in and interact LIVE on YouTube on Wednesday, May 12, 3PM Dutch time. Chat with us and Frank answers your questions or remarks in real-time. You don't have to register, just enter our Digital Classroom on our YouTube channel.
——-
If you liked this video give it a big thumbs up and subscribe so we can keep on making them.
For some cool discounts on my favourite plugins check www.frankdoorhof.com/discount
To get presets for these plugins without breaking the bank check www.frankdoorhof.com/presets
Want to support this channel?
And get a LOT of benefits?
Check out our Patreon: https://www.patreon.com/frankdoorhof
For other possibilities visit www.frankdoorhof.com/support
We really appreciate the help and support and it helps us to create more content for you guys and keep it free.
+++++++++++++++++++++++++++++++++++++++++++++++++
Follow me on Facebook, Twitter, Instagram and I will see you in the next video!
Facebook : http://bit.ly/2pZ8kF5
Twitter: http://goo.gl/udzyzm
Instagram : http://bit.ly/2qMtYgj
YouTube: http://bit.ly/2qV7w0O
Flickr : https://goo.gl/vhUVuW
Join our Email community: https://frankdoorhof.com/email
Portfolio website: http://smu.gs/2qMooL2
Workshop agenda: http://bit.ly/29CJ7Gp
Join the Mastering the Model Shoot Facebook group: https://www.facebook.com/groups/masteringthemodelshoot/
See my gear guide (and buy it) via: https://frankdoorhof.com/gear
https://frankdoorhof.com/web/wp-content/uploads/2021/05/9mX7FydPRm4.jpg
720
1280
Frank Doorhof
https://frankdoorhof.com/web/wp-content/uploads/2015/03/studioFD_Logo-1FV.png
Frank Doorhof
2021-05-13 03:10:09
2021-05-13 03:10:09
Mastering the Model Shoot LiVE