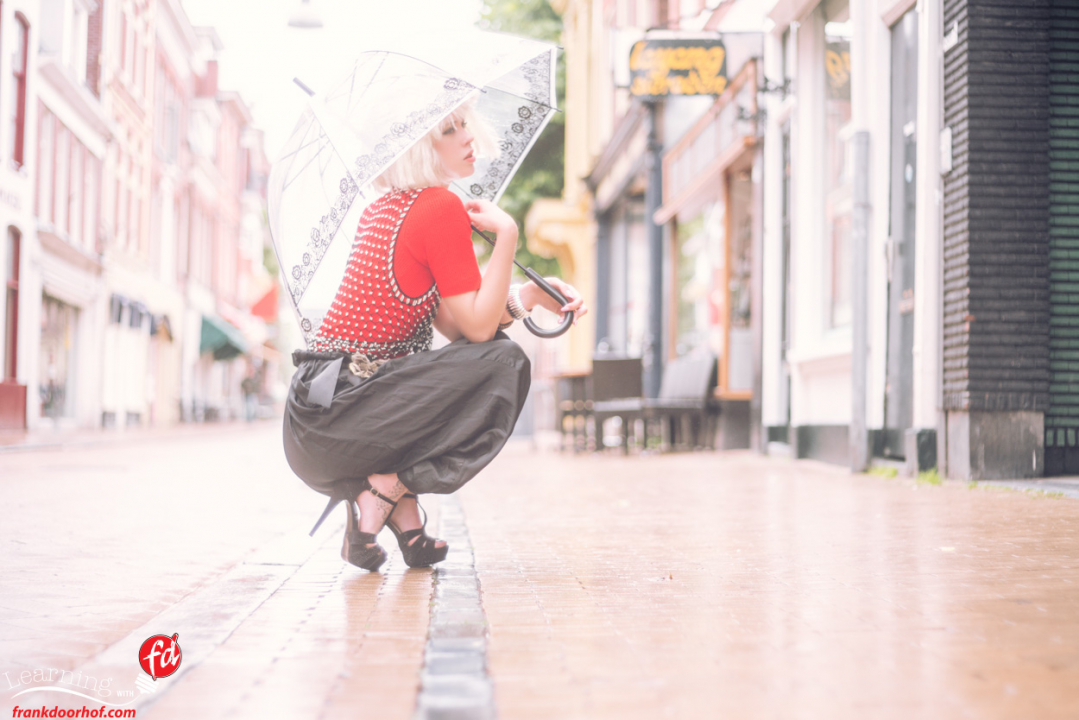 Yesterday we looked at the first/second set from the workshop I did in Groningen with Sharon. (thanks to Bianca for the amazing styling and makeup)
After the parking garage we hoped it stopped raining, but…. well it's the Netherlands and it kept raining.
I still wanted to shoot some images outside so we decided to just go outside Lichtzone (the homebase for that day) and shoot the images with natural light. Now in all honesty… there was no real interesting natural light, it was pretty bleak and sober…. so what do you do?
Well remember that as a photographer you can change the scene to fit the mood you want, you can use strobes of course to change the look but you can also manipulate the scene by using exposure compensation. Because it was so sober I decided to go completely overboard and create an "almost" blown out look which would in fact make the reds in Sharon's clothing really pop (I just love reds).
I shot these images with the Techart module on the Sony A7RIII (thanks to cameraland.nl for lending it to me) Lenses used were a 55mm Takamur (zebra) and a 135mm Zeiss Jena. As you can see in the images these older classic/vintage lenses are VERY prone to lensflare which creates an almost surreal end result. This is I believe one of the main things that I love so much about these older lenses, they really have character. Modern lenses are great, don't get me wrong… but these older ones…. well they are different, not as perfect. And in some situations (like here) the perfection of the modern lenses actually work against it, although they might be sharper, have better (more perfect) color, flare less etc. these old lenses just go all over the place creating stunning looks (if you know how to control them that is, but that's very easy to learn, just do it).
Ok so here are some of the images.
Sorry for the overload, but I just really loved this set… which sounds weird because it was actually the most simple one to do, no light, crappy situation… but… well judge for yourself.
Would love to see some of your images in situations where the weather was REALLY bad.
https://frankdoorhof.com/web/wp-content/uploads/2018/06/Sharon-Groningen-Takamur-55-June-24-2018-110-Edit.jpg
834
1250
Frank Doorhof
https://frankdoorhof.com/web/wp-content/uploads/2015/03/studioFD_Logo-1FV.png
Frank Doorhof
2018-06-26 12:06:10
2018-06-25 12:08:01
How to make the best of it…..Part II