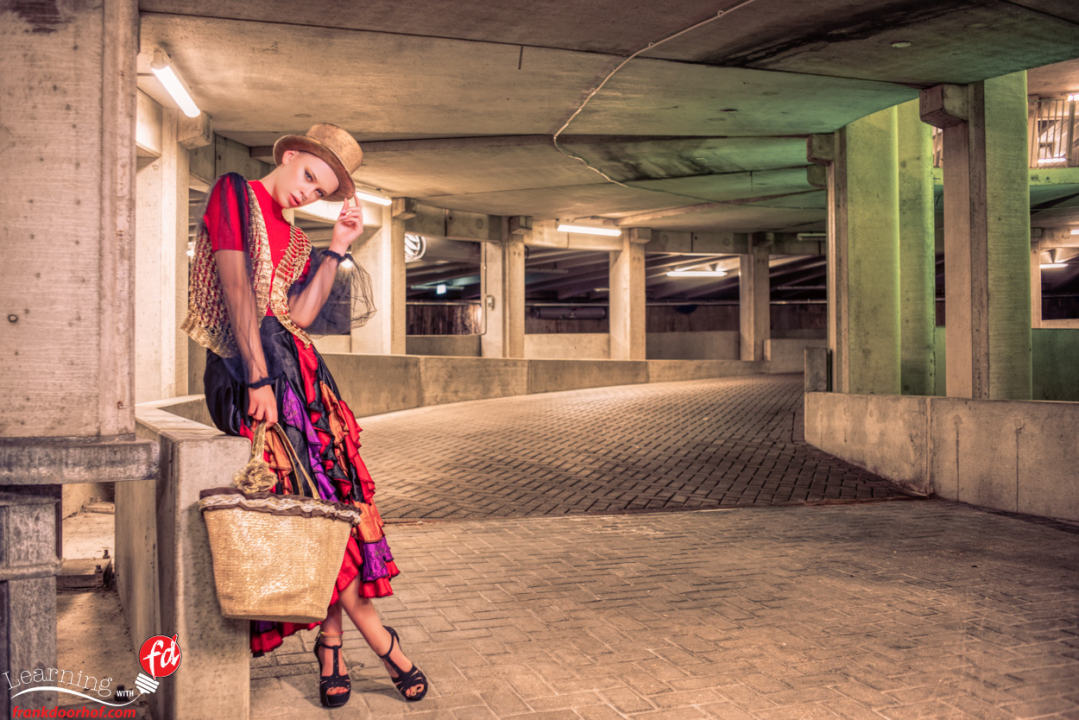 Yesterday it was time for the workshop in Groningen.
We actually planned to walk on the street with our model Sharon (styling and makeup by Bianca) and shoot some cool fashion images on the street with strobes… but sometimes things don't run as you want, and yesterday was one of those days…. it rained.
So we decided to start the workshop actually in a parking garage.
The cool thing about photography is that in essence you can make great images anywhere, even if you might thing it will never work.
We started out with some shots on the lower level and using the lighting they use to light up the parking garage.
After this we moved the whole set app 3 mtrs and used the curves of the parking garage to create a shot with some more depth.
By playing with the shutterspeed you can literally change the complete look of a set.
Remember that aperture is controlled/set by the strobe and the ambient light can be controlled by the shutter speed, meaning you can get a lot of different looks from the same location.
As you can see, two totally different looking shots just by changing the shutterspeed.
All shots were shot on the Sony A7RII with the Techart convertor and the Takamur 35mm lens (bought it for 5.00)
The second shot was done with a Takamur 55mm which I bought for 2.50 (but is worth a lot more).
Using these old lenses on the Sony really gives you some unique looks, add to this some processing with Alien Skin, or Lightroom/Capture One and I just love the looks.
Many thanks to cameraland.nl for lending me the Techart, make sure to order it from them when you're in the Netherlands.
Feel free to show me your images that you shot in parking garages 🙂
https://frankdoorhof.com/web/wp-content/uploads/2018/06/Sharon-Groningen-Takamur-35-June-24-2018-36-Edit.jpg
834
1250
Frank Doorhof
https://frankdoorhof.com/web/wp-content/uploads/2015/03/studioFD_Logo-1FV.png
Frank Doorhof
2018-06-25 11:54:23
2018-06-25 11:56:17
How to make the best of it…. Part I