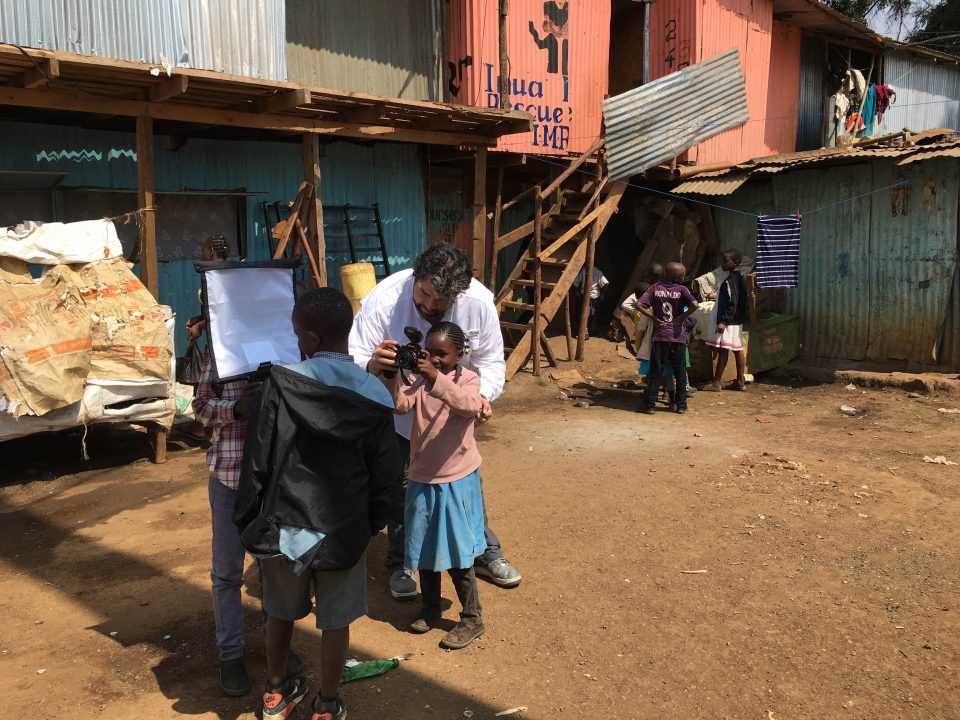 So cool to see the flashbenders used all over the world, but this one really got my attention.
The Photo Start initiative was founded in January 2016 by David Lehman, of New York, NY, USA. David studied History and Political Science at Columbia University, received his Master's in Digital Photography from the School of Visual arts, and obtained his Juris Doctorate from Rutgers School of Law – Newark. Because of this mix of art and law, David has a unique perspective on the world and has worked hard to support and uplift the least fortunate amongst us.
In early 2016, David discovered the Mathare Foundation on CNN and reached out to bring the Photo Start workshop to Nairobi, Kenya.
In April-May 2016, Photo Start held daily, multi-hour Photography sessions with children from the Mathare Slums , which culminated in a one-day exhibition event at the Kenya Cultural Center which drew over 100 visitors.
See www.photostart.org for more information.
Photo Start is a United States based 501(c)3 charitable organization
Photo Start trains vulnerable children in business through photography. By teaching professional level photography, our students learn hard and soft skills that are universally applicable to photography, business and life. Skills include computer and camera proficiencies, building stories and budgets, as well as social, interpersonal, and leadership skills. This will allow our students to plan and execute on a project of their choosing. This creates opportunities for social and economic advancement.
Activities are focused on daily lessons ranging from 2-4 hours, with theory and open shooting time. Classes are held when available during the school year, and daily when able. During the workshop, a topic or subject will be chosen by the students as the theme for their final exhibition.
By the end of a workshop, our students will have an ability to create, tell and share a story through words and pictures. There will be enhanced economic opportunities via learned skills. Improved community relations. A self-perpetuating cycle of instruction where students become instructors and mentors. Heightened self-esteem, confidence, and improved leadership skills.
The Photo Start workshop has excellent support from both inside and outside the organization.
Photo Start has several advisors including Chairpersons of academic institutions like the School of Visual Arts and Pulitzer Prize and Emmy Award winning artists.  Photo Start has corporate support from General Motors of East Africa and Sony, diplomatic support from the French Embassy, an informal relationship with the United Nations, as well as many local residents, programs, and institutions. Photo Start's strength and resilience as an organization stems from its varied and vast network.
Photo Start relies on the infrastructure of partner organizations on the ground for classroom space, equipment (cameras and computers), and selecting students.  Photo Start can offer its workshop with any existing organization to provide world-class tutelage in business and photography.
Photo Start relies on donors and supporters to cover fixed workshop costs, and will assist in sourcing necessary resources for our partner organizations. Basic resources required for our workshop include cameras, computers, printers, ink, paper, memory cards, hard drives, projectors and internet connectivity.
Photo Start is bringing our workshop to more students with support and partnership from groups like Kuona Trust. We are also interested in creating a workshop for women suffering abuse. We believe these tracks are consistent with our aim of reaching disadvantaged people, from oft-forgotten areas, and teaching them the skills needed for a chance at social and economic advancement and independence.
Throughout our project we are constantly assessing our students based on relative success. Relative success is defined as marking progress of individual students off of a customized baseline of knowledge per student . Students are monitored throughout the project for loose ends or eager beavers. Volunteers are monitored for their steady participation and commitment to our goals. Objectively, we monitor for safe and proper handling of equipment, respect for group property, how to navigate unknown spaces and personal safety tactics, discipline when taking instruction, and ease with which each student accepts critique of their work.
Photo Start prides itself on continuous improvement via innovation and iteration. After the conclusion of each workshop, the stakeholders meet to assess the program's strengths and weaknesses in an effort to improve offerings for the subsequent programs. Volunteers are encouraged to offer input to the Director at any time, and students are encouraged to seek help when needed. The Director oversees that all students participating have basic skills and have shown relative improvement.
https://frankdoorhof.com/web/wp-content/uploads/2017/01/IMG_6208-scaled.jpg
1920
2560
Frank Doorhof
https://frankdoorhof.com/web/wp-content/uploads/2015/03/studioFD_Logo-1FV.png
Frank Doorhof
2017-01-03 18:51:30
2017-01-04 19:10:52
Photostart