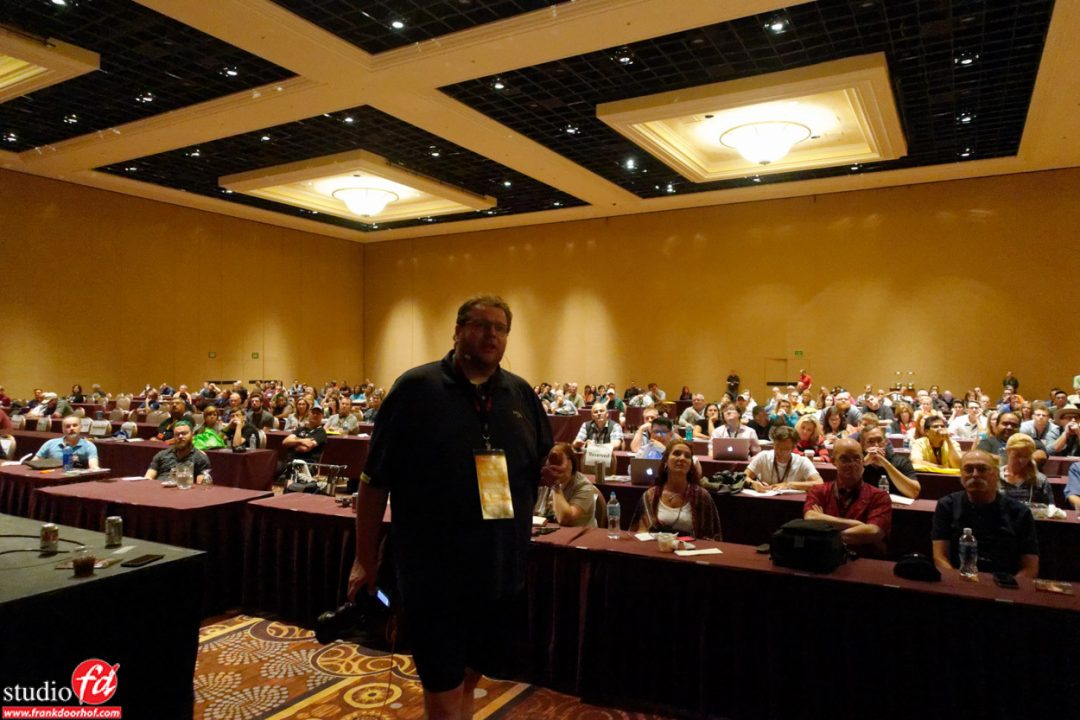 Often people ask me "what are you most proud off" or "what was the major turning point for your career"
Of course I'm incredibly proud of my book "Mastering the model shoot" but in all honesty there is one thing I'm more proud off.
When I started photographing models I always tried to absorb as much information as possible, without a doubt my major influence was Dean Collins, his way of teaching and the way he approached the "art" of teaching was simply refreshing and at the same time incredibly intense and filled with humor (trust me the guy is hilarious, so make sure to check out his stuff).
When I started teaching myself I always looked up to people like Joe McNally, Scott Kelby, Gregory Heisler, Jay Maissel etc. All icons in their own right, and incredible teachers. I still remember like it happened yesterday my first meet up with Scott Kelby at the Dutch show Professional Imaging, an incredibly nice guy and we almost hit it off immediately. Before I knew it I was featured on Scotts blog and a few weeks later I had to pinch myself because I was on a plane taping classes for the prestigious group of KelbyOne instructors…..wow talk about a dream come true.
Nothing could have prepared me for what was about to come.
Having classes on KelbyOne is a great thing for your CV and puts you on the map as a teacher, but being invited to teach at Photoshop World…. Oh man that's the best thing ever. In all honestly I expected to teach once or maybe twice at Photoshop World, but everything did go a bit differently. This year I taught my 10th Photoshop World in a row and I'm already booked for the 11th one in Orlando.
So what makes PSW so different that I'm so excited about it?
There are many events that we visit where there are classes/speakers/demos etc. but Photoshop World is different. There is a small Expo but the whole event is based on learning, learning, learning. In different tracks there are classes every hour, and this is almost constant starting very early in the morning and often continuing till way after diner. But next to classes there is also a lot of other stuff going on, parties, diners, midnight madness (a crazy evening with games and fun), portfolio reviews etc. etc. PSW is not just about learning but it's an experience.
As many of you know teaching is without a doubt my passion, and that's why teaching at PSW is without a doubt my highlight of the year, I always tell people it's like christmas and my birthday at the same time. It's the combination of meeting some of the best teachers in the world who hold nothing back and just love to share their knowledge, and trust me it's not just with the attendees…. we talk a lot with each other and share our techniques and inspirations, but most of all I feel incredibly blessed to be part of the "dream team instructors" that are able to teach the many visitors at PSW, because this public is without a doubt some of the most "hard core" interested people around, it's incredible how much information they can handle (It's not uncommon to find some people sleeping in the hallways because they are totally exhausted), actually Matt Kloskowski once gave me the valuable tip to sleep A LOT before Photoshop World because during the show I would not have a lot of time (and he was right).
During Photoshop World this year Annewiek (and some attendees) made some BTS images that I want to share with you guys, just to give you a slight idea what's going on at PSW.
This first shot was taken during the opening keynote, I actually walked all the way to the back to get this shot, as you can see the place is jam-packed, and not without a reason, the keynote is not boring (like many are) but it's fun and always opens with a special theme where the team of KelbyOne actually create a whole video based on that team, think about Kiss, Fashion, SNL, Top Gun, Pirates, Elections and many more were done. But that's not all… after this Adobe takes the stage and shows the attendees the newest additions to Creative Cloud software and often some sneak peeks at what the future will bring, and that's not all….. but if you want to know what happens more…. well you have to visit 😀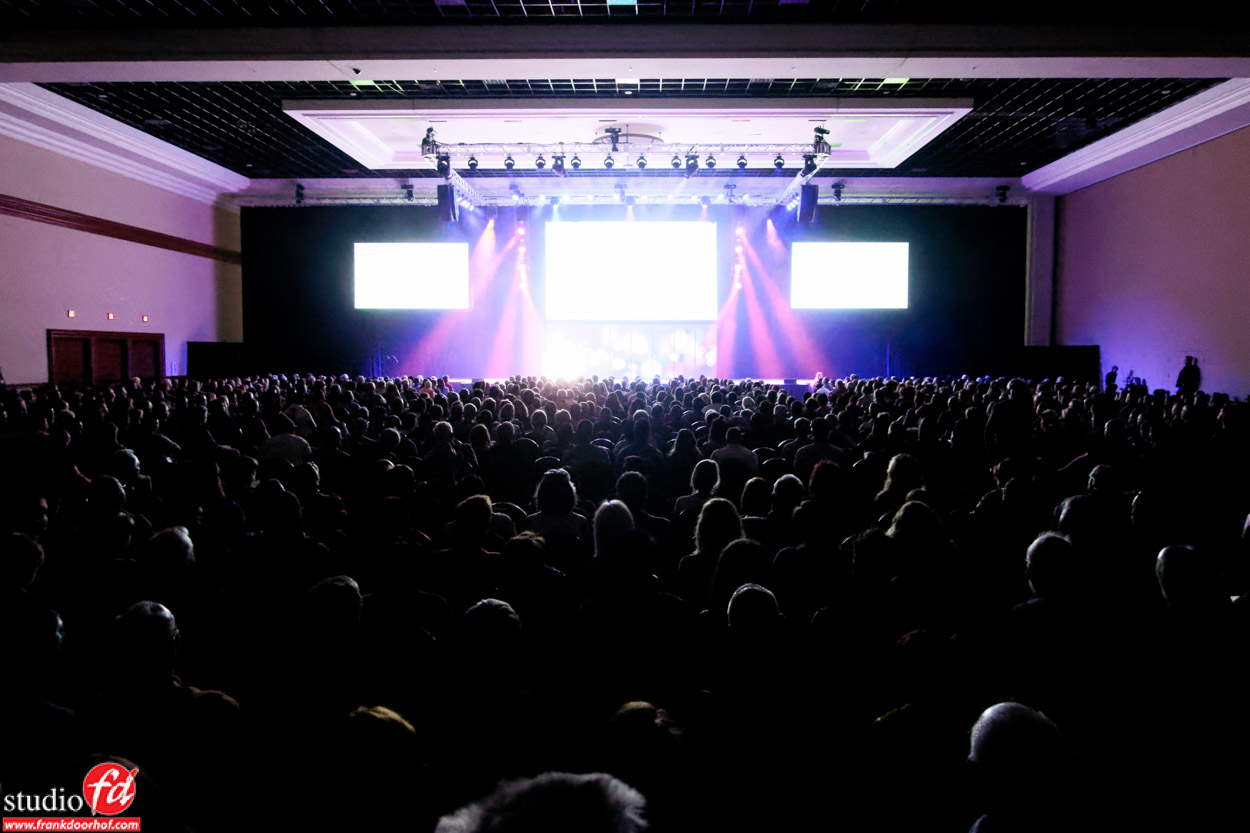 Every time I walk into the rooms I wonder if they will fill up, my nightmare is ending up in an empty room, especially because these rooms are so incredibly big it's always a bit frighting for me to see how many people show up, luckily we always have a rather large crowd. This shot only shows a part of the room, we normally have 2 projectors and even some sign language interpreters for the heard of hearing and deaf people.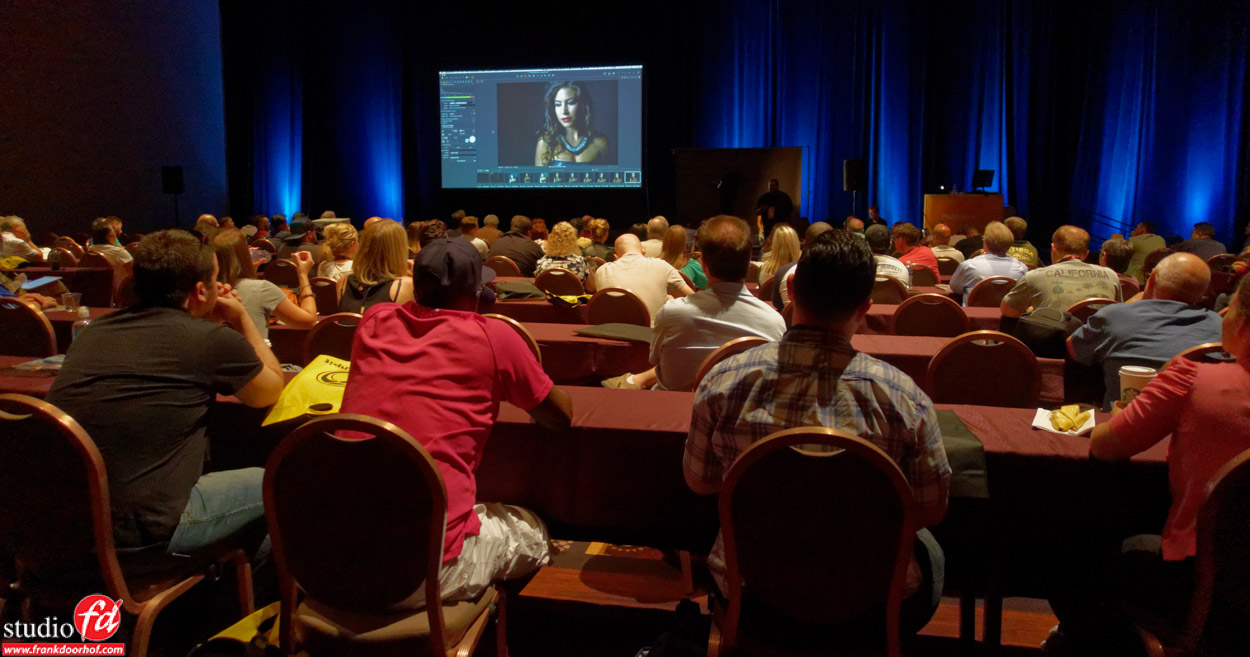 In this shot you get a slightly better look of the room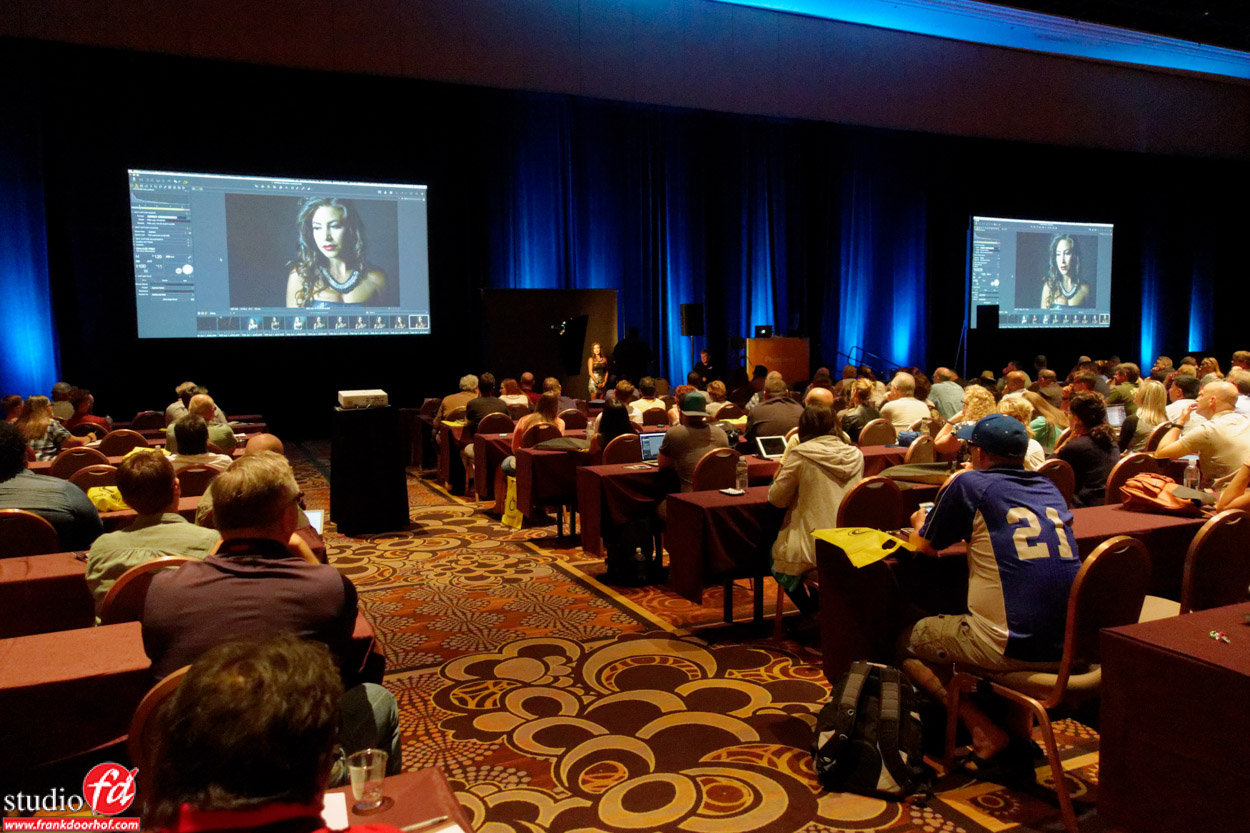 Also on stage everything is very nicely arranged, I can see exactly what the projectors are showing and of course we have wireless audio and some waters.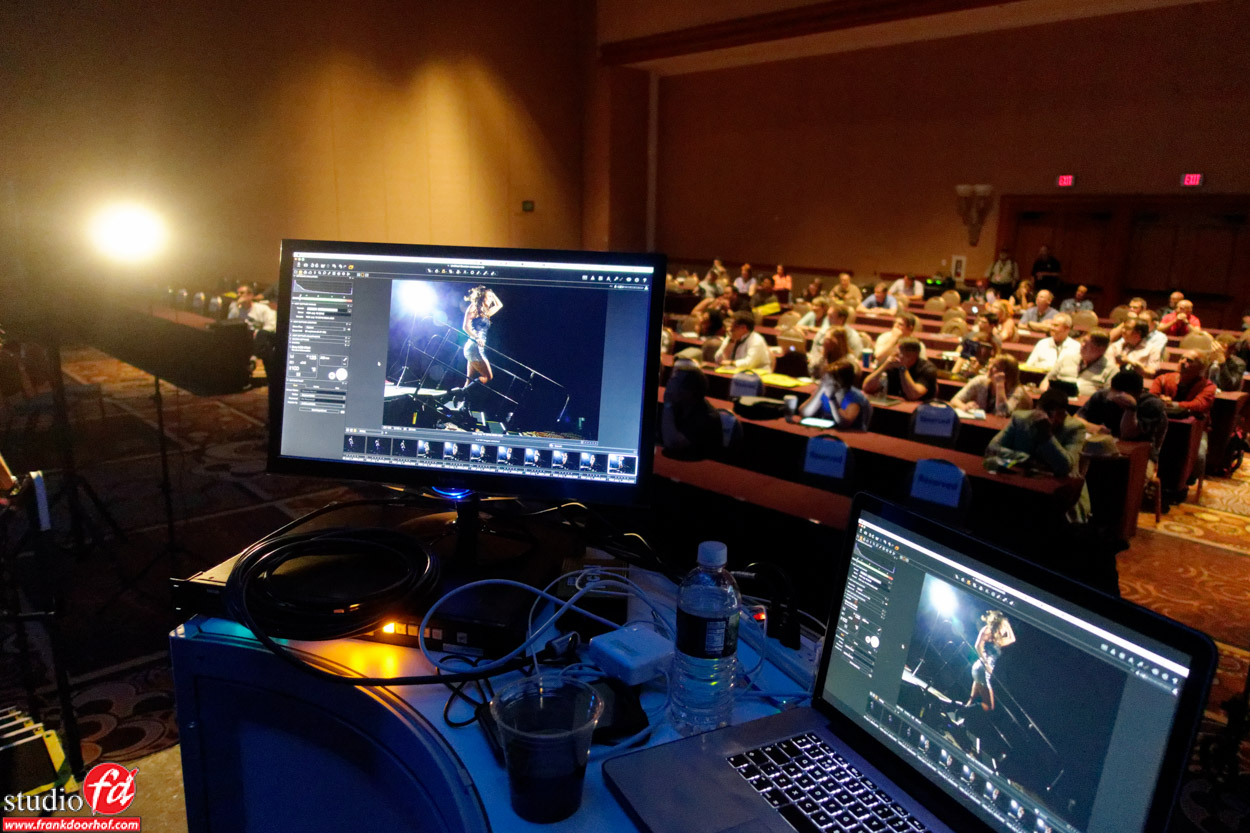 Annewiek took this shot during one of my live demos.
This Photoshop World I actually did one Pre-con (a half day workshop before PSW) and two one hour live shoots with a model. I love doing the live shoots, but it's also very risky because you only have one hour and there is a LOT going on on the other tracks, so if you loose the interest of the group…. well people will walk out because they ALWAYS have to choose between at least 2 instructors they really like to see, so it's important to keep the "drive" going almost constantly.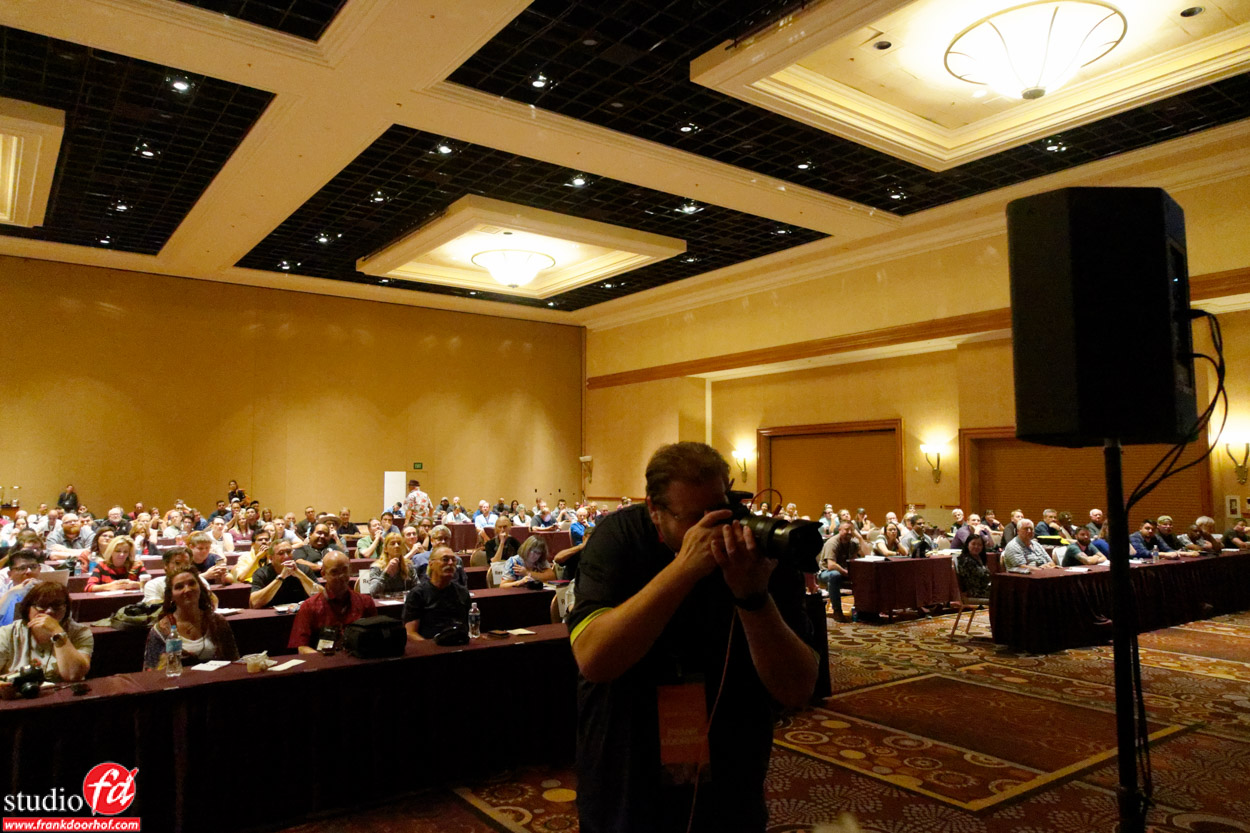 And yes I'm wearing shorts in these classes, although there is airconditioning in the rooms (actually pretty cool) this PSW was in the middle of the hottest month and as a Dutch person… well I just love that I'm able to wear shorts let me put it that way 😀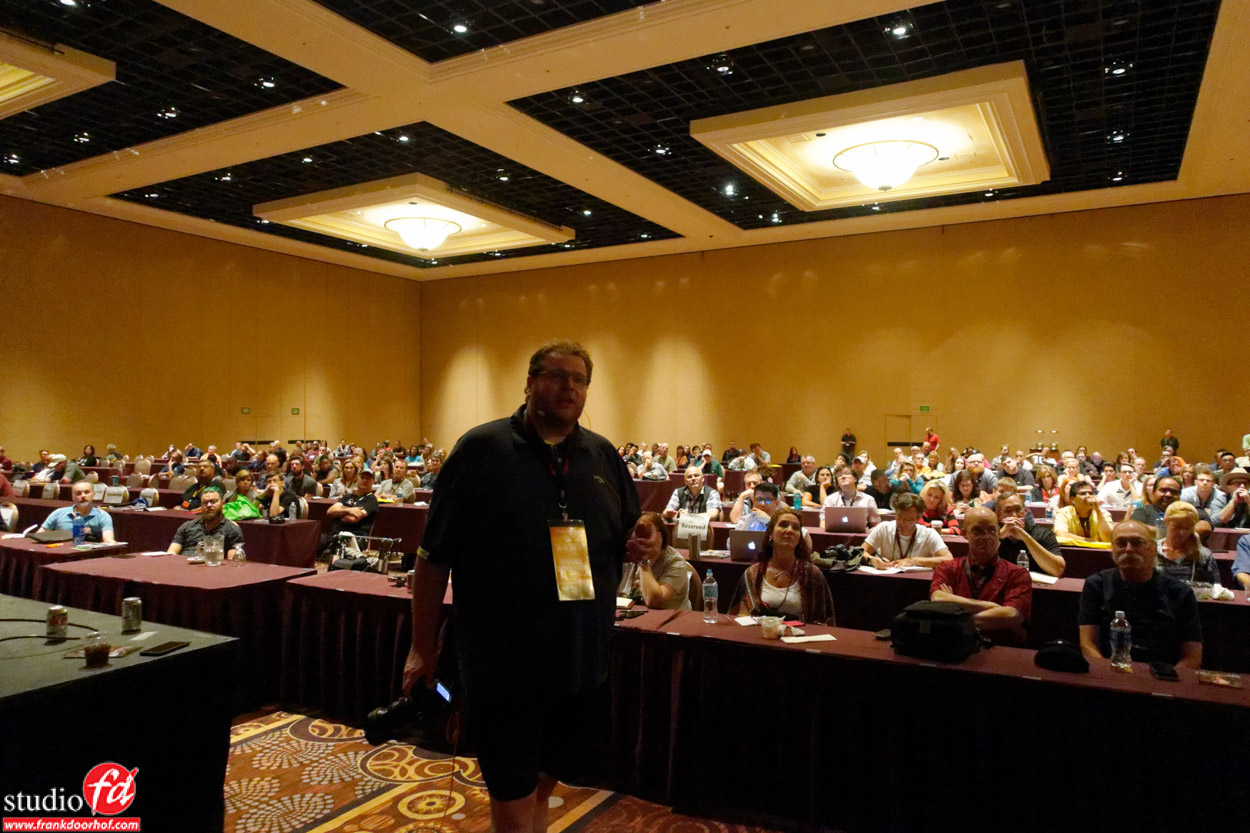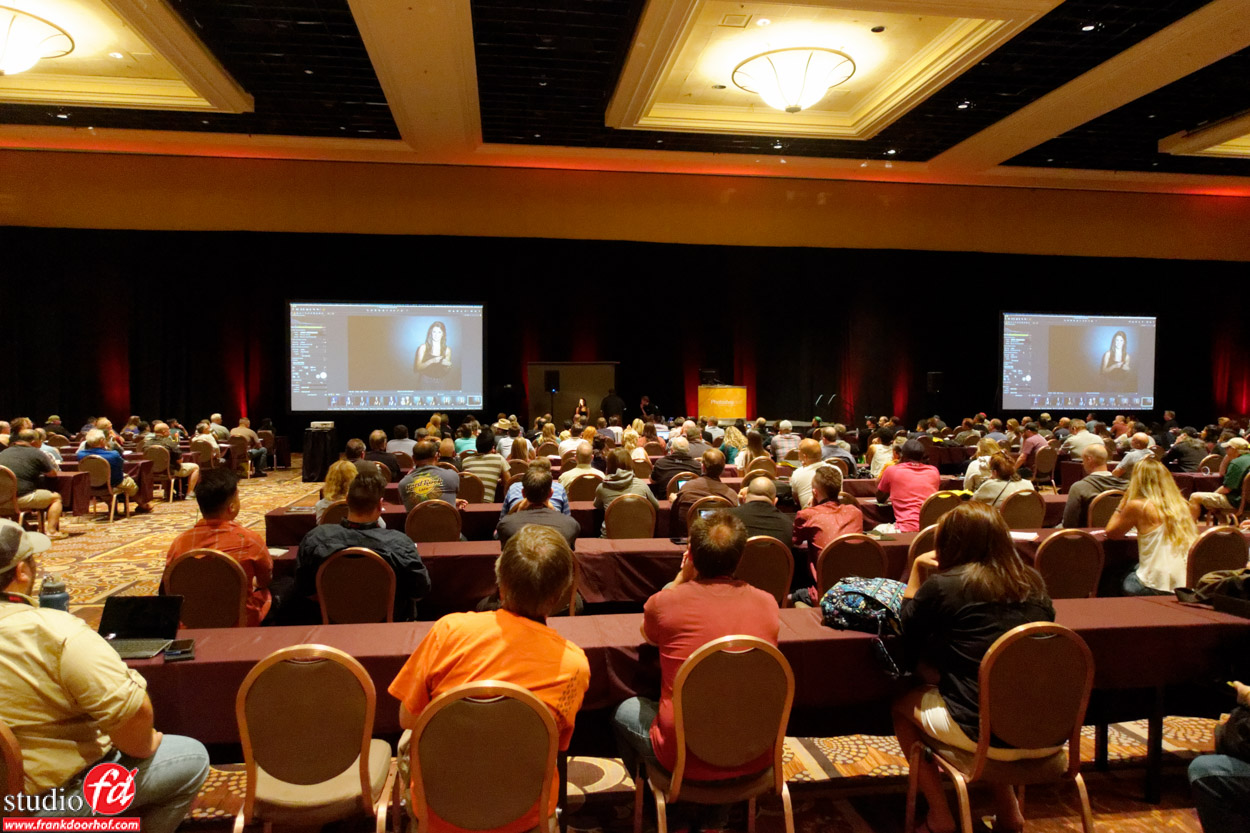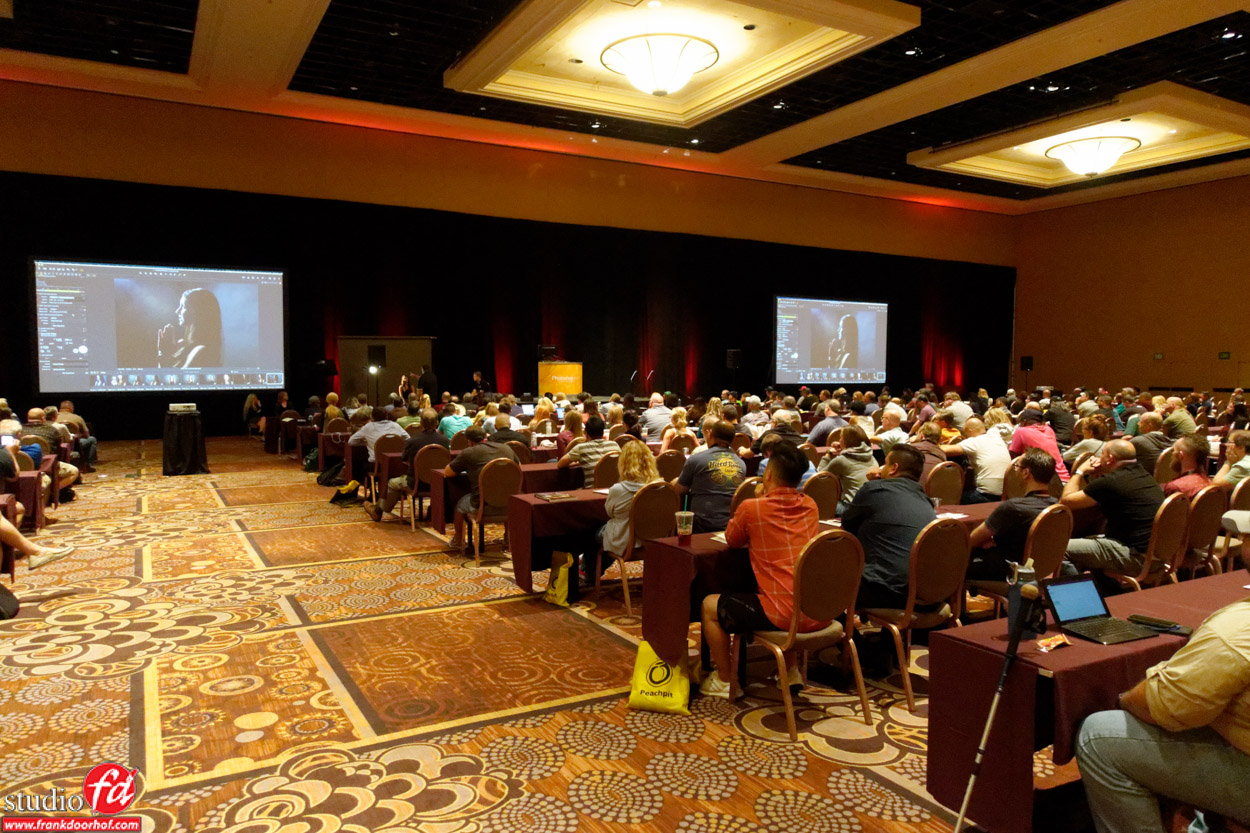 As mentioned before PSW is not just about the learning experience, there is also time for relaxation, and when you visit PSW you can bet your camera on the fact that it's perfectly arranged, this quick shot was taken during one of the evening parties, this was actually in a night club and as you can see, it's not just that we join people in a nightclub…. nope the whole club is filled with just people that attend PSW and the theme is clearly PSW. That makes connecting so much easier between the attendees and it also adds to that special PSW atmosphere.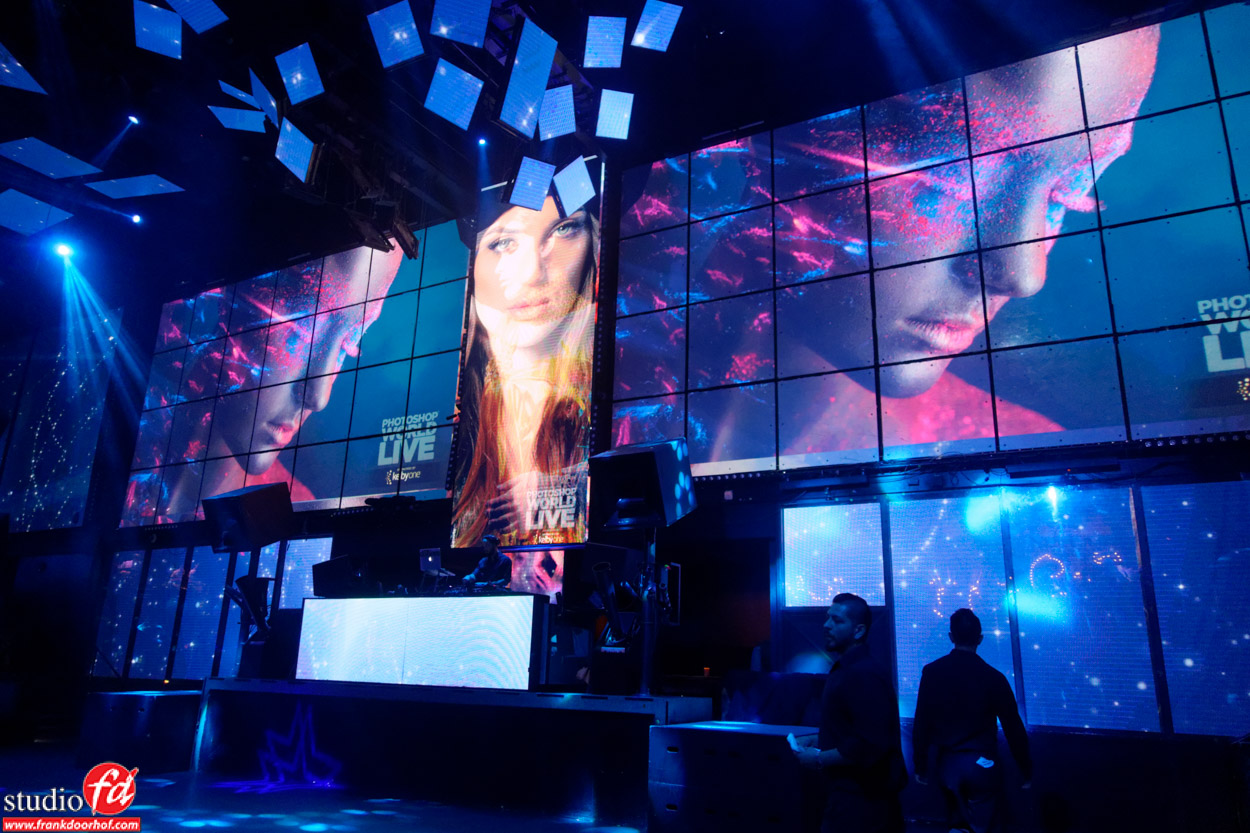 I can't wait for PSW to return to Orlando early next year, for us this is a much easier flight and also gives me the option to drop by in Tampa again 🙂 And it's a shorter flight for us Europeans so if you think "that PSW looks awesome" make sure to keep an eye on the social media stream from KelbyOne for the early bird offers for tickets for PSW, I think you will absolutely love visiting it and it will have an immense boost for your creativity and knowledge….
See you in Orlando ?
https://frankdoorhof.com/web/wp-content/uploads/2016/08/PSW-2016-Vegas-38-July-19-2016_DxO.jpg
833
1250
Frank Doorhof
https://frankdoorhof.com/web/wp-content/uploads/2015/03/studioFD_Logo-1FV.png
Frank Doorhof
2016-09-01 06:00:52
2016-08-25 00:18:55
The Photoshop World experience