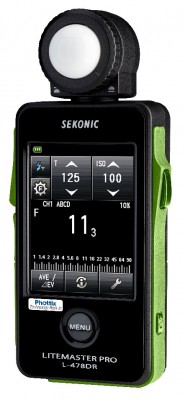 You know I love light meters right?
Well I've been testing a new Sekonic for a while now and can tell you that's it the "perfect" meter for all you Elinchrom users out there.
It doesn't include a 1 degree spot meter (for that you still need to get the 758) but for the rest it's one cool meter.
Sekonic LITEMASTER PRO L-478DR-EL/L-478DR-PX Series
Additional Radio System of Elinchrom and Phottix
Sekonic announced two new light meters compatible with the systems of its alliance partners Elinchrom and Phottix.
The new models of L-478DR-EL Series and L-478DR-PX Series, developed with cooperation of Elinchrom in Switzerland and Phottix in Hong Kong, offer wireless triggering and power control of Elinchrom flash units and triggering of flashes and radio triggers using the Phottix Strato II protocol, respectively.
Both use Sekonic's breakthrough DTS (Data Transfer Software) system that automates meter calibration to the camera-in-use and expanded Cine features that put these meters in a class of their own. Each meter features a distinctive, signature-color rubber surround and name badge for the flash brand it controls.
Flash Triggering with Phottix Strato II Protocolproducts 
The L-478DR-PX flash control screen allows selection of a single group or a combination of groups for flash brightness measurement. The F-number value for the light being measured appears in a central area on the screen as well as over respective group selection button.
The measured value for each group is maintained as a visual record of the brightness-difference of the lights in use so that lighting ratios can be easily determined. The L-478DR-PX group selection and triggering is compatible with Phottix flashes and radios that are compatible with the Phottix Strato II protocol. This includes flashes connected to the Strato and Strato II receivers and the Atlas II transceivers. Compatible Phottix flashes include the Indra360, Indra500 and Mitros+ series flashes designed for use with Canon, Nikon and Sony cameras. For more information about Phottix products, see www.phottix.com.

https://frankdoorhof.com/web/wp-content/uploads/2016/02/71275d99-893a-4348-9ce2-26535958e08e-e1454334470327.jpg
400
185
Frank Doorhof
https://frankdoorhof.com/web/wp-content/uploads/2015/03/studioFD_Logo-1FV.png
Frank Doorhof
2016-02-01 14:46:48
2016-02-01 14:48:34
Sekonic news