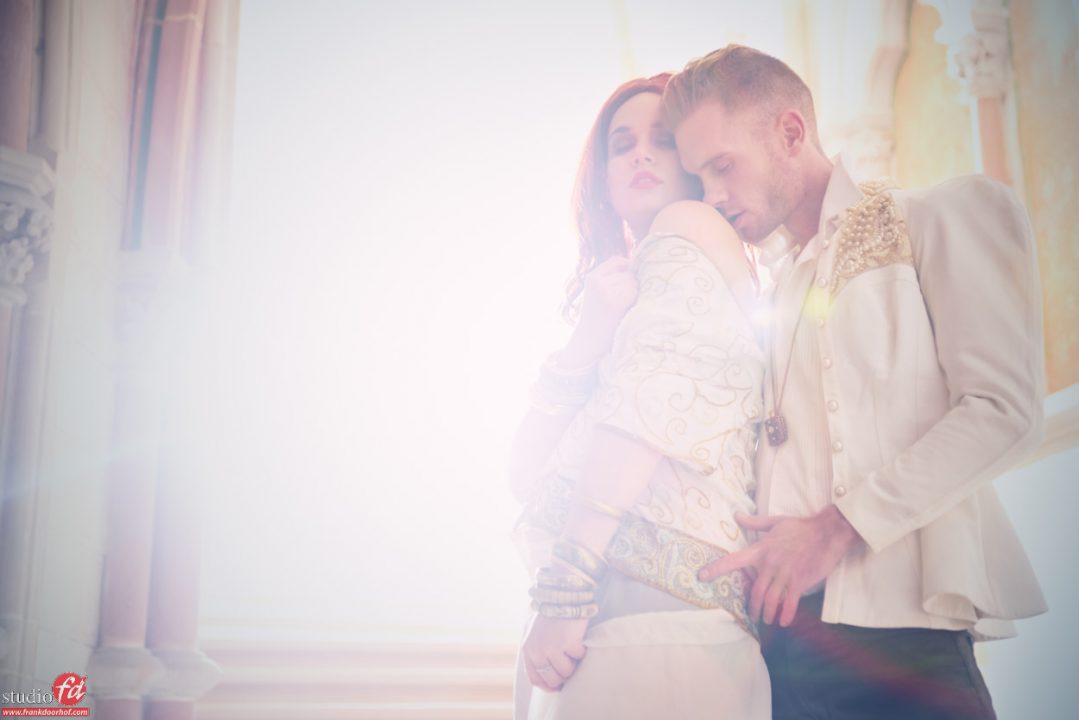 Behind the workshop video
As you know we also teach one on one workshops. For example when a photographer doesn't speak Dutch, or wants to learn something particular.
Last summer we received a request of a wedding photographer to teach him how to improve his couple photo's in a location he often used: Burg Bentheim, an enormous castle close to the Netherlands, but just in Germany (so a great way to also check out the speedlimit on our car… believe it or not there is no max speed in Germany).
When we do a workshop like this one of my first choices is of course Nadine, her amazing styling and great posing always makes working with her a blast and for this day (because it was a wedding like photoshoot) she brought her "husband for one day" Kevin. Assistant and camerawoman Annewiek (yep my wife) filmed all day backstage.  Today we share the result.
You see me coaching the models, and the light setups. The first 3 setups are just with one Elincrhom Quadra and the Octa 70cm which I love for these kind of setups. With the last setup we used the Quadra with Beautydish and grid and a bare Quadra in the back. We were very lucky with the weather in December, it was cold but not too cold (well at least you don't see me in shorts this time).
We also experimented with a new workflow which would save us a lot of time during travels. The video was edited in iMovie on the Ipad Air 2, on the iPad iMovie is very easy to use but most of all it's a really fast way to edit. iMovie enters effects between every scene (if you want it) and cutting is easily done. There is not much choice in effects or texts, but enough to make a nice video, and if we need more we can always export the project and finish it in FCPx on the Mac. Annewiek used the iShowFast USB to Lightning stick to transfer the files from the macbook to the iPad and back. Adding music was a whole other story (you cannot download music from YouTube audio library on iPad), but thanks to some instruction via YouTube movies we actually got a cool workflow for this too, it's not as easy as drag and drop but it's very workable 😀
Enjoy and don't forget to subscribe, you not only show your appreciation for what we do but you also won't miss out on content that is streamed live, something we are going to be doing more and more in 2016.

https://frankdoorhof.com/web/wp-content/uploads/2015/12/Nadine-en-Kevin-240-of-247-December-12-2015.jpg
834
1250
Frank Doorhof
https://frankdoorhof.com/web/wp-content/uploads/2015/03/studioFD_Logo-1FV.png
Frank Doorhof
2016-01-13 09:57:20
2016-01-13 09:57:49
Behind the workshop video