We all have a digital life, don't we all get nervous when our laptop or phone dies?
Well when traveling it's a matter of reality, especially when travelling long there will be a moment when a laptop battery simply dies, you can't help it. Of course it helps if you only watch movies on a laptop because with the modern Hasswel laptops they will actually probably survive most long flights on one charge if you only watch movies and lower the brightness a bit. However I don't just want to watch movies… I want to be able to play some games, do some work and with me that means Lightroom and Photoshop and somehow this drains the battery much faster of course.
So how do you solve this?
You can take a plane charger with you but not all seats in a plane have power connectors.
When you own a Mac there are many options from companies like HyperShop, which I can really advise, we owned several of their solutions and they just work flawless (and look great). But when you're using a PC or other laptop I had to start searching all over again.
In the end I choose the Voltaic 60W external battery solution.
Here you see a quick iPhone shot of the Voltair next to my Vaio DUO13 which is not a large laptop, so you can really see how small the Voltair is, and this last part is incredibly important for me. When flying every pound counts and also size is important, with the Voltaic I really found something that hit the sweetspot for me.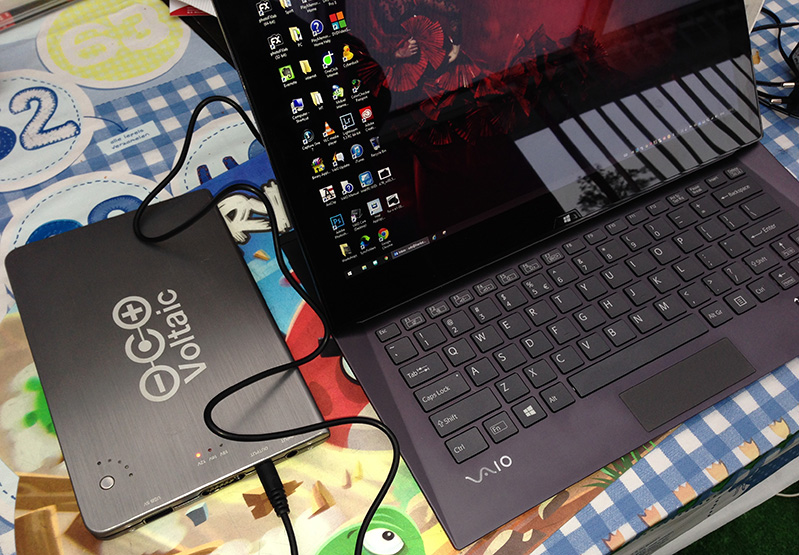 Specs 
Capacity: 16,000 mAh, 60 Wh
Output: 5V/2A USB, and 12V/4A, 16V/3.5A, 19V/3A (two output ports)
Input: 14-20 V, 1.2 A
Maximum Output Power: 57 Watts
Weight: 1.1 pounds (510g)
Dimensions: 185 x 125 x 14 mm
Charge Time: In direct sun, V60 battery fully charges in 12 hours from 10 Watts and in 7 hours from 16.8 Watts of solar panels. Can also be charged using included DC or AC chargers.
Battery Type: Lithium Polymer
Protection: Short Circuit, Over Charge, Over Discharge, Over Current, Over Temperature
Charge Display: LEDs light sequentially when charging.
Capacity Display: 1 light < 20%, 2 lights < 40%, 3 lights < 60%, 4 lights < 80% full, 5 lights > 95%
What does this mean?
It should mean that you can empty your laptop battery till let's say 20% and then connect the charger which will charge the laptop again to full charge, after this you can disconnect the charger and continue working again. Some people will just run from the charger until the battery of the charger is empty and then continue on the internal battery, I always use the first option for myself. In theory this would mean that even the longest flight would now be covered powerwise. This really takes away a lot of the "stress" of being afraid that your battery dies.
The Voltaic also charges cameras, phones, iPads etc.
It can output on 12/16/19 V via the tips and 5V via USB.
Buying online
Buying online can also be a tricky affair, a few years ago I ordered for example a battery from a company called Batterygeek and the delivery time kept being pushed forward till the point my 30 day warranty was up and after that all communication stopped unless I used a new mail adres, up until today I'm still not compensated for $374.73 so be very careful when ordering online from a company you don't know.
I bought my unit in the Netherlands via : http://www.goingsolar.nl/ for 149.00 euro which in my opinion is a very good deal for this unit. So if you're in the market for some more "juice" on location make sure to check them out.
https://frankdoorhof.com/web/wp-content/uploads/2015/03/studioFD_Logo-1FV.png
0
0
Frank Doorhof
https://frankdoorhof.com/web/wp-content/uploads/2015/03/studioFD_Logo-1FV.png
Frank Doorhof
2013-11-18 05:00:41
2013-11-18 23:26:47
Voltaic V60 minireview/tip