When we recently announced online that we were starting up a campaign for shooting couples I got some surprised reactions "Frank do you also shoot families and couples?"
Well Yeah of course we do. The studio we run does a lot of different photography, of course I love the model photography and the artists, but let's be honest you have to be flexible in todays market so we indeed also do couples and family photography (even an occasional wedding), but we also do businesses etc. almost anything that includes people.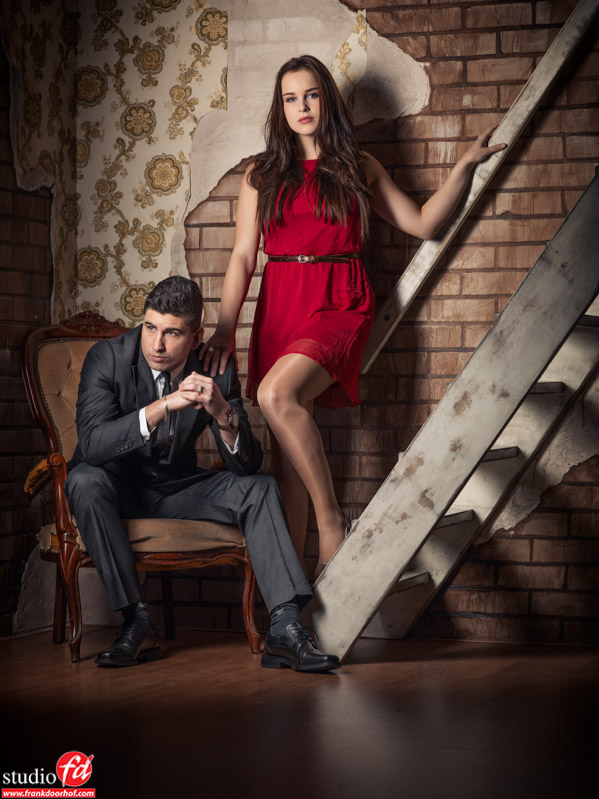 Now let's look today at my approach when I shoot a couple.
In this case our model Manon brought her boyfriend who is not a model, now one might think it's easier because one of the persons is a model but that's not always true.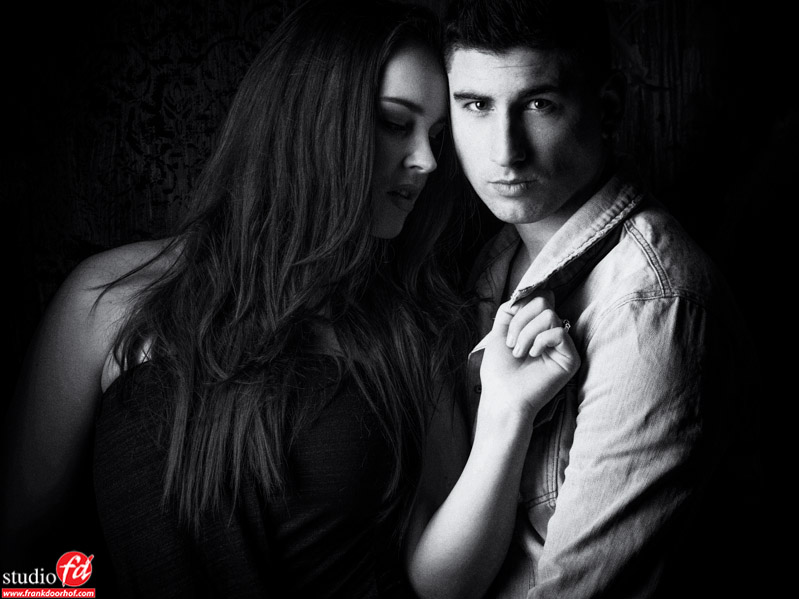 In fact it can actually complicate things because you have one strong poser and one "normal" poser. Which could create a dis balance in the image (what I don't like). Now in this case it went more than ok but it's very important to understand that YOU the photographer (in this case me the photographer) is responsible for the success of a photoshoot. If you don't coach and find the right composition it will go down in history as failed (well at least there is a huge chance that it will fail).
So let's do a point by point system of what I think is important with a couples shoot (and this could also translate to a real model shoot of course).
1.
I will not try to do a couple shoot like you see in the window from many many photo stores, yeah you know them probably, 2 people standing close to each other and "SMILE" Oh my when I see those…. well let's not think about it. I strongly feel that you should try to capture something that is unique, and when you put crosses on the floor for where the people have to stand and you use the same light setup for all sessions it's not unique, it's just factory work. Because my roots are in fashion work I will always try to give my customer something that they know from me but made for them, as you can see in the images in this blogpost it's not the standard couple shots you normally see with the local photo store (at least not what we see over here).
2.
Because I try to do things differently it does mean that I have to coach my models and this actually starts before the photo shoot, we discuss clothing and the look they want, so preparation is vital. You can of course just walk into a photo store and ask for a portrait but the chance you get something similar to a passport image (but bigger) is very real. So for me it all starts with the first mail, even before we give advise on the package the client has to choose we will ask them to send us samples of the look the want, with those we can assess what we need and which package is suitable for the client.
3.
Have packages.
No one is the same, some portraits you can do in 30 minutes, some wishes will take 2-3 hours and will include heavy makeup and hairstyling. Giving your client different packages to choose from is in my opinion a better way than just give them an hourly price, somehow a package sells easier than an hour price. But that's my experience.
4.
If possible meet up with the client before making the final appointment.
Some people will walk in and are jumping up and down to start shooting, well they can probably be shot with let's say a package containing one hour of studio time. But sometimes people will "sound" great via mail but when they walk in the studio they are very shy or you can see right away that coaching them will be a problem, so take some extra time into account.
5.
One of the things I will not do with clients is give all the images on a CD/DVD.
It's YOUR work, it's YOUR name so make sure that the images that are out there are of great quality (or at least the quality you want to be out there). And trust me if you give a DVD or CD most people will start printing the images on their home printer and they will look like cr@p.
6.
Because you don't give the images on a CD or DVD you better make sure you have a foolproof and great ordering system online. In the Netherlands we use for example OYPO, which handles everything from printing to shipping to our clients. They have a great plugin for your website and you can make your own profile with prices and products. Our clients love their quality (and so do we) and they normally ship within 2 days.
7.
Always have the a nice follow up.
In our case we will always have contact with our clients a few days after the shoot to check if everything is ok and if they want some extra retouch work done on images.
8.
When you shoot a client always make sure you are very clear about what they will get.
For example : You will get 8 retouched images.
This will safe you A LOT of headaches.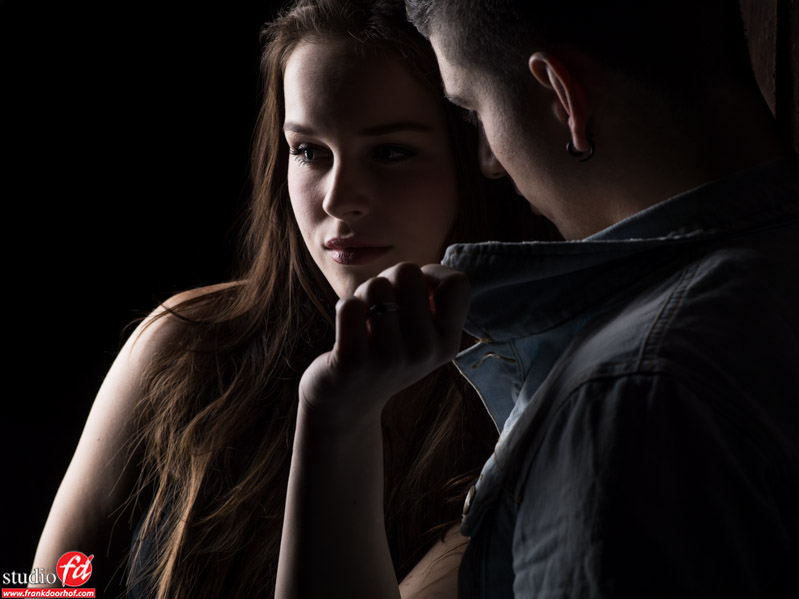 9.
It's up to you how you handle the following but this is how I do it.
During the shoot I will immediately remove images that I would never want to be seen, remember that often a client will see things differently but you have to think as a photographer and images that are out of focus or have a wrong expression or pose are not the images that the client want in their house for longer time. If necessary talk to your client about this and explain that it's important for the future "pleasure" in a shot that it's a good shot and not a shot because you're eyes are so funny. I will pay close attention during the session to the images the client loves and I will mark those. In the end I will quickly go through the shots with the client and make a final selection with the client. However this varies per client, sometimes I will just say that I will make the selection. And if the client is in doubt we can always give him/her a contact sheet (small images with a logo).
10.
I will always give much more than we agreed upon.
Now some will think "why? you are paid for 8 retouched images, why give more?"
well very simple, first of all it gives the client a feeling of "wow, I love that guy", this often means great mouth to mouth advertising and that's the best advertising you can get. Also when you shoot for example children the retouching part of the shoot is very limited, so it's hardly any more work to give the client a lot more images, and remember children are cute so the chance that the client will order a lot more prints is huge, and the link is often shared with grandparents etc. maximizing the amount of prints you will sell and every cent is one more for the future right? 🙂
When you have to spend a lot of time on retouching I will often give the client a few more images than we agreed upon and a contact sheet with the option to select 2-3 more which I will retouch for free. This does very per client, if it was a great session and there really is a lot of material I will do it this way, if it was a terrible session I will just do what I agreed upon plus a little bit extra.
11.
Maximizing sales is of course always a good idea, and with the prices we have to charge for the sessions you really have to sell prints otherwise you can probably close shop pretty fast. To maximize the amount of sales I always try to do special retouches like for example the next image, we call this our vintage look in B&W. People can of course also order other images with that look and depending on the work a certain retouch will take we will do it for free or charge a small fee.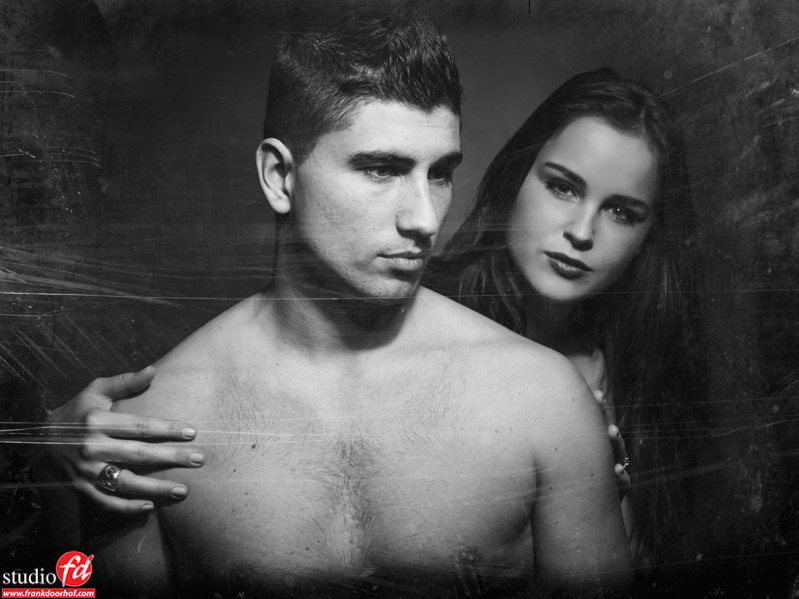 Now some final thoughts.
If someone REALLY demands to get a CD/DVD with the images you have 2 options.
1. Not give it and loose a customer
2. Have an extra option on your price list which clearly states that your customer can buy a CD/DVD for 100.00 euros (dollars), now that sounds like a steep price but do realize that with that CD/DVD they can start printing all the images, use them on social media, start editing them etc. meaning you will never see one more cent from that session.
In todays market the market is overwhelmed with so called "pro photographers" often advertising with sessions as low as 25.00 euros (dollars), in all honestly that is impossible but the problem is that in some cases they do pretty good work, so if you have to run a studio and feed your family you better have something better to offer them because on price you will never win from someone who does everything without an invoice. For us it means that we keep the prices of the shoots reasonable but we have to sell at least 5-10 prints (depending on the size) after each session to cover the normal costs, and when we sell more we start to earn money from the shoot, this means not only that I have to shoot a good set but that I also have to give the client enough to choose from, so when they book the cheapest package which includes just 5 retouched images I will make sure that I give at least double that amount 🙂
Do remember that in the end it all boils down to quality but also to people liking you. You can be the best photographer in the world but if you're not nice to your clients you will probably hardly ever book a new session.
Hope this helps a bit, and good luck.
https://frankdoorhof.com/web/wp-content/uploads/2015/03/studioFD_Logo-1FV.png
0
0
Frank Doorhof
https://frankdoorhof.com/web/wp-content/uploads/2015/03/studioFD_Logo-1FV.png
Frank Doorhof
2013-02-14 07:00:10
2013-02-13 21:02:53
Shooting couples