Today something totally different, although still very interesting for us photographers and teachers.
We all know Lightroom right?
But did you know that with the proper plugins you can get a lot of information about your Lightroom usage out of it?
Last week I met up with the writer of this series of plugins and asked him to write this guestblog for the blog, I hope you enjoy it, and make sure to checkout the plugins they are very cool.
Successful workshops & Lightroom Assessment
Summary
A workshop is successful when it adds value to your students. Knowing their goals, questions and level is one of the main ingredients.
For Lightroom courses the Lightroom Assessment analysis is an essential tool giving you a clear insight into their level.
.
.
The ingredients for a successful workshop
My first aim was to write a blog on the ingredients for a good workshop or training session. Before starting to write I searched through Google for what other professionals have shared. While surfing on the internet I came across the blog of Steve Buttry. He summarizes all the essential ingredients for a successful workshop or presentation. I certainly could not do better. So I invite you to read this fantastic blog. Of course, it is easy for a blog writer to refer to another blog writer, but that is exactly the power of internet. We should not reinvent, but share and help each other.
.
.
What makes a workshop successful?
In the end it boils down to adding value to your customers. Do your students leave your workshop with the idea that the money was spent well! The workshop answered my needs and helped me to achieve my goals and be more successful. Steve says "Try to learn in advance as much as you can about the audience so you can tailor your presentation accordingly."
.
.
Happy students are your best ambassadors, your best advertisement
If students leave your workshop unhappy and unsatisfied you may have got their money but you also have bad ambassadors. And believe me, if friends or colleagues criticize your workshop, then in the end you have failed. What if they put their dissatisfaction on Facebook or Twitter?
.
.
Know your students
So to be successful in your workshop, as well as all the preparation, a good location, the right materials, a nice presentation, challenging exercises, good food and enough humor, you need to know what the needs of your students are and their level.
.
.
Who are my students?
It is not very difficult to find out who your students are and what they need. Just ask them! Make a questionnaire before the start of your workshop, as well as after your course for evaluation.
Let your audience tell you:
when is this workshop useful?

what are their main goals?

what do they want to learn?

what are their current problems?

how much experience do they have with Lightroom
A good intake questionnaire will help you to understand the needs and skills of your pupils. If possible and available use an assessment. This gives you a clear picture of your students' level and which questions they want to be answered. A good intake questionnaire will even enable you to contact him or her and recommend another course, if this one will not meet their needs. They will be thankful to you! They will let others know that you helped them instead of being after their money. Do you have "mildly" hostile participants in your courses? Often this is so because they know too much about the subject to find the session useful. Or the workshop does not meet their needs. However, they can ruin your workshop by creating a negative atmosphere. This is why you should know before the start of your workshop where people stand. But if they do participate in your workshop my advice is to get them to be your assistants!
.
.
Assessment
An assessment is a valuable tool in understanding the level of your students and in getting to know them better. You may choose to spend more time on a specific area in which many students struggle, or spend less time on an area with which most students are comfortable. Now you can personalize your course to the needs of your students. For those readers that give Lightroom workshops I would like to introduce you to the Lightroom Assessment of Lightroomstatistics.com.
.
. 
Lightroom Assessment
In the next paragraphs I will briefly introduce you to the Lightroom Assessment.
This tool analyses how your students use Lightroom, especially the Develop module. More than 50 sliders are evaluated and the results are presented in easy to-read charts. A summary is given on page one. You get an impression in one glance. Further it analyses your usage of the organizing tools, like keywords, flags and stars. The number of keywords tells you if your students have organized their photo base, flags whether they use a workflow and stars if they rates their images. By the way, a very good resource on workflow, rating, key wording and much more can be found on www.dpbestflow.org
Next a quick analysis is made on the camera settings like Aperture, ISO speed, Focal length and Shutter speed, Metering method and the Flash. Also the Process versions used, Camera profile, Exposure program, File types and used Camera and lenses are analysed.
Download the sample from the download page of Lightroomstatistics.com.
Now I will briefly discuss a few charts.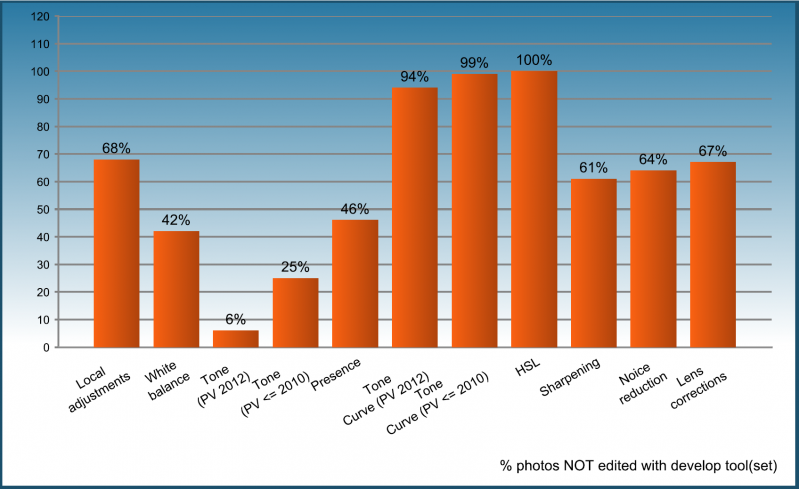 On page 1 this graph shows in one glance how your students use the different develop panels in Lightroom. 100% means none of the adjusted images were touched with any of the sliders in this develop panel. Images without any adjustment are not analyzed.
Let's analyze this student.
He or she (almost) never uses the tone curve and the HSL panel.

On 61 % of the selected images NO sharpening was applied.

On 64% NO noise reduction and on 67% NO lens correction was applied.
Looking at this chart, you might conclude that this is a beginner who uses mainly the Basic panel. Want to know more, have any questions? Drill down. For each panel a "panel summary" is created, see below. Again the graph displays the percentage of images that have not been adjusted, in this case the sharpening tools.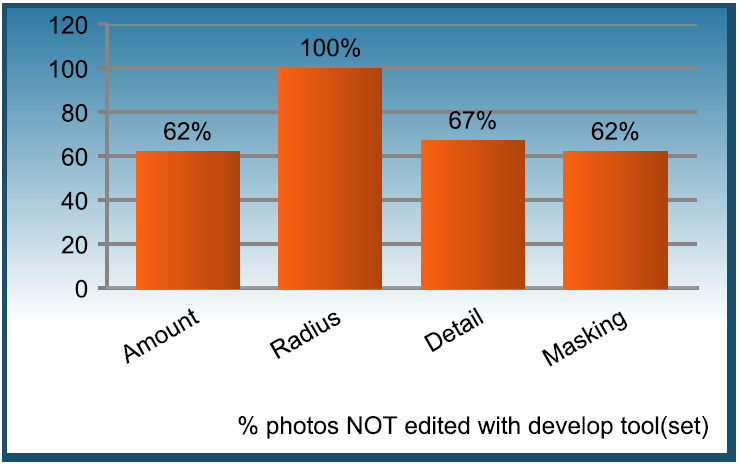 Sharpening: this student never uses the Radius tool. Also the other sharpening tools are used on less than 40% of the images. Perhaps a little explanation on the purpose and working would help this student to understand the different sharpening tools.




The analysis of file types shows that she shoots mainly RAW.

68% of the images have no local adjustment applied. Further analysis reveals that she uses only the crop tool. The other local adjustment tools are not used at all.

Detail analysis of the usage of the cropping tool (and more than 50 others)
For many develop tools (sliders) a detail analysis is made and reported in 2 bar graphs:
A histogram of the amount of the adjustment

A "safety zones" chart




This gives you a quick impression on the amount of change applied.




You can alter the percentages of these zones
Sample usage Crop tool:
2925 images were analyzed.

72% of these images were not cropped.

277 images where cropped between 0 and 25%.

99 where cropped more than 50%. This is more than 12% (99 / 824)




Apart from loss of quality, you might advise this student to pay more attention to the 'in camera composition' during the shoot.
.
.
How to use the Lightroom Assessment
As mentioned above I strongly believe that one of the key factors for successful workshop is knowing your students' needs and skills. When giving a workshop I always send a questionnaire to my students.For a Lightroom course or workshop also ask your students to export the photos of the last year or a recently made shoot as a catalog and send that catalog to you, without the actual photos. The assessment is not on the image quality, but on the usage of Lightroom. Another possibility is to ask your students to do this in the first meeting if your course has more meetings. I did this in a Lightroom class and people were enthusiastic. Everyone wanted to have their catalog analyzed and even started comparing. You could also give the Assessment as a handout to your students.
.
.
How to "Export as Catalog" in Lightroom?
Select in Lightroom the folder or folders you want to export, or select a Collection
File -> Export as Catalog.

Deselect all the options

A <name>. lrcat file is created.

Preferable zip the <name>. lrcat
.
.
Conclusion
Reading the blog of Steve Buttry, there are many ingredients for a good workshop. But it boils down to giving added value to your customers. Know what their needs and question are, know their current level and what they want to achieve. The Lightroom Assessment analysis is a great tool to get insight as to how your students use Lightroom and helps you to personalize your workshop to each of them.
.
.
Sources
https://frankdoorhof.com/web/wp-content/uploads/2015/03/studioFD_Logo-1FV.png
0
0
Frank Doorhof
https://frankdoorhof.com/web/wp-content/uploads/2015/03/studioFD_Logo-1FV.png
Frank Doorhof
2013-02-12 07:00:18
2013-02-11 09:40:31
Lightroom statistics