Today a guestblog by Steven Brokaw about model photography and I know a lot of you guys like this, so keep on reading 😀
Guest blog post – Steve Brokaw
"Caroline in Black & White"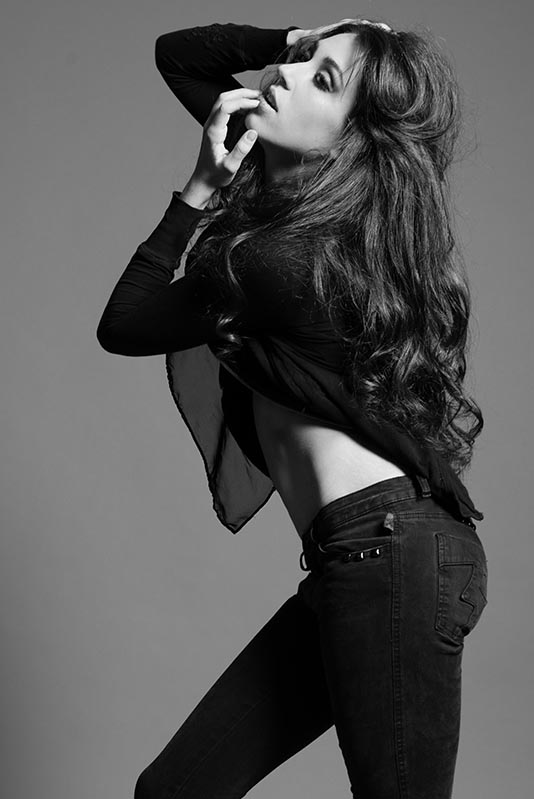 I'm a fan of Los Angeles based fashion photographer, Bill Jones. Another fashion photographer I follow is Frank Doorhof of StudioFD in The Netherlands.  Both are great photographers because of their amazing command of light, and their ability to produce striking images.  Using tips gained from reading articles and watching videos from Frank & doing a studio session with Bill I've improved my skills.  Recently, I did a session with Indianapolis model, Caroline Loy focusing on the teachings of both Bill and Frank.
I've worked with Caroline several times so I knew her style, moves, her looks and professional approach to photography.  It's SO much easier for a photographer when you work with someone you KNOW will deliver the goods.  This is especially true if you are also coordinating a makeup artist and stylist.  I'm a business guy by day so I respect this approach because it's the same in business.  However, I get to work with prettier and more creative people during my photo gigs!
I coordinated with Caroline in advance both the style I wanted to capture and the clothes to bring.  I also lined up local MUA, Emmy Lindgren, so I gave her the same information.  We arranged the rates, and the time.  Good to go.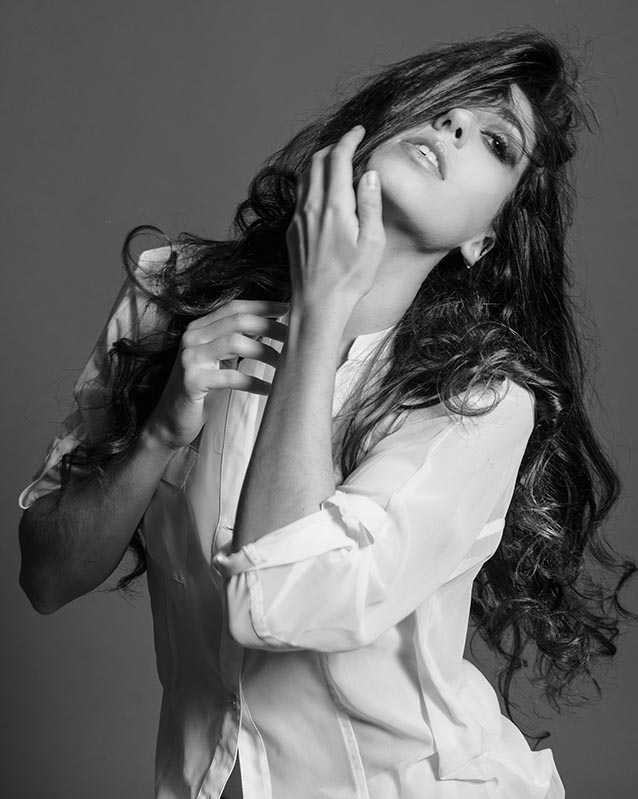 Like clockwork on the day of the shoot both Emmy & Caroline arrived and got to work.  A tip from Bill Jones was to talk to the MUA before getting started on how I wanted the makeup applied, and how I wanted Caroline's hair styled.  Before the makeup was finished Caroline came out and I took several test photographs under the lighting set up.  I showed Emmy the photos and pointed out areas to touch up.  I was shooting RAW, but the plan was to process the images in black & white, so I had my Nikon's Picture Control set to monochrome to visualize the effect in post.  It also allowed Emmy to see areas I needed touched up.  Another tip from Bill.
The setup for this shoot was straight forward.  Using experience from Bill Jones and following the style often used by Frank Doorhof I used only one light as the key.  This was an Elinchrom 27" Softlite Reflector Beauty Dish mounted on an Elinchrom D-Lite 4 studio strobe.  I did not use the internal reflector/diffuser, but used the diffuser sock.  This was triggered with an Elinchrom EL-SkyPort mounted on my Nikon D600.  Also, from Bill's teachings I arranged several black foam core flags mounted on light stands to block reflected light.  That was it.  The beauty dish was mounted 72" high from the ground and aimed approximately at my model's belly button.  I shot against a fashion grey seamless.  My model was set 6' from the back of the sweep.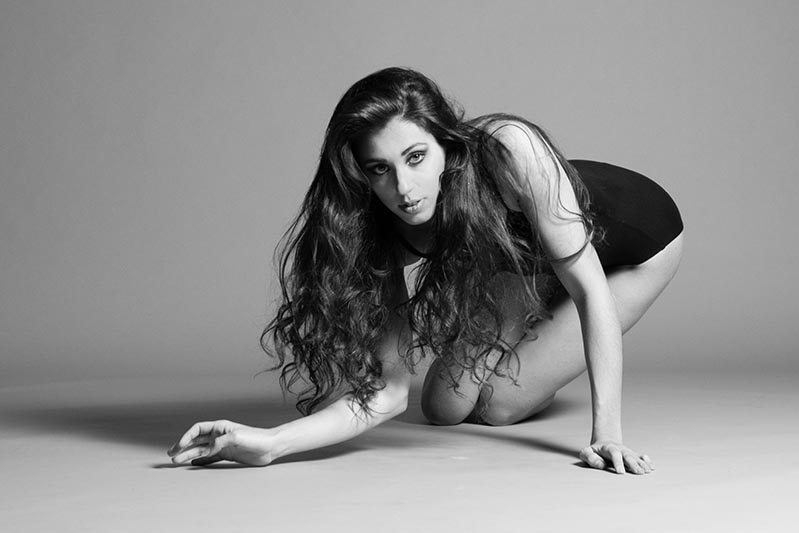 All set, we were good to go.  Caroline's makeup was ready, so I had her dress in a sheer top and a pair of shorts.  Don't worry its winter time, but the studio is toasty.  I had a simply request of Caroline, simply move.  This was not planned as a posed shoot where I directed her moves.  I just asked her to move like she was dancing, hands in hair, move shoulders, play with her clothes, etc.  This worked great.  Caroline is a contemporary dancer, so this came naturally for her.
I set my camera on burst mode (CL for you Nikon users) and along with my class 10 SD cards I shot in 4-shot bursts.  My studio light kept up approximately 80% of the time, so I got some great shots.  Camera settings were ISO 100, 1/125, and aperture set at f/11.  I had the D-Lite set at almost full power.  I used my Sekonic L-358 FlashMaster light meter to set my lights at the correct power for the camera settings.  Using a light meter has become a religion since watching one of Frank Doorhof's video podcasts on TWiT Photo.
After about 30 minutes shooting Caroline with these clothes I had her change in a black jacket & tights.  We did the same technique for about another 30 minutes.  Finally, I had he change into a black dance leotard, and away she went again.  However this time I had her sitting down or crawling to me.  While doing this session I was laying and sitting down on the studio floor.  The better to get a different perspective.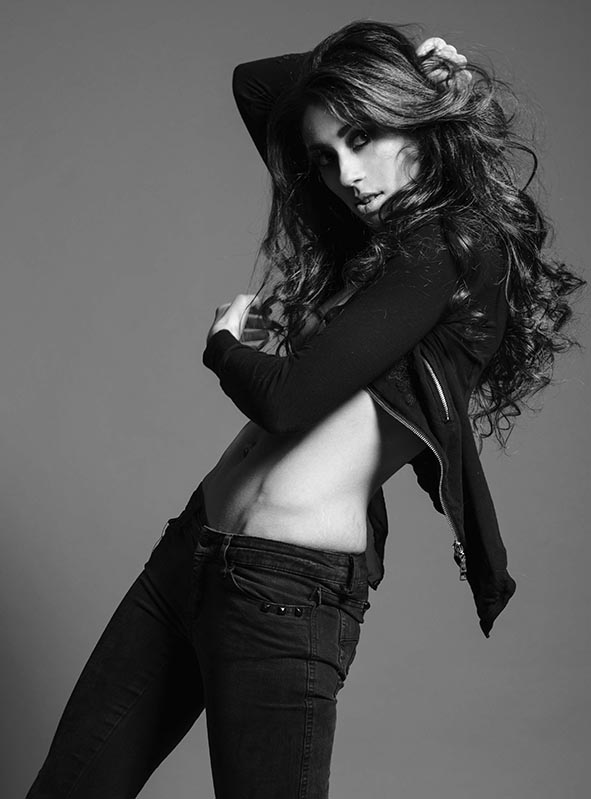 After about 2 hours we were done.  Throughout the shoot I showed both Emmy and Caroline the best images I was capturing.  I constantly talked to Caroline and Emmy (who stayed to touch up Caroline's makeup and hair during the shoot) so they knew what I wanted.  I took several really bad shots, but "poof" deleted them.  No need to show unflattering photos.
Overall, I'm really happy with our session.  Paying attention to other photographers who are skilled in their craft, like Bill Jones & Frank Doorhof made it possible.  As always a few after action comments:
Pay your model up front.  I always do this.  Even though I've worked with both Emmy and Caroline before I wanted them 100% comfy that they were going to get their rate,
Take makeup test shots before the shoot and then ask the MUA to touch up as needed.  This will save you tons of post processing time,
Monitor your histogram.  In B&W processing this is very important,
Make sure your model lets you know in advance what type of music they want to listen too.  I'm more of an old school rock or trance/house music type of guy in studio, but both my MUA and model wanted to hear dub step.  I had to scramble to find some of that genre.  I'm sure they both thought that was cute.
Watch the experts & learn constantly.  Without paying attention to the tips and teachings of guys like Bill Jones and Frank Doorhof, among others I would be spending half my time just doing trial and error.
Steve Brokaw
www.brokawimages.com
https://frankdoorhof.com/web/wp-content/uploads/2015/03/studioFD_Logo-1FV.png
0
0
Frank Doorhof
https://frankdoorhof.com/web/wp-content/uploads/2015/03/studioFD_Logo-1FV.png
Frank Doorhof
2013-01-26 07:00:34
2013-01-26 07:00:46
Guestblog Steven Brokaw