Today a review/user opinion for the SmallHD DP4 monitor I'm using for my video work at the moment.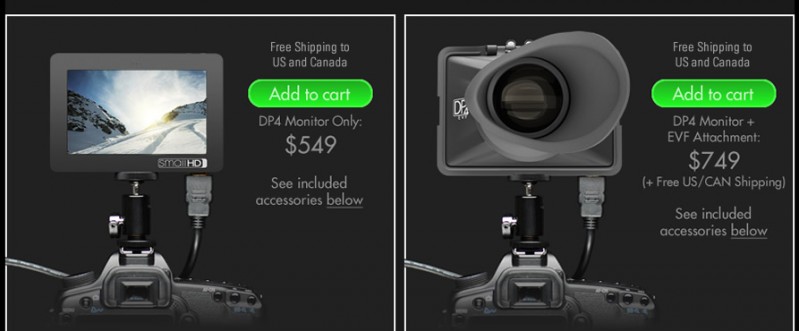 Although I'm mainly a photographer I love video, always have and always will probably.
When I started video it was mainly because I wanted something else than photography, I was raised in a family where photography and video were practice on every possible locations, my memories of my grandfather for example often included a camera (and light meter), but also video, they started using video very early on and so our family was also on of the first with a "real" Betamax recorder for home use.
So first of all it was not strange that I started with photography but also video.
When I started with video it was tape based (but already the smaller kind), capturing to the PC was all with FAST AV cards and it was SLOOOOOW, it was normal to render a night for a video to find out you did not like a look and start over again. Although I picked up photography again when digital became affordable (my first digital was a Kodak without memory card and half a megapixel) but I always kept filming.

When the 5DMKII was released I rushed to the store to get one, not because it was a new camera but VIDEO, man that was exciting. I never wanted to invest in professional cameras because the difference (for my use) between the great "handy cams" and the professional cameras just wasn't worth the effort. We mainly film "fun" stuff and instructional videos. However when the 5DMKII was released it became clear for me that this was a game changer and I also realized that the market would change and that video would become more and more important. And let's be honest at that time I worked mainly with FCP and Premiere and looking back at the FAST AV days the capturing was awesomely better.
One of the things I hated about the video on the DSLR was the way you had to focus, the display was nice but to focus was not the way I wanted it, so very quickly I bought the great Zacuto viewfinders which I really loved. But our video work is growing and more and more people want some form of video/motion so it was time for something new, although I loved the Zacuto I wanted a monitor and after trying some different monitors that I did not like I was looking at a great dilemma, spend a lot of money on a good monitor or keep using the Zacuto.
When my buddy Rick Sammon pointed me towards the SmallHD brand I was overwhelmed with enthusiasm, this looked exactly right and the price…. well what can I say almost to good to be true. After working for some time with the DP4 with EVF now I'm ready to share some user opinions on this product, it's not an in-depth review but I think it will be interesting.
Things I love
We all know the problem with accupacks (battery packs), at the moment I believe we have app 10 different kinds of battery packs and I would personally love it when all cameras and gear would just operate on one single pack, buy a bunch of them and be done with it, but at the moment almost every new camera that is released, get a new battery pack and charger, imaging us traveling, a part of our suitcase it occupied by chargers and battery packs. SmallHD is a smart company and they solved this problem. You can select a backplate for the camera you are using, and the monitor will run on those batteries, so for me it's the Canon backplate so I can use the Canon battery packs to power the DP4, I really love this feature.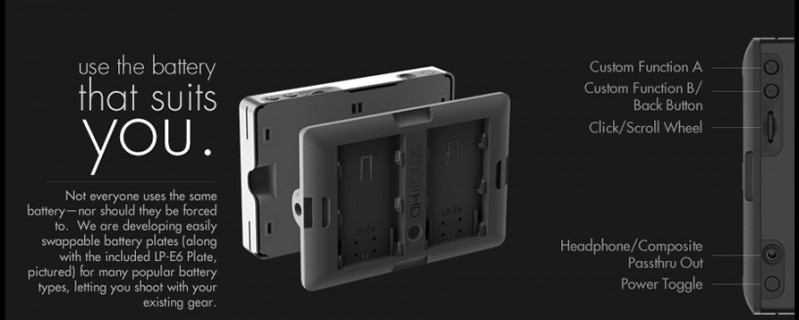 But there is more.
When you buy the monitor make sure to check out the option of the added EVF, this device is clicked on the monitor and can be moved out of the way when more people want to view the image, and can be moved in front of the monitor when you want some "privacy" or when there is a lot of light…. and although that is 100% true, it's often forgotten that using an EVF will also make sure that there is an extra contact point which makes it a lot easier to handheld the camera while video is used. And the more stable the camera the more stable the footage (duh).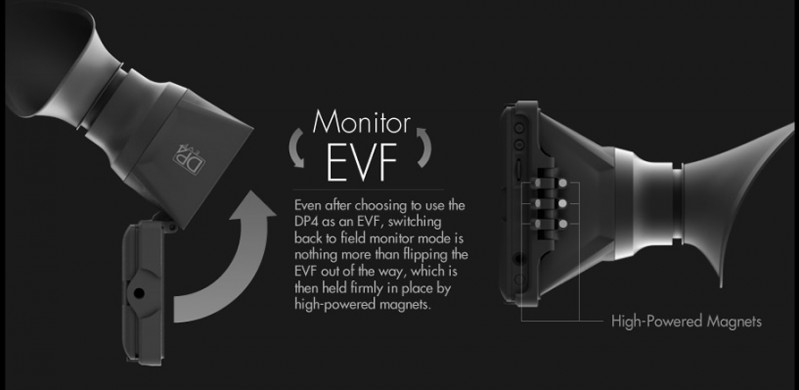 At first you might think that it's an expensive accessory, compared to the base price of the monitor, but you have to realize that in reality (well at least that's my opinion) the monitor is just very well priced, and $200.00 for the attachment is actually not that expensive, when you buy one for the higher priced monitors you will actually pay a lot more.
What I also like is the sheer amount of supported modes and connections :


They really did not leave something out you would need in situations like most of us encounter.
Working with a monitor
Well I can type a long story about this and keep it really short, let's stay in the middle.
It ROCKS!!!
There is a reason why all the professional cameras use larger monitors than the ones you find on your DSLR, and that reason is very easily explained, with photography we are making stills, we have autofocus and focus indicators, when we switch to video we can still use autofocus of course but when you press record everything goes, in other words there is no autofollowfocus or whatever you want to call it. According to some this is terrible and they love the consumer cameras for it, for me it's perfect. I've used several consumer cameras over the years and to be honest, for what they are designed for the quality is great, but when I have a subject that I want sharp that is not a face with someone walking past it and shift the focus to that person, well….. I'm in trouble. When you manually control your focus you can do whatever you want.
With the 35mm frames like the 5DMKII getting focus can be tricky, do realize that the sensor size of the 5DMKII is in fact a larger sensor than a real 35mm FILM frame, meaning you will get a shallower DOF when using open apertures (which a lot of people love to do), so when judging focus on your tiny screen on the back (ok I know it's big enough but I have to overact just a bit) it's not possible to do it very accurate. Even on the much larger real estate of the DP4 it can be tricky, but with the added EVF it's much easier, but not perfect… and that's were a good monitor comes to the rescue.
Let's start by getting some key features :
The DP4 supports full screen modes for Canon/Nikon something a lot of other monitors don't.
You can select frame guides
1:1 pixelmapping
But most importantly :
Focus assist and peaking filters + multiple False Color Exposure modes.
Ok stop Frank, the what? the who? the why?
Ok, let's start easy.
We want our images to be in focus right?
And doing that on the monitor (even with EVP) can be tricky, so there are some options for us to make that easier:
Peaking and focus assist
With Peaking you will get more sharpness on your image without making it too "unnatural" but out will help you with focus just a bit (in fact it works really well). This is the mode I use a lot when I want to see what I film 100% natural, by adding some sharpening it really helps with the 5DMKII because it outputs a SD signal as soon as you press record.
By the way there is a new software version (1.2) with the focus assist +
With the old focus assist the image turned the image very dark making it very difficult to follow the focus. When you use focus assist the image will turn a bit unnatural and the focus areas are highlighted with white, this is an awesome feature and makes it VERY easy to keep focus on the place you want it. Let's look at this video and you see what I mean.
False Color exposure modes
Now this is interesting and maybe difficult for photographers.
With false color you get an overview of the brightness in a scene.
The first thing you have to understand is that the brightness in video is often referred to as IRE values, the IRE runs for 0 (black) to 100 (pure white).
The DP4 uses zones which corresponds with the brightness, when understanding this feature it's very very powerful to make quick adjustments. For example the first zone will show in blue (0-3 IRE), when you see blue this will probably mean you are loosing detail in the blacks, this is the lowest part of the grayscale and you actually only want the deepest blacks there, nothing more.
The next zone runs from 4-47 IRE and has a purple gradient color from black to purple.
For the middle zone the DP4 uses orange (no gradient) and runs from 48-58 IRE.
The higher zone is indicated with a green gradient and runs from 59-96 IRE.
Finally and very important is the 96-100 IRE zone, this is indicated in yellow and will show you which part of the picture is overexposed or very close to being overexposed.

Conclusion and uses
For video the monitor is something you really should dive into, for me it's one of the best upgrades I did for my video work that helps me enormously with my focus and getting everything to look the way I want. Especially with the quality and price you get/pay for the smallhd unit I would almost say it's a no brainer. The guys from SmallHD are also very helpful when you experience problems or want some explanation, just browse their website and you will find a wealth of information, plus (what I also find very important) is the fact that they are upgrading their products to add new features and when I saw the difference with the new focus assist I was more and more realizing I really made the right choice.
And although this is a video monitor I would love to point something out you probably did not think about…. yet.
When working with lenses like the lens baby, tilt and shift lenses etc. it's often a challenge to get the focus correct, especially with the lens baby I often struggle with the smaller apertures in the studio to get the focus exactly when I want it…. not anymore :-), I connect the SmallHD monitor, use focus assist+ and peaking and voila my focus is there within seconds instead of guessing and being disappointed later. It's just an awesome tool for that also.
I'm always a bit careful when promoting products the way I'm gonna do now, but SmallHD really deserves this.
Go get one, I HIGHLY (and really mean HIGHLY) recommend it.
Visit them at http://www.smallhd.com  and also don't forget their videos section on http://videos.smallhd.com/
https://frankdoorhof.com/web/wp-content/uploads/2015/03/studioFD_Logo-1FV.png
0
0
Frank Doorhof
https://frankdoorhof.com/web/wp-content/uploads/2015/03/studioFD_Logo-1FV.png
Frank Doorhof
2012-03-01 07:00:45
2012-02-29 20:05:11
SmallHD monitor