Images from around the world
Now this is a guestblog (and hopefully more) I was really looking forward to.
During the NIK competition (which will run till the end of the year by the way) I got some images that really struck something with me, I asked the photographer(s) about them and got an amazing story about them traveling around the world, and I can just imagine what that would be like, and I thought "that would be a great guestblog, and maybe even some repeated ones", so without wasting to much of your time, here is the guest blog from C and I as they call themselves 😀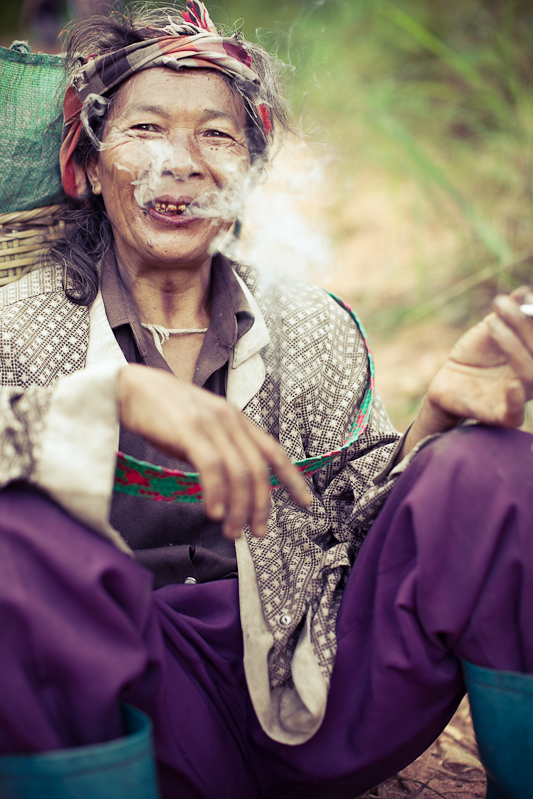 First of all we would like to thank Frank and his team for the opportunity to be here on his blog as guest writers. It's a true pleasure as Frank is one of the leading teachers out there and since a while he went up to the roof-top-gang around Scott Kelby. Beyond awesome! And here we have first met Frank, sitting next to him at Photoshop World Orlando this year. Ever since we are following his amazing work.
Well, and who are we then? We are Carmen and Ingo, a passionate, life loving, international wedding photographer couple based in Munich Germany. Specialized in full day coverage we always work and travel as a team. Speaking of travel, this is the second big passion we have: Travelling the world.
Last year, after closing our wedding season in October, we left for an unforgettable trip around the world. We both are in our early thirties. We don't have kids yet and we have not invested in house building and the like. We are extremely flexible actually and thus we developed the idea of taking half a year off. Leaving our normal daily business behind us, we booked a ticket once around the world with five stops. Doing what we love the most, traveling and taking photos. How exciting is that?
We had a very rough schedule which was only dominated by the flights between the stops and countries. For the first three month we went to South East Asia: Vietnam, Cambodia, Laos, Thailand, Malaysia, and Singapore. In Asia we used busses, boats, trucks and everything which moves a little forward to see the prettiness of these countries. In Australia, New Zealand and America, we took the advantage of car rentals to get the maximum flexibility. We went from one place to the other only thinking from one day to the other. We always prefer to travel without a plan because being able to accept spontaneous offers or chances mostly lead to very interesting experiences. Also, we try not to be on the regular tourist path. Well that does sound easier than it is, because if you look different to locals, you will always be the (rich) tourist. Carrying a big camera with you doesn't make it any better. And we always had our camera with us, at least one.
During this trip, we saw wonderful landscapes, beautiful sunrises and impressive sunsets but at the end of the day we are people photographers. Storytellers if you will. A key for travel (people) photography is to be interested into the people's lives. Without even thinking of taking a picture you need to understand their daily needs and culture in the first place. Through photography you not only see things different, you tend to be more curious about other people. At the beginning it is a little difficult to get interesting portraits but you learn how to deal with people as you go. We took around 20000 photos and videos in six month of traveling (without any assignments). It was the best time of our both lives so far and we don't want to miss the unbelievable personal encounters and things we learned.
The three example portraits in this posting are from Laos, Thailand and New Zealand. In Laos, we went to a remote village where people have hardly seen tourists. We might have been number 9 and 10. This year or ever. Strangers, big and white, strange language too and obviously not from the neighbourhood. The kids followed us all the way through their very basic village. We got some Lao whisky from the village head and had fun talking to the locals through our guide. Even most of the kids wear raddled clothes, some didn´t have trousers but for sure they have a lot of fun playing together. We spotted this little girl with a bunch of "candies" right out from the jungle.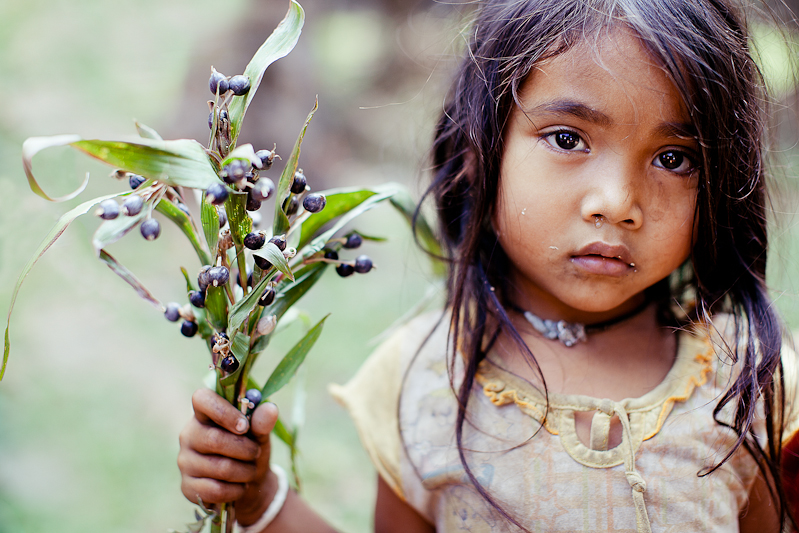 The elderly woman we met in Thailand during a day jungle trip. She was on her way downwards to her village and on her "head" she carried a basket which was at least 30 kg. She sat down to rest a little and started smoking a cigarette. Ingo thought it might be a good idea to help her as long as we walk the same way. He could not imagine at all what this woman was able to accomplish. Carrying this weight on your head is by far not easy.
Finding and photographing a "Moko", a full facial tattooed Maori, was one of our personal wishes after entering the wonderful country New Zealand. We love this country! We spotted this guy while driving very slowly through a village called Waitomo. He was walking home and we almost could not get him to stop. We started talking with him and asking him questions. He did not understand why we wanted a portrait from him. We really had great fun with him.
However, unfortunately we could not get a shot from his wife and him together. He told us, that she has also a traditional facial tattoo.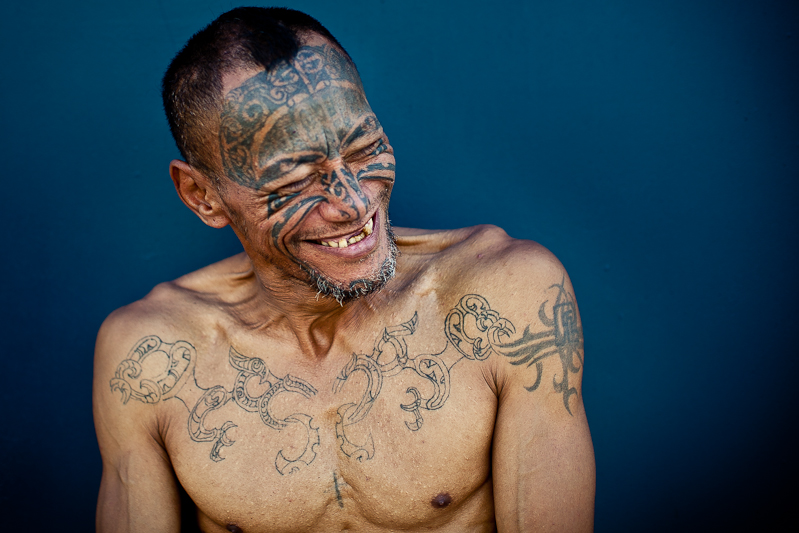 And on top of all this traveling experience and amazing time we had, it extremely helped our business as photographers in many ways. We would like to encourage you to get out of your daily routine. Once you have seen others, not so fortunate people managing their life, you get a different view about your own life.
You might say: "Well great, but I don't have time for a half year vacation nor I have the money". We would say: "There is always a way to manage this. Stop thinking of excuses, try finding solutions to do things you love – life is too short not to!"
This being said, we would like to thank Frank again for the stage and if you want to know more about us. We are on Facebook, Twitter and sure we run a website/blog too. Have a great day.
Carmen and Ingo
https://frankdoorhof.com/web/wp-content/uploads/2015/03/studioFD_Logo-1FV.png
0
0
Frank Doorhof
https://frankdoorhof.com/web/wp-content/uploads/2015/03/studioFD_Logo-1FV.png
Frank Doorhof
2011-12-21 10:19:24
2011-12-21 09:11:36
Images from around the world