Guestblog Charlie Chipman
I met Charlie during one of my workshops in Los Angeles. I loved his style he uses and it was no surprise that he blew me away with the project he is working on now. As you might know, I love street photography, and whenever I'm abroad I always try to do it as much as possible. I was very impressed by what Charlie does with the subject and I love this series, so I decided it was time to have him over as a guestblogger to tell you about the project…
Sidewalks by Charlie Chipman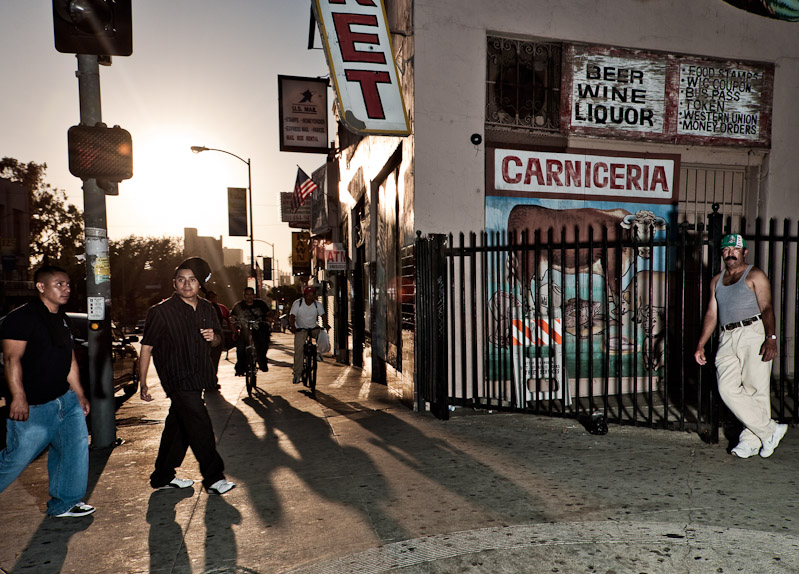 Hello my name is Charlie Chipman. I would like to thank Frank for having me as a guest here. I admire his work and appreciate being included on his blog. I've taken his lighting workshops here in Los Angeles and would recommend anyone to do the same given the opportunity.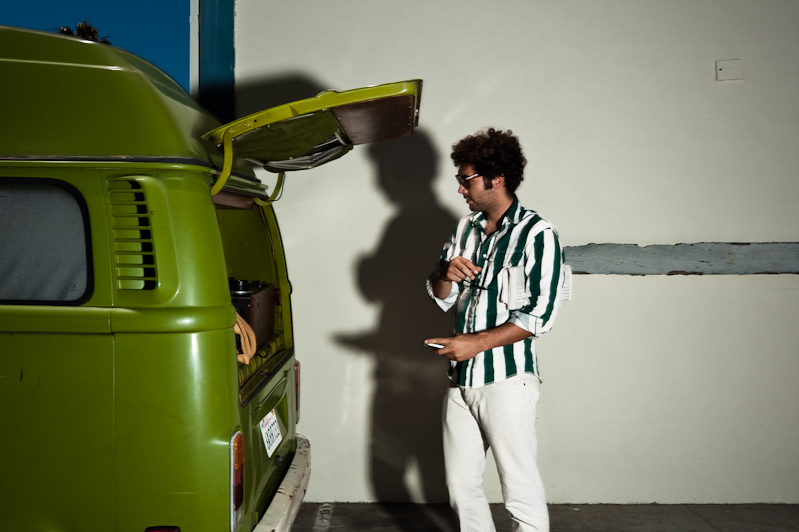 There is no one reason as to why I've done this series. There are great pictures happening around us at all times. I try to capture some of these in the same way many photographers do, though I was doing it from a moving car. I donít normally consider myself a street photographer, but at the same time it doesnít get much more street than driving around taking pictures. For 6 months, between July and December of last year, I drove all around the city of Los Angeles taking pictures of people on the sidewalks from my moving vehicle. It was a sort of blind photography. From Venice to Whittier, Echo Park to Watts, I covered as much of Los Angeles as I could though some areas proved to be much more lively than others.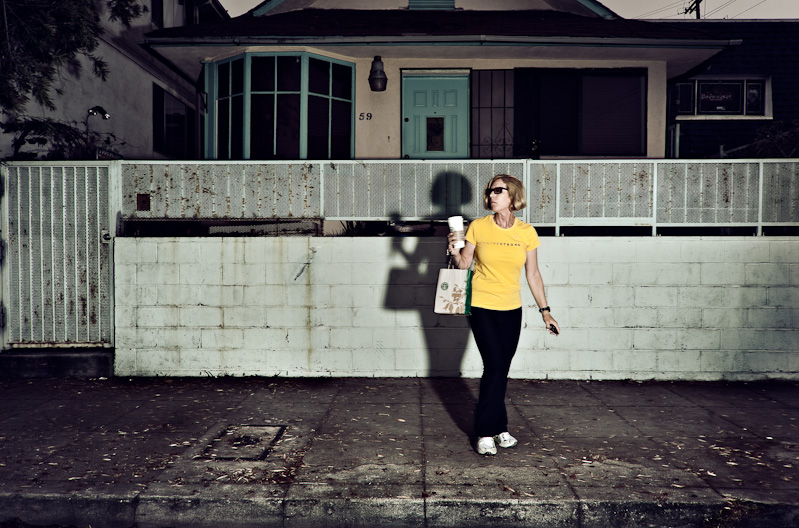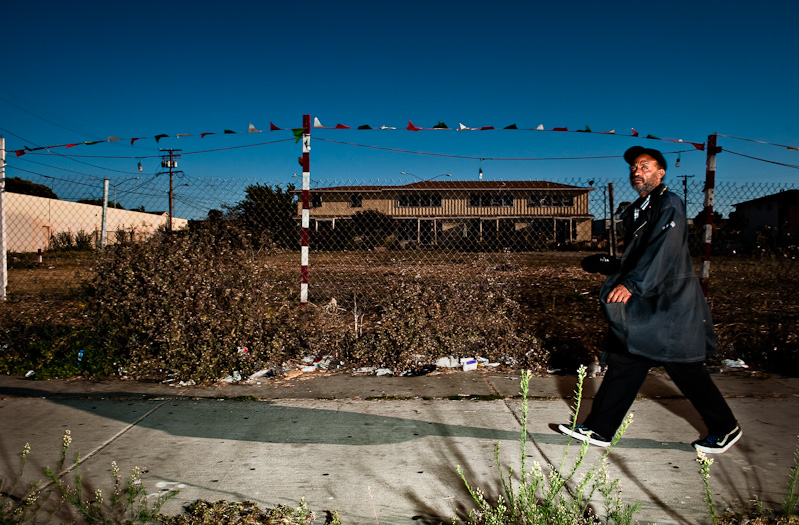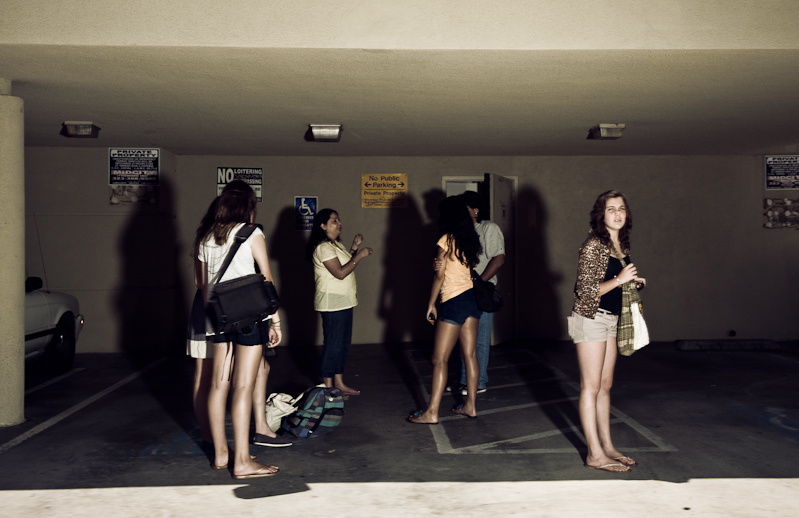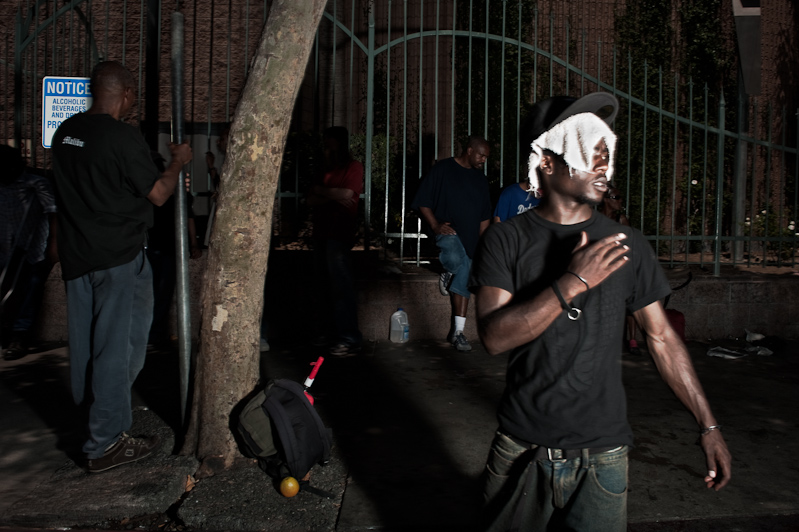 Through a series of magic arms, sandbags, and tripods I pointed my camera out the back window of my wagon within arm's reach of the driver seat. Next to that was an Elinchrom Ranger flash. The flash helped to "freeze" the scene as I sped by at up to 40mph. In my hand was a remote shutter release. The camera exposure and focus were preset and the Ranger pack sat in the front seat so I could adjust the power dependant on if I was next to the sidewalk or was separated by a row of parked cars. I also marked my lens so I could zoom from the driver seat and know approximately what focal length was set. I briefly tried this as a passenger but found it beneficial to have control of the vehicle as well as the camera for timings sake. Just to make things a little more complicated I made sure to do this in a car with manual shifting.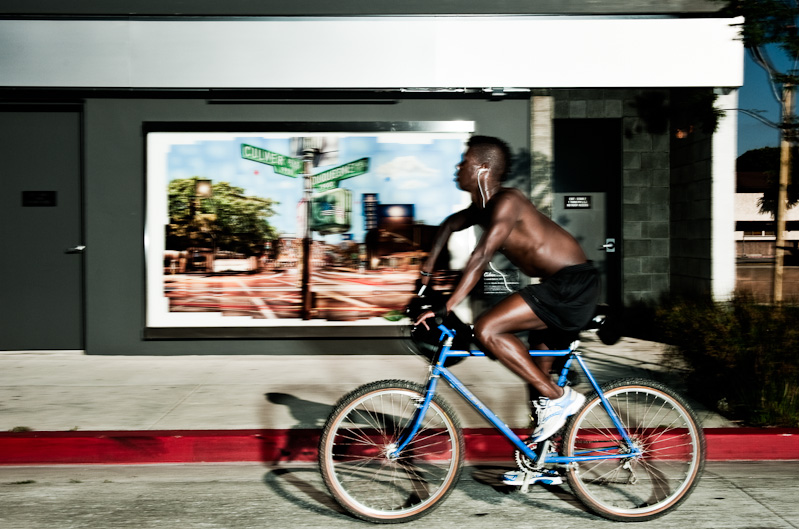 As the ambient light levels dropped so did my shutter speeds which introduced an entirely different element to the series.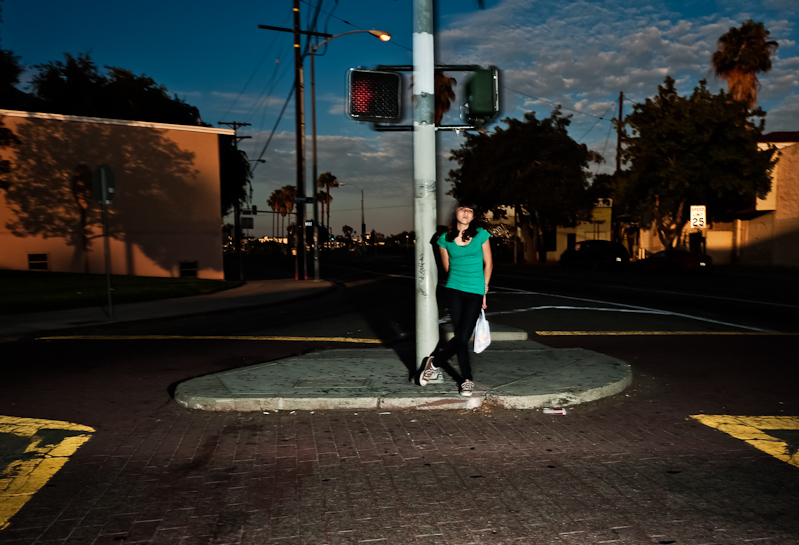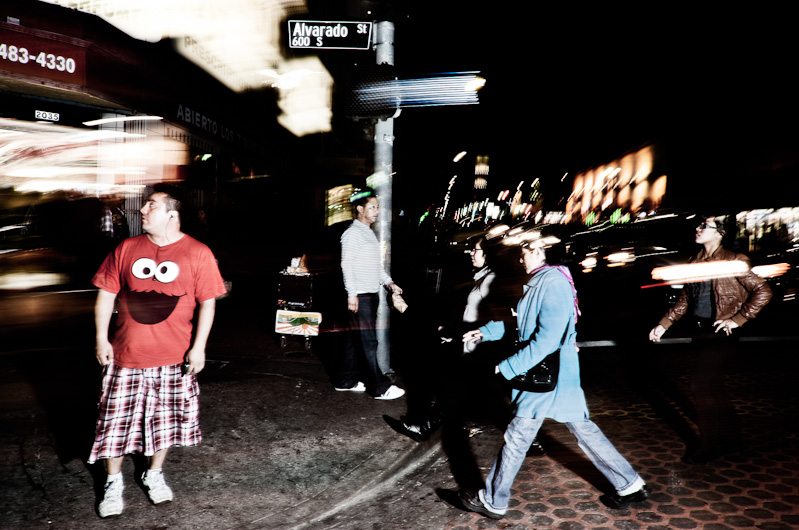 Timing played a crucial role in these pictures. I needed to cross paths with a subject at an opportune time, creating a compelling composition. I also needed an uninterrupted view of the subject. Avoiding parked cars, parking meters, lamp posts, signs, mail boxes, and other drivers was key. My first couple of times out I pressed the shutter every time I saw a person. Over time I learned to see if a decent composition was going to line up before it happened. If at all possible I would time my car to meet a person at a point where the view of them was clear and snap the shutter at an ideal moment of their stride. At times everything would line up just right, much more often they did not.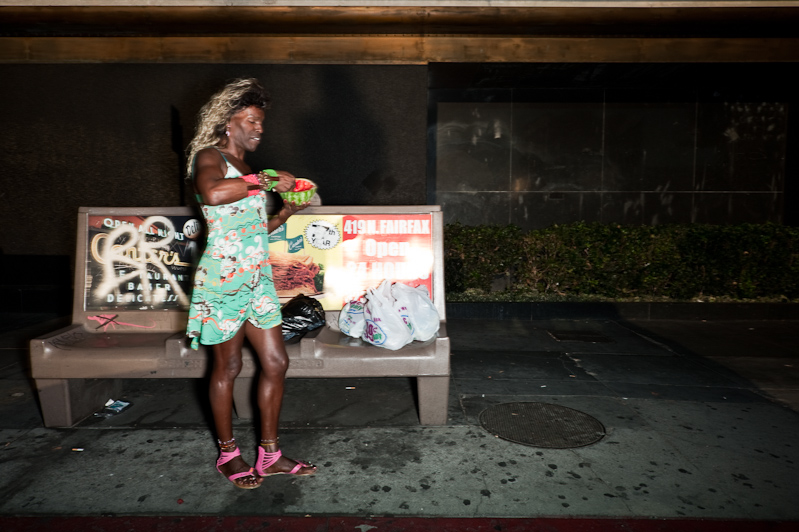 Thank you for having me. More pictures from this series plus some of my other photography can be seen at www.charliechipman.com
https://frankdoorhof.com/web/wp-content/uploads/2015/03/studioFD_Logo-1FV.png
0
0
Frank Doorhof
https://frankdoorhof.com/web/wp-content/uploads/2015/03/studioFD_Logo-1FV.png
Frank Doorhof
2011-09-07 07:00:26
2011-09-07 17:01:08
Guestblog Charlie Chipman