Why getting the shot is not everything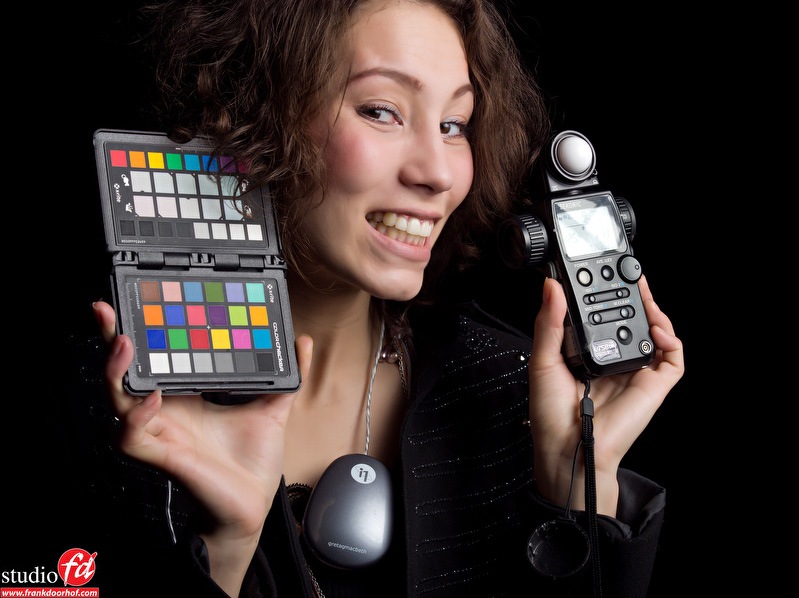 We all read a lot of stuff about lighting and coaching the models, and although this still is the main thing of course there is also a part that is often forgotten or is even regarded as being old fashioned or limiting creativity.
Meters
Don't even start about how many times I hear that using a lightmeter is old fashioned, it's really weird because almost everyone who I teach how to use a lightmeter never wants to shoot without any more.
Some myths about the lightmeter is that it's never 100% accurate and that with the histogram you can easily see what you're doing, well sorry to burst that bubble, the histogram is not correct.
First of all the histogram doesn't show you the RAW data, it shows you the JPEG thumbnail, for example change the settings in your camera from neutral to for example full contrast and full brightness and you can see that the histogram changes while the RAW file is still correct, so the histogram is not accurate when you want to check your RAW. You can get it very close by setting the contrast to -2 which will mimic the RAW a bit better than the neutral setting, although I have to add that this can change in the future and per camera, which in fact strengthens my point that you can't trust the histogram…. But there is more.
Lets look at your own skintone and now look at the skintone of your friend, partner or anyone, are they all the same ? No they are not…. So where should your skintone be in the histogram, and were that of your friend or partner ? I guess you already figured out that also here the histogram is useless.
Do I hate the histogram ?
No way, it's very very valuable when you understand how to read it, it's used to judge the tonal distribution within a scene and in that it works very nicely, although you always have to remember that your looking at the JPEG version and the RAW is totally different, so do I use the histogram ? well to be honest no, I use the lightmeter.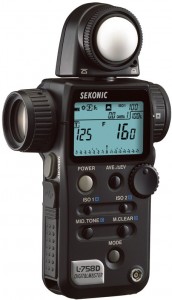 I'm using a Sekonic L758 lightmeter, I love this meter because it uses both spot reflective and incident metering and you can store 3 camera calibrations per ISO which is a very nice addition to make the meter fully accurate with your camera. To have the meter 100% accurate however you should calibrate it to your camera/lens combination. This is very easy and I already explained this once in detail plus it can be seen on my kelbytraining videos and DVDs, but the short version is to use an 18% gray card and measure this, now look at your image from the RAW version on your PC/Mac within your workflow software and make sure the spike on the 18% gray is app 128.128.128 or the spike is in the center of the histogram. When you have done this you will have a 100% accurate meter.
Measuring myth 2
Another reason why a lot of people don't use a lightmeter is that they get inaccurate readings, this can often be the fault of the wrong way of measuring. There are two methods of measuring out there, one dictates you should always aim your meter towards the camera, and one that claims your meter should be pointed towards the lightsource.
People who visited my workshops and seen my DVDs or videos know that I use the method in which I point the meter towards the lightsource, this has sometimes caused some heavy discussions because some of the pros teach it the other way around. However without saying they don't know what they are doing think about this.
With incident meter readings you are measuring the light falling on your subject, this is put into the camera and you should have an accurate exposure.
When your light is from the camera position you can measure towards the camera, but as you move your light more and more to the sides (without changing the distance) the measurement will start to change and you will need to open up your aperture more and more, and when the light is next to your model you will sometimes get an exposure that is way over exposed or the meter will simply state EU (I always call this extreme underexposed).
Now when we take into account the so called inverse square law which dictates that lights falls off over a distance it's easily understood that when the distance is not changed from model to lightsource it's impossible that the exposure should change, meaning measuring towards the camera simply put never can be right for ALL lightsetups.
Just try it out in your own studio and this effect can very easily be seen.
If you calibrate the meter (1 minute of work) and use the proper measuring technique you will learn to trust and love the meter.
Frank how about reflective ?
Often people buy the cheaper meters like the L358 from Sekonic because they think that will be enough, and in most cases it is, however when you understand the photographic dynamic range you can very easily use the spot meter to make sure that your blacks won't block and your whites won't blow out.
In short (again watch the kelbytraining videos or my own DVDs) you can say that when white is 2.5 stops higher than your diffused values (the measurement with the incident meter) it will blow out, and if it's lower than 4.3 stops below your diffused value the blacks will block.
REMEMBER… dynamic range can change per camera and higher or lower ISOs than the base ISO will interact with the dynamic range, so experimenting and knowing your equipment is of vital importance.
Getting the colors right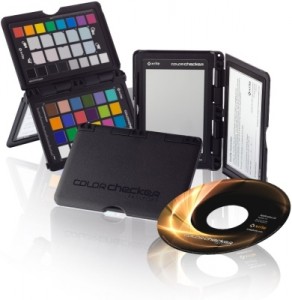 We now have the correct exposure so everything is done yes ?
Well no, sorry.
We all know those series posted online where in every shot the model has a different skincolor, some are too magenta, some are too yellow, some are too blue and we can go on and on, and to be honest unless people are very sick or drink too much they will not change skincolor that much (well at least not the people I know).
So how does this happen ? Well that's actually quite easy to explain, every lightsource has a different color temperature, very simplified this means that some lightsources are more yellow than others that are more bluish. On your camera you will see these difference in the settings for colortemp which range from tungsten, daylight to fluorescent, just for fun shoot a few images on those different settings and see what happens again this will be seen on the display on the back of the camera, your RAW files will stay the same (unless you use a RAW convertor that reads the settings you used).
So how do we solve this ? Well that is very easy. The cheapest simplest way is a simple white balance card, personally I love the simple solutions best. There are methods where you mount a device to your lens and shoot into your lightsource, I experimented with those but never really liked it, just handing your model a neutral white balance card and use the colortemp picker in Photoshop does the job. However if you want to do it really right you can use the so-called color charts. This is the best system and although in the past using them was a drag, nowadays it's very easy with the supplied software, it's a simple drag and drop system and the profiles can be used in Photoshop afterwards for a very accurate color representation. Again with this people seeing the difference are sold.
The following products are the ones I use :
Datacolor colorchart
Xrite colorchecker passport
With the meter and color charts combined you will have very accurate colors and great exposures, so we're done now? No…. there is more.
Seeing the colors
Now we have calibrated the camera with the color chart, we have calibrated the lightmeter and we have the images on the screen but still it looks funky, did we do something wrong ?
No, don't panic and don't throw your monitor out yet, this is normal.
Every monitor out of the box is not showing the colors correctly, as you did with the color chart you will also have to calibrate your monitor. And don't worry this is actually the most simple of what we have done till now. You will need some extra hardware for this, the coloranalyzer. There are a lot of options out there but I personally advise the Spyders or the Xrite units which I both use myself. Using them is very straightforward, you start the software and place the analyzer on your screen, most software will autodetect the analyzer (or point you to where to place it) and the software will start it's work and a few minutes later everything is done.
Initial settings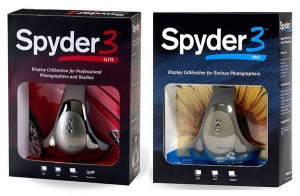 Do remember that the first time you will have to set the settings in the software, for LCDs I advise the following settings.
Lightoutput : 130CDM
Colortemp : D6500 (6500)
Gamma : 2.2
Some people will use 5400 degrees which can be explained why it should be used in certain workflows, however because most photographers are also doing motion (video) it's much more wise to choose the D6500 setting because all video is used on that standard, and for the normal use photographers D6500 is also the best setting, when you NEED to use 5400 you will probably know why and understand why, so if you don't go for D6500 (yes it's that simple J)
"Great tip, can I borrow your coloranalyzer ?"
Well actually you can but it won't help you.
Don't be alarmed but you will have to calibrate your monitor at least once every 2-3 weeks, we do our critical system every time I have an important session or once a week.
Remember however that you will do the calibration on a monitor that is already warmed up (at least 30-40 minutes).
For my choice of coloranalyzers see :
Spyder3 Elite
What about that creativity thing at the start ?
Yes I did not forget about that one.
Some people will say that when you use all this technique you will loose the creativity in a shot, and although you can indeed think too technical it should not be this way of course.
The advantage you have with this method is that you have a correct BASE, after this you can be as creative as you wish, you can change colors, exposure everything that you would normally do, to be clear almost all my work has changed color in some form. The advantage of this method is however that if you have found a method or filter that works for you, you can repeat this filter on every single shot and get the same effect this means much faster workflow which earns you money.
For a pro photographer there is no excuse to forget one of these methods, for a hobby photographer it's all depending on what you want to achieve of course and how much time you have, but I would strongly advise to use these three simple tools, it will really enhance your work but most of all speed up your workflow incredibly.
One more thing (well actually more).
We are now seeing the correct image on our monitor how about print ?
Use the print profiles of the manufacturer and the paper you use, if there are no profiles make sure you try to get them or make them yourself, you will need a different coloranalyzer for this which is more expensive, for example the Spyder studio suite.
I use Epson printers and because they are using a different technique (cold) they hold their coloroutput very stable during their lifespan and the canned profiles are very good so don't expect too much problems from those.
And how about the monitor of your customer ?
Well often they are also not correct, but that's no reason why you should not care, remember they see everything incorrect so if you're using correct colors and exposure your work will look the same as the other good work on their monitors, so in short if they are used to seeing everything too blue and your work is the same they will not notice this as wrong, it's important to realize however that a lot of monitors show a lot of different colors so having a stable output yourself that is 100% correct (or as close as possible) will not guarantee that it will look accurate on all monitors but at least it will be correct and show up like the viewer is used to seeing (wrong) colors.
ps. sponsor our blog by when ordering these items using the links in the article.
https://frankdoorhof.com/web/wp-content/uploads/2015/03/studioFD_Logo-1FV.png
0
0
Frank Doorhof
https://frankdoorhof.com/web/wp-content/uploads/2015/03/studioFD_Logo-1FV.png
Frank Doorhof
2011-02-18 10:40:10
2011-02-21 18:40:39
Why getting the shot is not everything