Nadine in different settings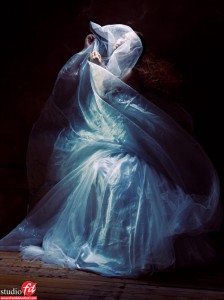 I've been incredibly busy the last few months so there was little to no time for free work, meaning as mentioned many times on the blog that most of the images I showed were shot during the workshops and although we can of course use themes, different clothing etc. during the workshops, which I always do to keep the workshops fresh and challenging, it's not the same as a free work session. During the workshops I will always make a few images to show the results and after that the students are up for the shoot. When I work for myself I take a bit more time to check if I really nailed the shot I wanted.
Yesterday it was time for such a shoot and with Nadine as my model it was assured we would also have some very nice styling, one day when she stops modelling I'm 100% sure she will return many times to the studio as stylist.
The team for today was :
Model : Nadine Stephan
Assistants : Dilani Butink and Wendy Appelman
Photographer : Frank Doorhof
We also shot some video during the day which will be edited later this week and hopefully uploaded starting next week.
For the first setup Nadine used a white wedding dress to which she added several materials to make the dress more interesting for the windmachine. With a shot like this it's a lot of luck but also some patience to nail the shot. I wanted to capture the face a little bit hidden behind some of the material which made it a bit more difficult to get something I really liked, eventually we settled for these two shots.
The light was kept really simple with one reflector with grid and a striplight.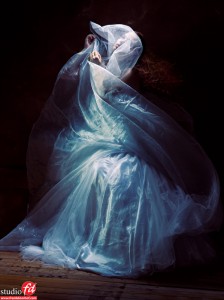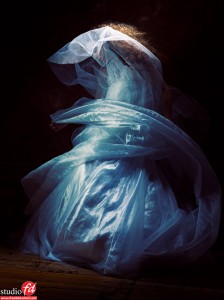 For the second setup we did not change the light but I added a prop in the form of an old window we bought a while ago for a session but after that never used again although often I thought about using it somehow it never worked or I never had the time to work it out. Today we did with these as result.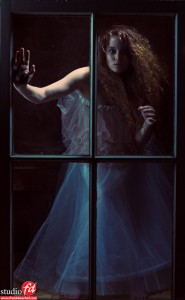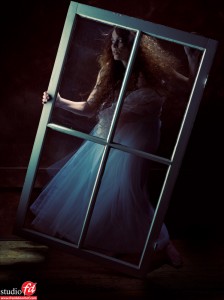 For the third outfit I wanted to add a bit more fantasy feeling, when I saw the clothing I saw an image which remembered me about the old horror movies, mist, a lamp and a creepy mood, we used some smoke with the aid of a simple smoke machine.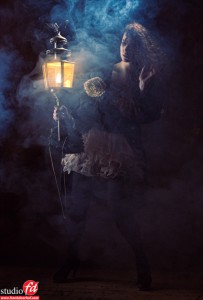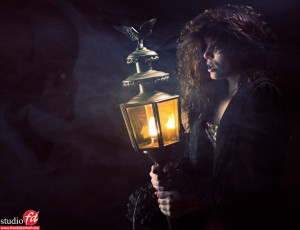 Now it was time to change the mood completely.
Recently I moved my office to the studio to be able to work a bit more efficient and that means my old office is being remodeled this week, and when that happens I see options for a scene, so we moved the set to that room for the next series which needs a bit more explanation.
People following my work will know that I love to venture into new areas, some people will love my more contrasty looks but to be honest I also love more flat lights, in my opinion it has to fit the scene and tell the story, sometimes moody will work and sometimes not. For the next set I really wanted something different and decided to do something I hardly do. For the next set I used a 35mm wideangle on the PhaseDF body which gives me a wonderful wide angle effect without too much distortion. Remember I'm shooting MF so 35mm is a lot wider than 35mm on a DSLR.
Some people will wonder about the weird vignette and I could of course say it was a creative decision…… but I would be telling only half of the truth 😀 With the ringflash mounted the 35mm was not sticking out enough meaning I could see the ringflash sides in the images, at first I thought to crop that out but somehow the longer I looked at the shots the more I started to like the look and made the image a bit more "surreal" for me. Nadine did her best to change through a lot of expressions and Dilani and Wendy were finally able to play with balloons again 😀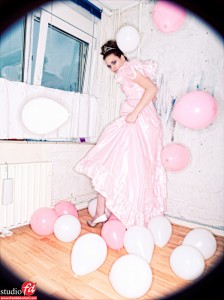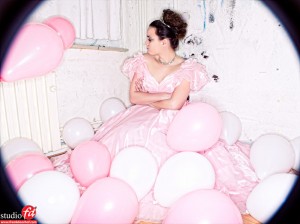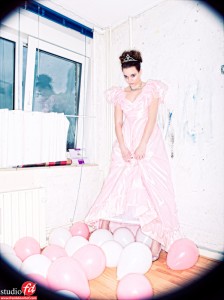 The nice thing about a ringflash is that you can use it around the lens, but you can also use it without being attached to the camera. In this next shot we just aimed the ringflash to the ceiling and experimented a bit with the distance to the ceiling and the angle to control the contrast and light fall off.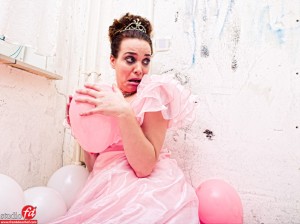 After so much fun it was time for a bit more serious shots again.
For the next setup I decided it would be nice to use our makeup area as a scene, by dragging the shutter I allowed the lightbulbs to burn in slightly to get the following shots which were lit by a reflector with grid.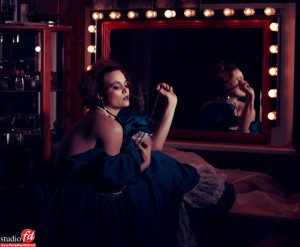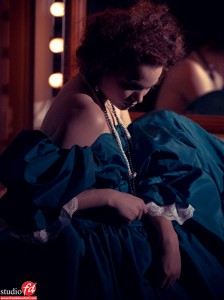 As you know I'm a big suporter of the MF system, however I also always tell people that they don't have to see cameras as a competition between brand A or brand B, in the end they are just tools to tell the story. MF has some very strong points but also some weak spots one being higher ISOs, With the AptusII7 I can shoot ISO 800 but to be honest I will hardly ever go higher than 400 and preferable I will stay below 200 with 200 as max.
For the next shot I wanted to shoot with natural light only and there is no better choice than the DSLR for this, in my case the Canon 5DMKII. I used the Canon 70-200 f2.8 L IS for a serie of shots with only natural light, the following shot was my favorite from this set.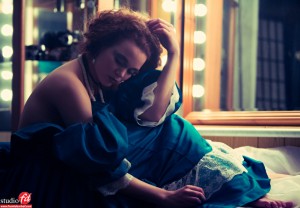 We ended the day with this session and looking back we had a really productive day I think with some nice results for my and Nadines portfolio. After the session I started the postprocessing right away to be able to share it to our readers 😀
If you have any questions or remarks about this set feel free to ask/comment or share.
https://frankdoorhof.com/web/wp-content/uploads/2015/03/studioFD_Logo-1FV.png
0
0
Frank Doorhof
https://frankdoorhof.com/web/wp-content/uploads/2015/03/studioFD_Logo-1FV.png
Frank Doorhof
2011-02-16 10:45:31
2011-02-16 10:45:31
Nadine in different settings