Every year there is the Maskerade, this is a big event for bodypainters where they compete in different areas of paint, the organizer is Bert Verstappen (and his family) and he does this with an enormous passion, that's why I immediately say yes when he asked me if I wanted to judge the competition in 2007 which was the first time I was on the jury of the Maskerade. It was a great experience and we promised to do it again in the future. Due to my schedule however we missed the Maskerade a few times, when I met up with Bert at the Zoom Experience last year we decided to book the date for the Maskerade right away to make sure I could be there, and so it booked, and this weekend it was time for the Maskerade 2010.
This year the Maskerade was two days in length.
Day 1 there were several painters working in the areas Face Paint (2 rounds) and belly paint (pregnant models).
The judges are an international collection of body painters, teachers and because they also want a non body painter look at the work I was the jurer without too much knowledge about the technique, although I have to say that in 2007 and this year my knowledge about body paints is growing explosive, but I think that's no surprise when you see some of the work of the jurors, I thought I saw some amazing stuff until I saw the work of Patrick McCann wow. Working in a jury with guys like this is a blast and a huge learning experience.
So how does it work ?
We left Emmeloord on Friday to arrive at the camping grounds close to the Maskerade on Friday night. As every year the jury and some of the painters/models are housed on the camping in bungalows to start the bonding, and it works I can say. In 2007 we ended up with a large cart filled with drinks (not all non alcoholic I can add) outside and let's say it was hard to be totally clear in the morning. This year because it was much colder several groups met up in the bungalows to have some relax time and just get to know each other. The atmosphere between the painters/models/jurors is always very relaxed and fun.
On Saturday it was the first day with two rounds of face paints and one round of belly paints.
There always is a time limit and it's great to see the paints build up over time, some painters can do more than others of course, the Maskerade is open for all levels but overall I have to say that the quality I saw was very good. During that time the jury walks around alone and sometimes in groups to check the painters and see if all the rules are followed.
When it's time to judge the models and painters were called on stage where the jury has to judge the groups and give marks for Technique, style and topic. As you can imagine this is very hard for me because, although I know what I like there are so many different techniques that it's important to know a little about what's really difficult or just looks difficult. Our sheets are taken backstage and put into a computer which will add all the points in a fail safe system, the highest and lowest marks are removed so that way there is a very good way to have a real honest end result. At the end of the day the main area was transformed in stadium seating for a spectacular showing of the models and the prices were of course made public.
The big paints, Sunday.
Although the belly and face paints are fun and great to see, the Sunday is for me the favorite day.
This day it was time for the full body paints, the categories are Brush and sponge, Airbrush and (my personal fav) Special FX. We arrived at app 9:00AM at the Maskerade and slowly all the models and painters came in. Because with a full body paint the models start out completely nude (with slip) there is no public allowed for the first part of the day, and believe it or not this is really necessary, when it was time for the public to come in imagine children running inside when a toystore is giving away free toys :-). I have to add that 99.9% of the photographers and visitors are really interested in the art but it's always a shame that there are still some people that are only shooting the areas like breast or bottom. I really don't understand this, for me bodypaint is a real art form and has nothing to do with erotica, everything is covered in paint and although you can see all the curves etc. I really can't see anything else than the art. A negative highlight was that one person had to be escorted outside after several warnings due to complaints from some painters and models, I believe he was warned 4-5 times but still continued to be obnoxious, but as always there will always be something that does not go as planned and let's be frank it's in reality a wonder only one person was acting this way, this goes to the great organisation of the Maskerade which gives the visitors the real sense of art and not erotica so the Maskerade overal attracts the right public which is also of course the reason I'm willing to judge, I don't think I will do it very quickly for an erotic fair.
For the full body paints there is of course a lot more time so this day is always a bit more relaxed for the judges, there were more than 40 competitors so there still was a lot of work to check and talk to the painters about their ideas and concepts, some varied from simple illusion concepts to very complicated concepts with hidden images, concepts and effects, trust me it's a blast to see some paints build up and talk to the painters about their work. And during the day you can see your own personal favorites appear, but as always you can't know that for sure yet. Some paints for example look amazing when they are finished but are achieving this effect in the last hour, before that it looked nice but it was not something I would have expected to look like the final result.
Because it was a longer day there also was time for the judges to do what they love to do, paint models. This year they worked with fluor paint and if you have never seen fluor paints, make sure you do when you have the change, it's absolutely amazing, the colors really pop and the art they created is just breathtaking, and as you can see in the image above even the children can add their part.
Then after a long and fun day it was time to judge.
On Saturday we judged on stage but this time we were moved to the top floor and the models were lined up outside to be judged one by one, as you can imagine this is a very stressful job, although we are with several experts it's still a job that has great consequences and as with all arts, it's all also boiling down to a part personal taste of course. The level was very high this year and the concept "illusion" was worked out with some incredibly creative paints and fx.
Because we can walk behind the barriers you can already see the paints in detail while walking around during the day, but seeing the paints very close under better light during judging and hearing all the concepts and seeing some of the hidden images is sometimes breathtaking.
When a sheet was filled with marks they were immediately entered into the computer and after each category the results were immediately calculated for the jury. I have to say that I loved this approach because you can very quickly talk with each other about the outcome and although this time there only was one position that had the same amount of points it's very easy to change this because the models/painters are still fresh in the memory.
After the judging session it was time for relax time.
On the main stage there was a huge show in which the painters presented their models, some will do this very simple with some music and a catwalk like presentation, but some will also put up an amazing show (remember judging was already done, except the public price), to be short if you never visited the Maskerade before, make sure you do in the future.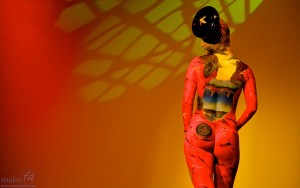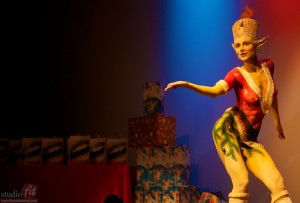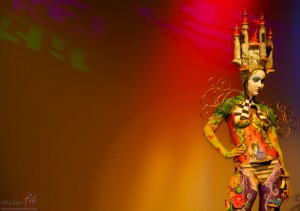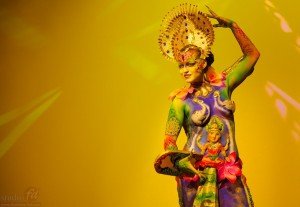 Conclusion
For me the Maskerade 2010 was a huge success, a great two days with some amazing artists, a relaxed atmosphere and a superb team and the end shows were simply put breathtaking. And don't think that an event like the Maskerade is only for the adults, also this year there were a lot of children and there is loads to do for them, Sinterklaas was there both days with his helpers to give the children candy and presents, there were coloring packages and facepaints for the children (and adults). From our side we would like to thank Bert Verstappen and his lovely family for organizing the Maskerade and making me part of the jury, see you next Maskerade. As mentioned before if you haven't visited the Maskerade before….. make sure you don't miss the next one, you will LOVE it.
https://frankdoorhof.com/web/wp-content/uploads/2015/03/studioFD_Logo-1FV.png
0
0
Frank Doorhof
https://frankdoorhof.com/web/wp-content/uploads/2015/03/studioFD_Logo-1FV.png
Frank Doorhof
2010-11-29 12:39:39
2010-11-29 12:39:39
Maskerade 27-28 November 2010